Remembering Harry Billinge
A Tribute to Harry
This short video tribute to Harry features some of the most memorable moments of his extraordinary journey fundraising and campaigning for the British Normandy Memorial.
D-Day Veteran Harry Billinge MBE passed away aged 96 on 5 April 2022. He raised more than £50,000 for the Trust by collecting in his hometown of St Austell and was a champion of the regular giving Guardian Programme. His family asks that anyone who wishes to honour his legacy becomes a Guardian of the British Normandy Memorial in Harry's name.
The gallery 'Harry Billinge's life: in pictures' is available to view here.
You can also watch the entire funeral, which took place on 26 April 2022 at St Paul's Parish Church in Charlestown, Cornwall.
Family Statement
Harry was a very loving husband who always looked after mum. He was steadfast in his love for her.
As a Dad, he taught us great values: honesty, kindness, generosity and not to judge. Dad was always there to guide us. He was always a very charitable man and collected for the Poppy Appeal for over 65 years.
When he got the brochure about the British Normandy Memorial in the post, he felt compelled to start collecting. In his efforts to raise money for the Memorial he found great peace. The original idea was to collect £1 for each of his comrades that died on the beaches – 22,442. But, of course, it amounted to much more than that. It gave him a purpose; meeting with members of the public kept him going.
In an interview with the BBC a few years ago on Remembrance Sunday I recall him saying he just wanted to be remembered as "a good old sapper who did his best". He also said, "I hope I shall live in the hearts of people who won't forget Harry".
Harry wanted future generations to never forget his comrades who fell in Normandy. If members of the public would like to pay their respects to Harry, we ask that they become guardians of the British Normandy Memorial.
We would very much like the work towards the Memorial and the Education Centre to continue in Harry's name.
Click here if you would like to become a Guardian in Harry's name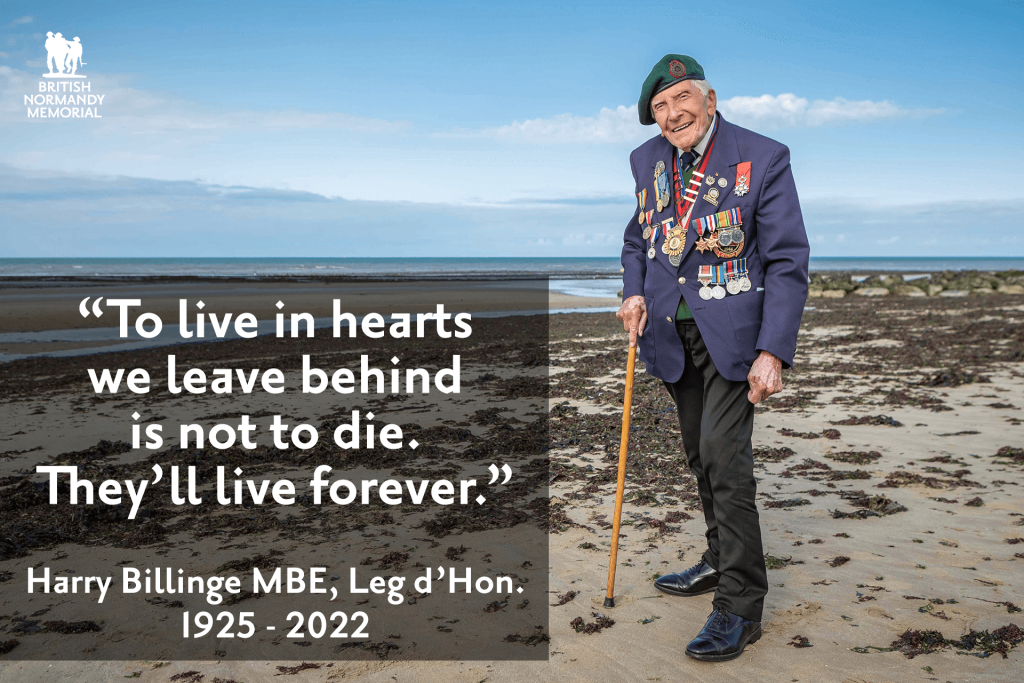 Harry's Life
Harry was born on 5 September 1925 in Petts Wood, Kent, and lived his early years in London. On 6 June 1944 he landed on Gold Beach aged just 18, attached to 44 Royal Engineer Commandos. He was one of just four from his ten-man section to survive the rest of the Battle of Normandy.  After the war and a period in hospital where he struggled with the trauma of what he had seen, Harry moved from London to St Austell for the peace and quiet.
He lived in a flat above a hairdresser where Sheila worked. He used to pop in all the time to ask Sheila what the time was, and she used to say, "Why do you keep asking me when you can look across the road and see the big clock?" He said he liked talking to her and then invited her out. They were married in 1954, spent their honeymoon weekend in Sidmouth, and enjoyed 67 years together. The happy arrival of daughter Margot, followed by the lovely surprise of twins Sally and Christopher.
Harry was a well-known character on Dukes Street where he ran his barber shop for many years. Later, Harry got involved with the funeral business primarily to ensure that people would be able to have a more affordable option available. It was to become a family business with Sheila driving the hearse and daughters Margot and Sally and son Christopher helping out too.
Harry enjoyed over 15 years in the business and during this time he became a lay preacher too, often stepping in for other ministers, even if it meant many hours of walking to their parish. He was a deeply religious and spiritual man and could recite most parts of the Bible from memory. This was coupled with his sense of fun, and he was known to really light up the dance floor.
Harry was an avid reader, he loved music and would enjoy watching and feeding the birds in his garden, meeting people at Par Market every Wednesday and Saturday as he tirelessly collected to make sure that his mates who never made it home would be remembered on the British Normandy Memorial.
Harry is survived by his wife Sheila, daughters Margot and Sally, son Christopher and grandchildren Amy and Claire.