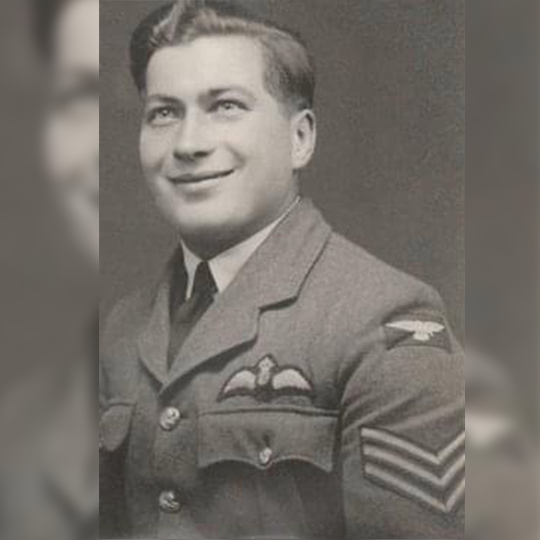 George Boucher #1
This story and photo is shared by the Trust courtesy of Michael Boucher, nephew of George Boucher
George Boucher was the youngest son of Cyril and Margaret Boucher. He attended King Edward VI Grammar School, Stourbridge and when he left in 1939 he became a clerk in the Air Ministry at Ad Astral House, London. He joined the RAFVR and in 1941 became one of the first intake sent to Canada and the USA for Flying Training. He qualified as a pilot at 3 BFTS Miami Oklahoma and returned to Britain completing his training at 59 OTU Crosby on Eden before being posted to 174 Squadron, Royal Air Force, in July 1942.
His first operation was the Dieppe Raid, 19 August 1942 flying a "Hurribomber." 174 Squadron lost five aircraft during the day with three pilots being killed. The squadron converted to Typhoons in 1943.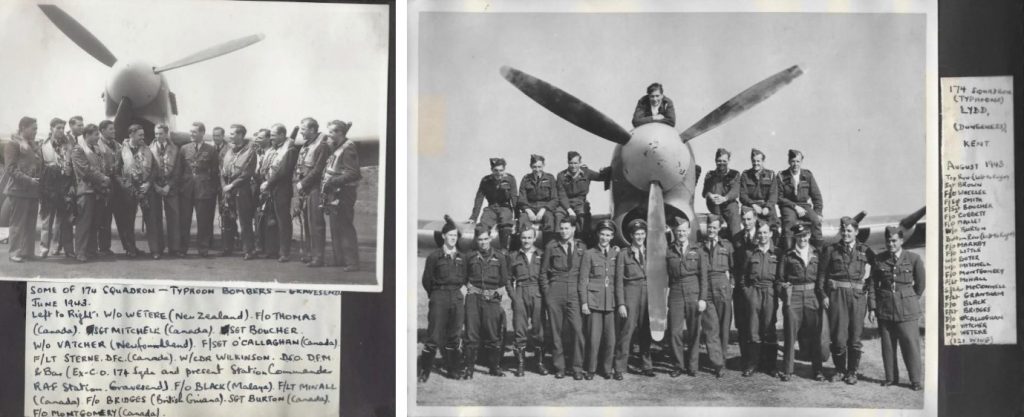 In October 1943, while carrying out a sortie, George attacked a train and its boiler exploded, damaging his aircraft and forcing him to crash land near Brimeux. He hid overnight and eventually managed to find assistance at a farm at Bois Jean. The Thille family picked him up and passed him on to the Fillerin family. Here he met Sgt H. Merlin, 175 Squadron, another evader who was acting as a chauffeur to a pro-British member of Organisation Todt. Merlin helped George to get to Paris by car, lorry and train where he was sheltered by M. Bazille, a lawyer. M. Georges then arranged for him to join a group of evaders/escapers travelling by train through Toulouse, Lourdes, Tarbes and Pouzac.
The group numbered 34 with 2 French guides by the time they reached the Pyrenees. Most of the party stayed in a mountain hut to shelter but George joined three Poles and three Frenchmen and climbed with them, despite snow blindness, to reach Spain. Once there he was imprisoned but he managed to contact the British Embassy and was repatriated via Gibraltar. 12 of the escapers that remained behind were recaptured.
On re-joining 174 Squadron he took part in operations against radar installations and railways in the build up to D-Day to disrupt the enemy infrastructure. They operated out of  RAF Holmsley South but shortly after D-Day the squadron began flying from B2 ALG [Advanced Landing Ground] - Bazenville, B3 ALG - St Croix-sur-Mer and B4 ALG - Bény-sur-Mer, France. They then moved to their permanent base at B5 ALG - Le Fresne-Camilly in mid-June.  Their role as part of the Second Tactical Airforce was to support the ground troops by attacking tanks, motor transport, armoured vehicles and strongpoints.
George recorded 13 sorties during June 1944. On the 15th he crash landed when returning from his second operation of the day. On the 23rd he was one of eight pilots who successfully attacked a significant number of tanks and motor transport. A press photo and article claimed 20!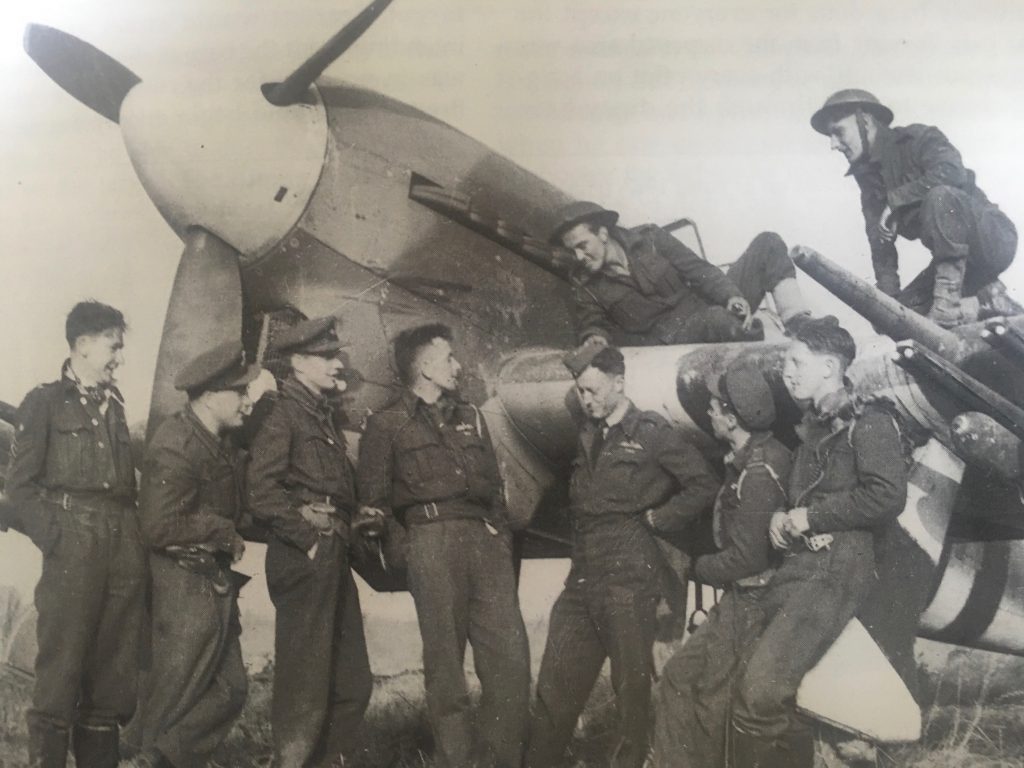 Pilots and ground crew of 174 Squadron in Normandy, 23 June 1944. George is second from the left; on the far right is Jack Hodges who is mentioned in Part 2 of the story
He recorded 17 sorties in July against tanks, mortar positions, strong points and German HQ's  as well as claiming a 5 ton motor transport destroyed on the 29th June. At the end of the month he wrote what was to be his last letter home. "Vatch", who is mentioned in the letter, is Walter Cyril Vatcher, a Newfoundlander, killed in action 26 July 1944 and "Tex" was the squadron dog.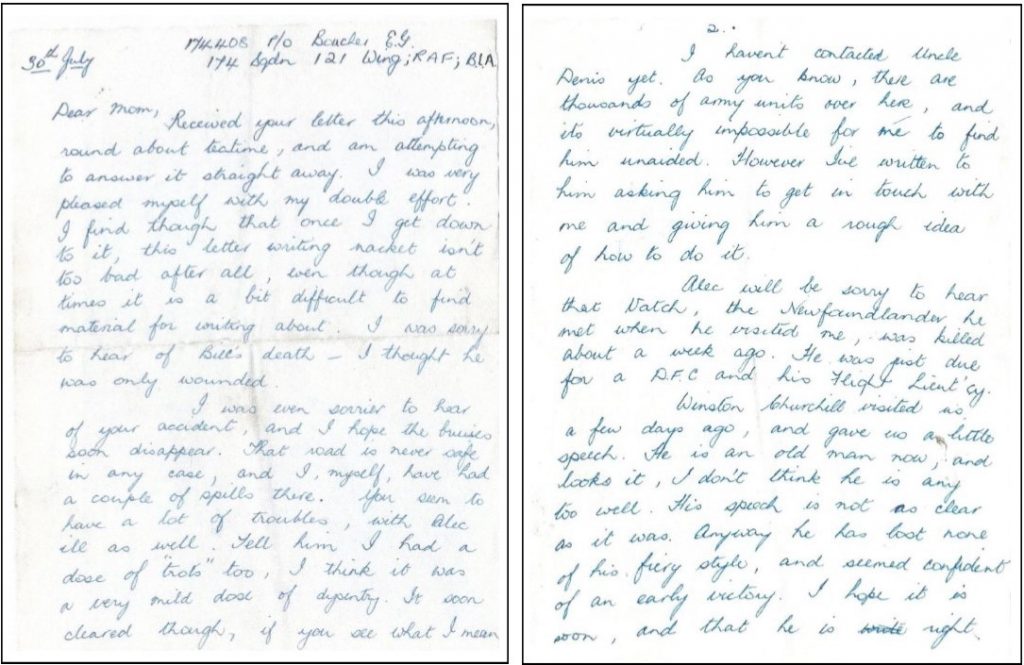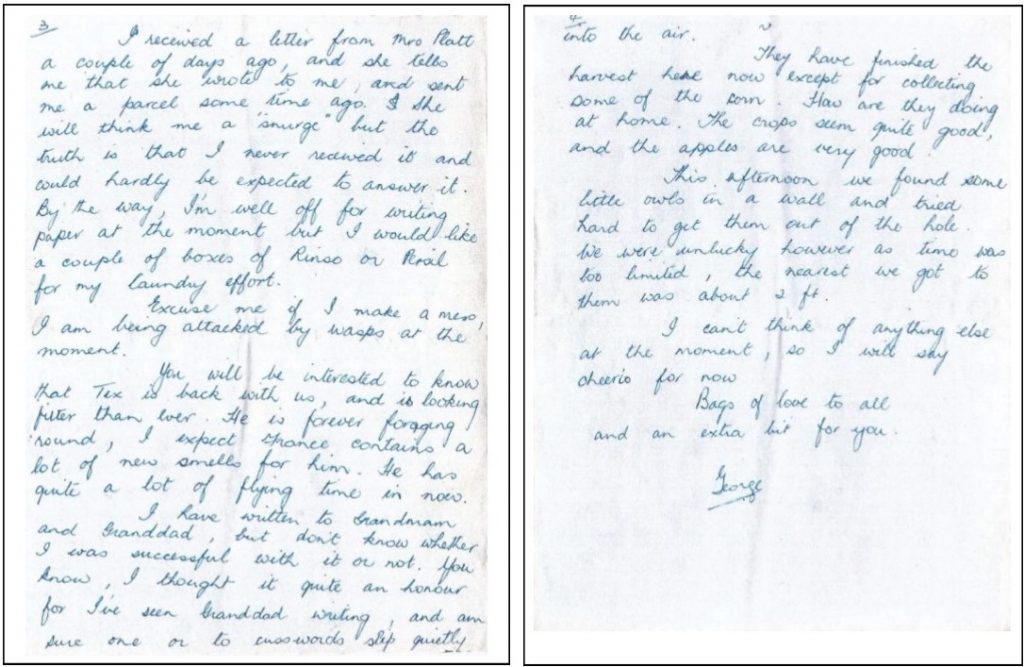 5 more sorties took place on the first few days of August and he was credited with destroying a truck near Falaise on the 3rd.
On the evening of the 5th August George took off from B5 leading five Typhoons on an armed recce at Thury Harcourt. But as they were returning his aircraft was hit by anti-aircraft fire near Mont de Cerisy. He suffered a neck wound and one in the lower abdomen but managed to bale out.
George's squadron commander, Flt Lt Grantham, wrote to his parents to let them know he had been reported missing and give them details about what they termed his 'accident'.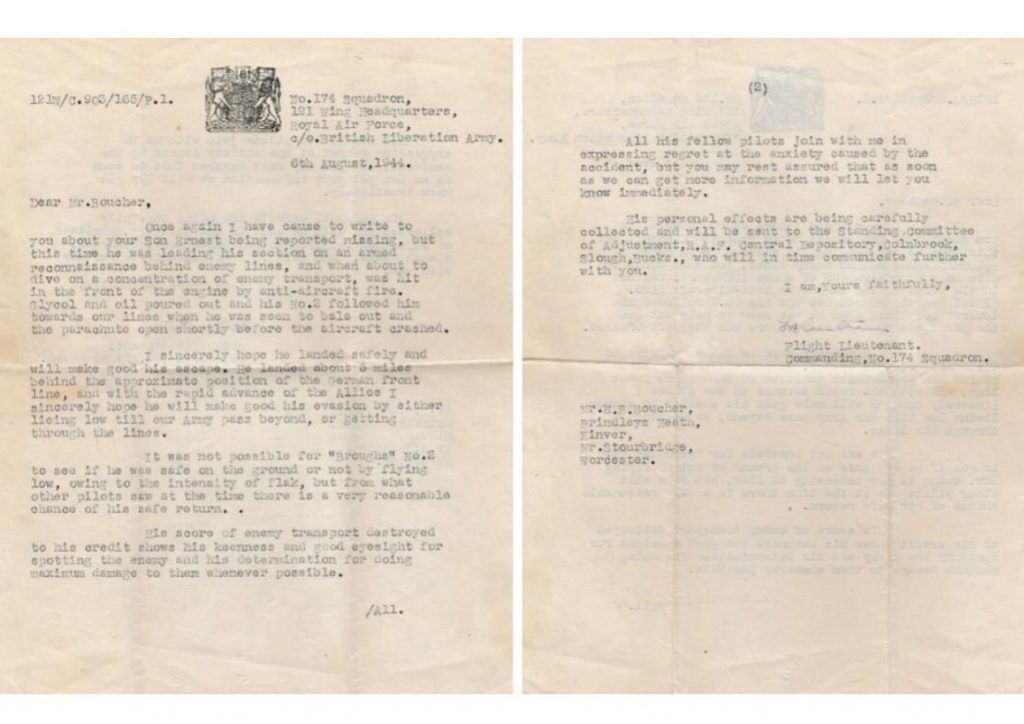 However, we would find out later that he was too low for the parachute to open fully and was killed on hitting the ground. Claude Pailleux, who lived nearby, went to see if he could help. But he found that George had been killed. There were a number of Germans at the crash site but they left as night came and he took the opportunity to take George's body to their home.
Claude Pailleux and his family ensured George was given a fitting burial. It would lead to a lifelong connection to Caligny and the Pailleux family. You can read about that part of George's story here.
British Normandy Memorial – Additional Information
The Hurribomber was a variant of the Hawker Hurricane, developed to carry out a ground attack role. The Hawker Hurricane was originally developed as a fighter aircraft. But it wasn't as agile as the Spitfire and its performance wasn't able to match the latest German fighter designs so, in Oct 1940, it was redesigned as a fighter bomber and was able to carry two 250lb or 500lb bombs under its wings. It became know as the Hurribomber but it was eventually superceded by the Hawker Typhoon.
B2, B3, B4 and B5 Advanced Landing Grounds were one of a number of temporary airfields built in Normandy. These airfields were built to help exploit the Allied air superiority by maximising the time aircraft had over the battlefield and reduce any potential impact of them not being able to get to France from Britain due to adverse weather. On 22 June 1944, 174 Squadron moved to B5 airfield.
George's squadron commander, Flt Lt Grantham, was himself killed on 16th August 1944, 10 days after writing the above letter to George's parents. You can read his story here.
FALLEN HEROES
ERNEST GEORGE BOUCHERRoyal Air Force • PILOT OFFICER

Royal Air Force
174 (Mauritius) Squadron, Royal Air Force

DIED 05 August 1944

AGE 21

SERVICE NO. 174408