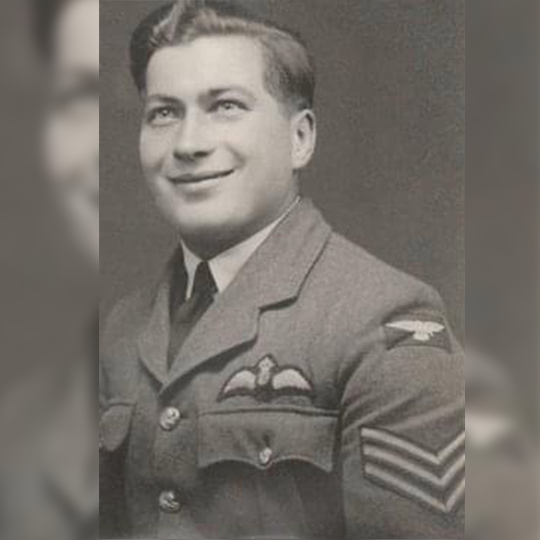 George Boucher #2
This story and photo is shared by the Trust courtesy of Michael Boucher, nephew of George Boucher.
George Boucher, 174 Squadron, Royal Air Force, was killed on 5th August 1944 near Caligny, Orne. You can read about the events leading up to his death here. His body was recovered by Claude Pailleux and the next day the commune at Caligny arranged a burial at the Chapelle du Chêne, Vieux Caligny, close to where George died.
About 20 people gathered at Claude's parents' house and processed to the Chapelle led by Claude's sister, Jacqueline, carrying a boxwood cross. By 3pm about 100 people had gathered at the Chapelle despite the potential risks [German soldiers were based at the nearby chateau]. But eyewitnesses suggest that a German staff car stopped and the officers saluted. Claude-Michel Martin, another eyewitness, noted: "It was an opportunity for a patriotic demonstration under the surprised but disturbing eyes of the Wehrmacht and their tanks, camouflaged under the apple trees at the side of the road".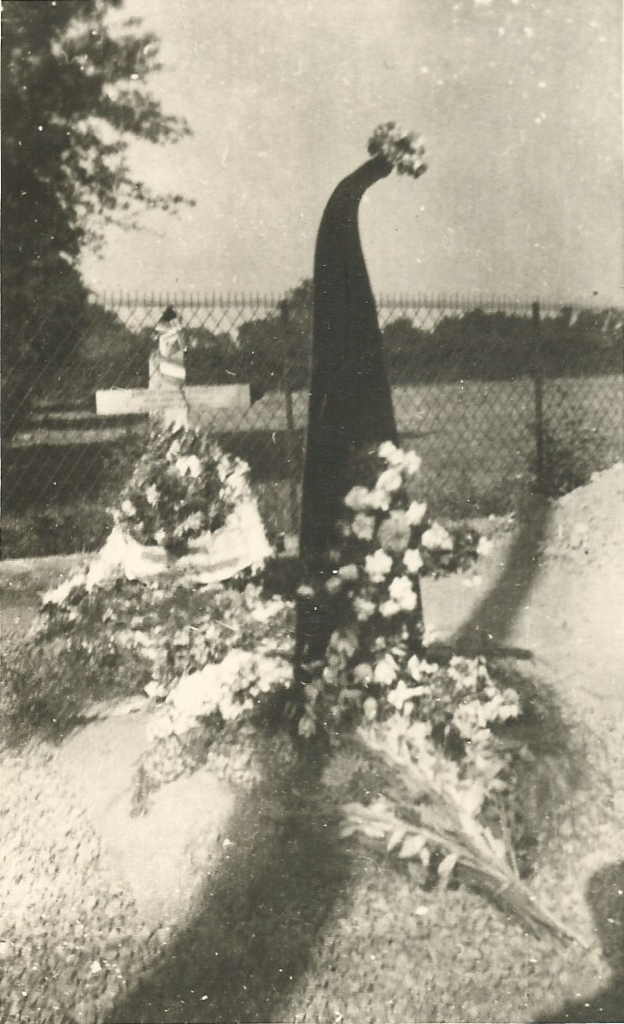 Photo of George's grave taken shortly after his funeral
It was not until January 1946 that Claude Pailleux was able to contact the Boucher family and inform them of the full circumstances of George's death. This is a translation of the letter he sent to George's parents:
"On Saturday 5 August 1944 towards 8.30 in the evening [time matches George's log book] the plane came down in flames in a field of beetroot. The pilot, however, had time to jump by parachute, but without doubt too near the ground for it had hardly opened. Living about 500m from the site of the crash, I went immediately within 100m or so of the plane and saw the body of the pilot which was surrounded by about 100 Germans, who were searching his papers. I succeeded in obtaining the name of your relative, but they would not give me his address. The Germans, as they usually do, took his ring. Eventually after a lot of negotiation I obtained his identity disc which I still possess giving the name and number of your relative. When night came the German's left leaving the pilot's body. I carried him in a hand cart and brought him to my parent's house.
The next day - Sunday- we were able to have a coffin of oak made by a local carpenter to bury him in a dignified manner. We buried him beneath the walls of a small chapel at the side of a major road in the hamlet of Caligny. Around 100 people were present at the funeral at 3pm. He was buried in a shroud and a score or so of wreaths were placed there, some by the Anciens Combattants, and some by members of the resistance in the area. A small wooden cross bearing his name was erected and at the other end of the grave one of the propeller shaft of his plane.
My parents are looking after the grave, which is always beautiful and tidy. We will take care of it with all the regard due to a man who fell far from his country."
Prior to receiving this letter, George's mother had already decided that it was her wish for George's body to remain at the chapel. In a letter to the Mayor of Caligny she referred to the time George crashed in France in 1943 and was able to evade capture and get back to Britain: "We are awaiting a communication from the War Graves Commission, & if it is possible, we should like our son to remain where you have laid him to rest. This we feel, would be his own wish, as he had made so many French friends and received so many favours from the French people during a period when he was missing previously."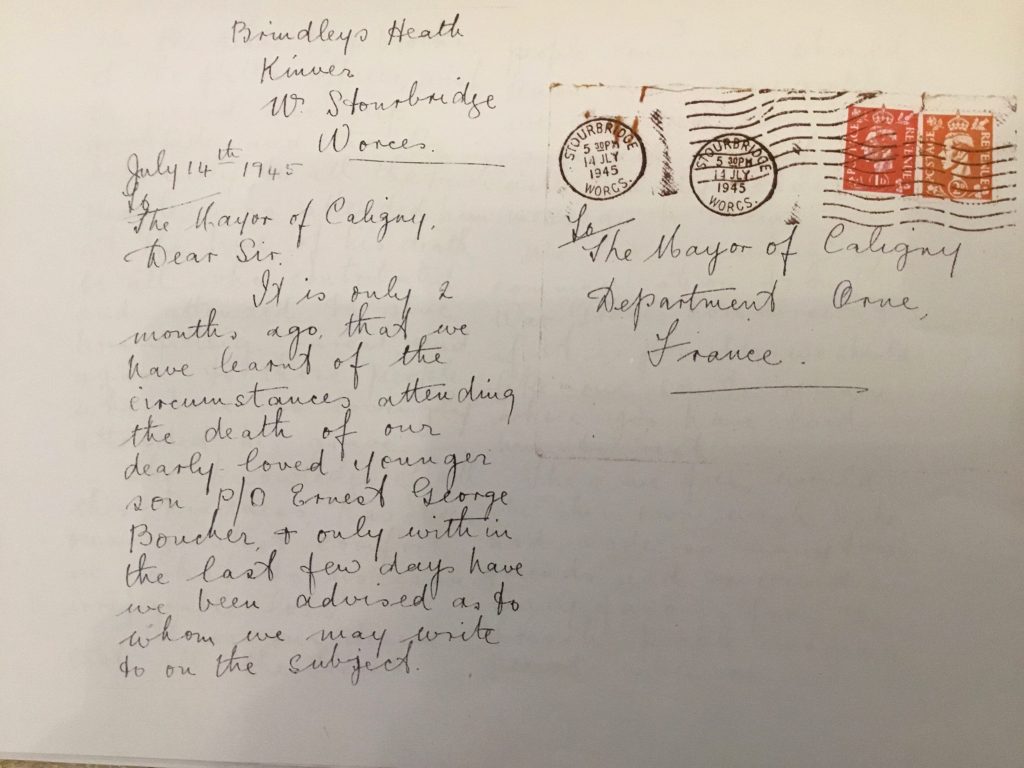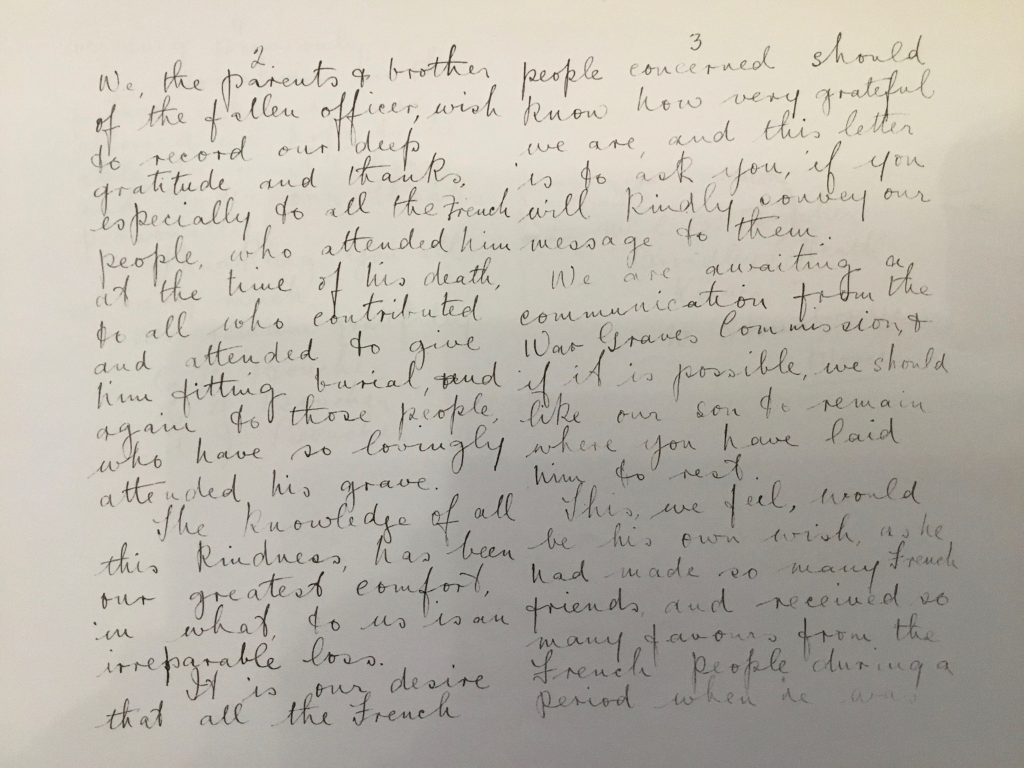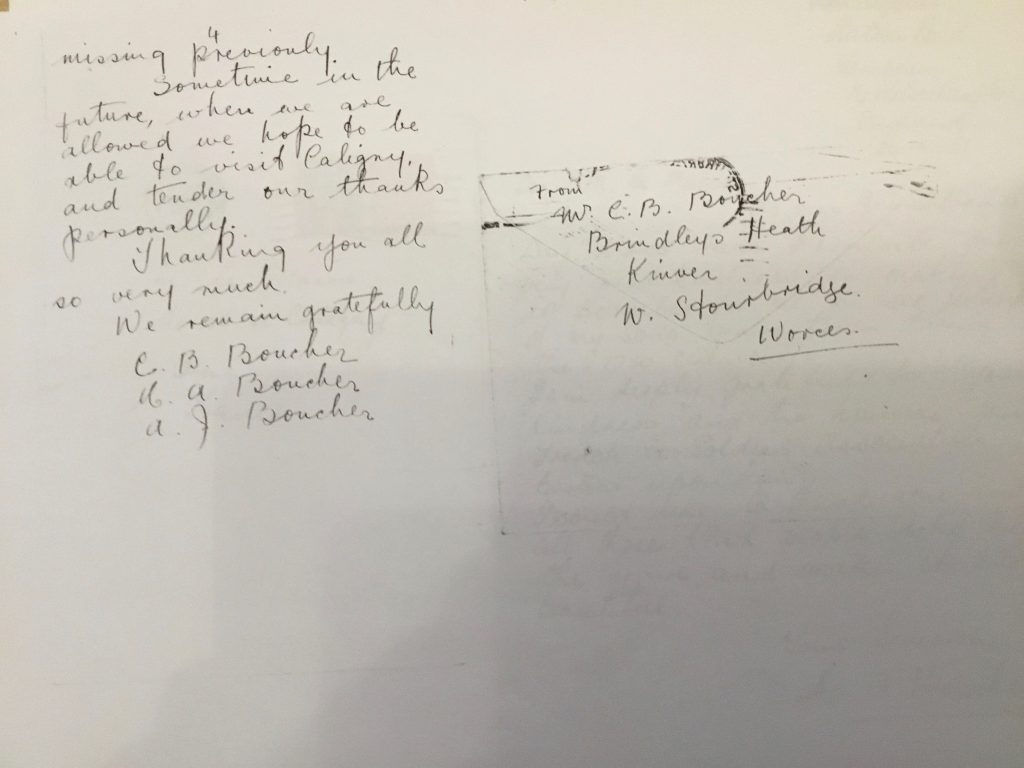 Claude and his sister, Jacqueline, kept the family's promise for the rest of their lives, regularly sending photographs of the grave to George's parents. A poppy wreath from the family is laid on our behalf by the Mayor of Caligny and the Anciens Combattants every 11 November.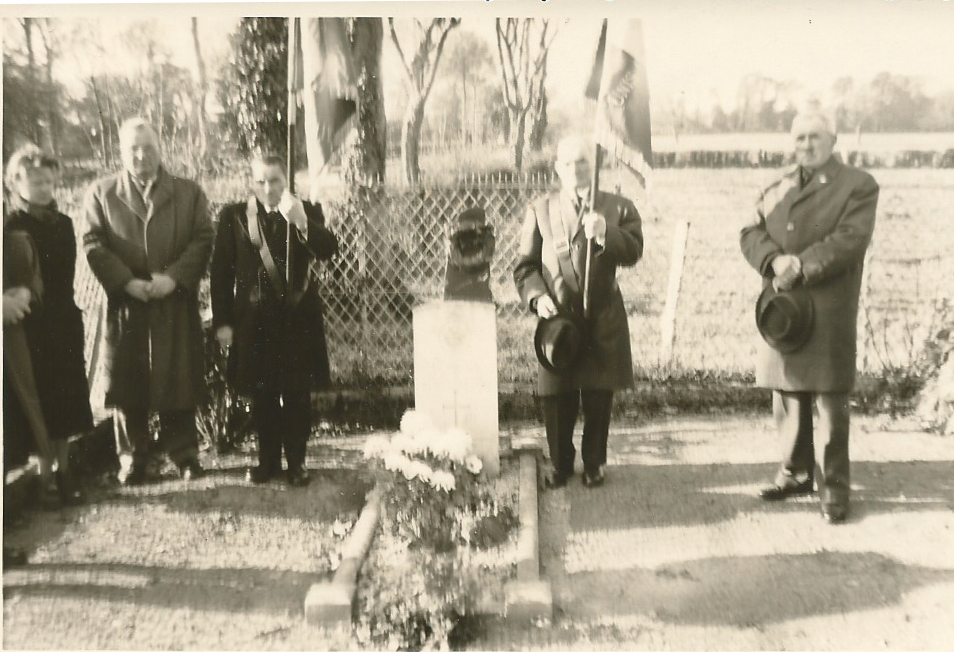 Wreath laying, 11 November 1951. Jacqueline Pailleux is standing first left with her brother, Claude, next to her
It wasn't until 1968 that the family ventured to Europe but it was to be the first of many visits. We visited Caligny and met Claude face to face for the first time.  It was very emotional, particularly for my father, George's older brother, Alec. Claude took us to see his mother who gave my father George's identity disc and a shoe that my father instantly recognised as he knew that George preferred shoes to flying boots. Claude's sister, Jacqueline, was also there and we learnt that she visited the grave and chapel most weeks. We also met Claude's wife, Julienne, and their children Jean-Claude, Jacques and Isabelle.
We visited again in 1970 when an act of remembrance was held at 3pm, 26 years after George's funeral, with quite a number of people that had attended the funeral in 1944 present. For the 50th Anniversary of D-Day M. Jacques Chesnais, head teacher of the elementary school in Caligny, organised an exhibition about George's story. This was opened by George's brother, Alec and his wife, Margery and involved pupils from the local school and from a Bromsgrove School which had been twinned with the school in Caligny.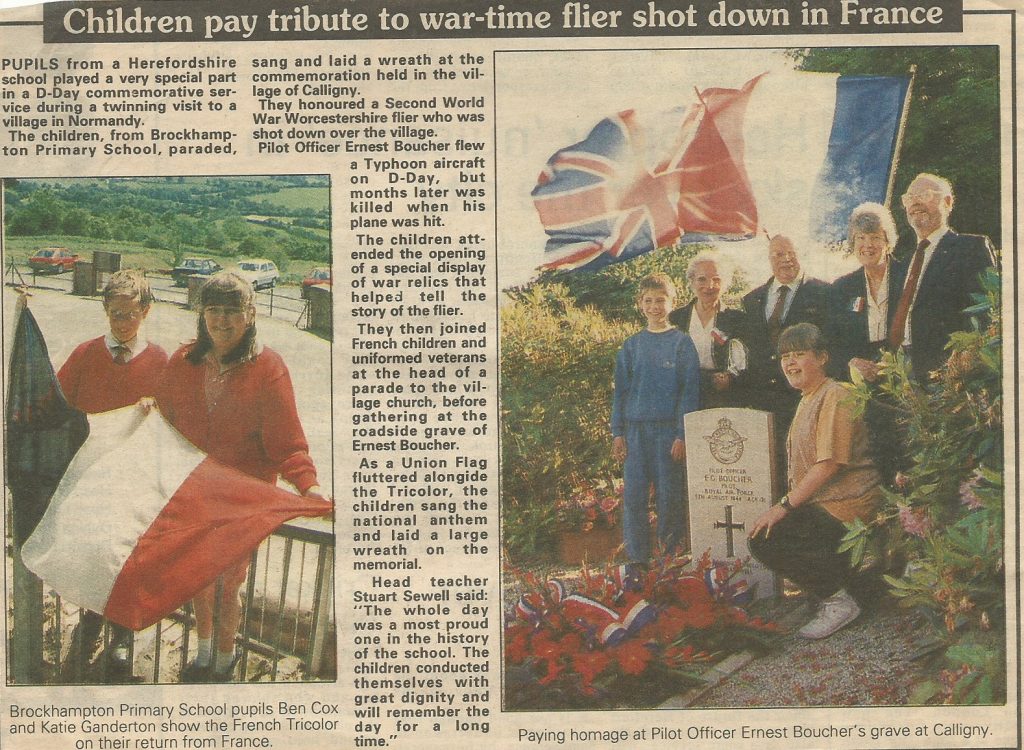 Press clipping about the 50th Anniversary visit. Alec is standing in the middle, behind the gravestone. Margery is on his left
In May 2002, when a photo of George in Normandy with other 174 pilots, was put inside the chapel at the instigation of Ken Rimell, President of the Typhoon Pilots Association, it was my pleasure to meet three of the pilots - Jack Hodges, Frank Wheeler and Doug Oram who had flown with George.  Jack, Frank and Doug made regular visits around the D-Day anniversary up until their deaths.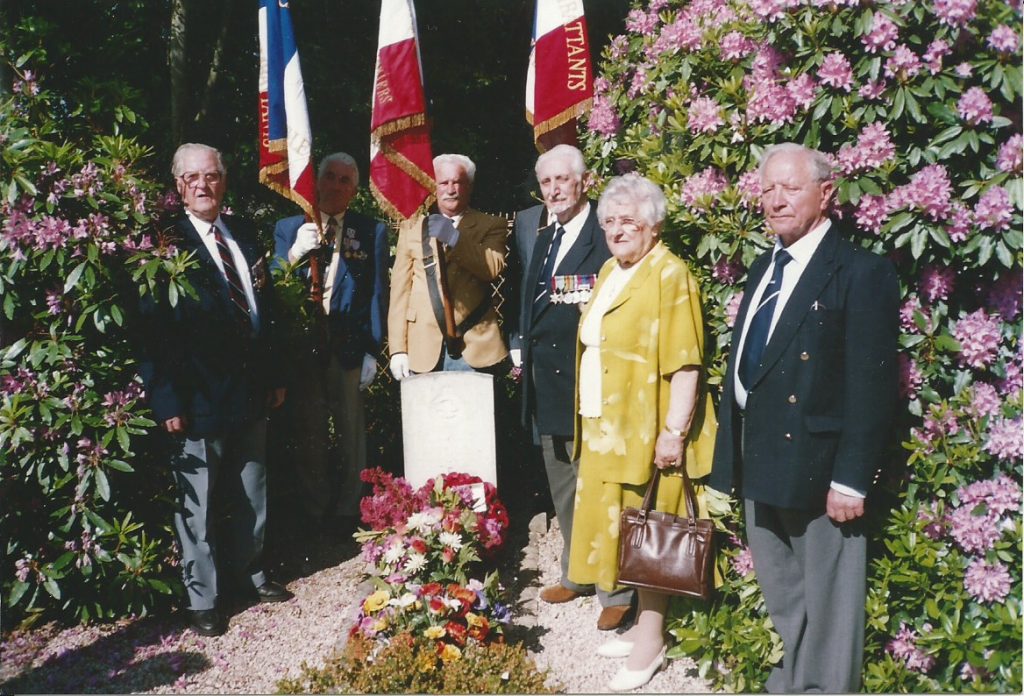 At George's grave 2004: Jack Hodges extreme left, Frank Wheeler extreme right, Julienne Pailleux 2nd from right and Doug Oram 3rd from right
On the 10 November 2011 George's story featured on The One Show when Larry Lamb interviewed Frank Wheeler, Jack Hodges, Julienne Pailleux and Claude-Michel Martin, who had been present at George's funeral, for a One Show remembrance item. Larry Lamb asked Frank Wheeler and Jack Hodges what George would have made of being considered a hero. Without hesitation Frank said, "He would have laughed" and Jack agreed. I know from several different sources he was regarded as the Squadron joker but that he was also unafraid of confronting senior officers if he felt an injustice had occurred.
As the 70th anniversary approached I was contacted by Colin Mowl who had a great interest in the Normandy Campaign and had come across George's grave. With his help a Trust Fund was set up to raise the money to erect a plaque to tell George's story. On the 5 Aug 2014 a 70th anniversary act of remembrance took place involving Julienne Pailleux and her family, David and Michael Boucher (George's nephews), the Mayor of Caligny, M Gilles Rabache, the President and members of the Anciens Combattants, Colin and Kathy Mowl and other interested members of the Trust.
On 6 June 2015 a service was held, led by Abbé Claude-Michel Martin. Following the service the memorial plaque was unveiled by Michael and David Boucher with the Mayor of Caligny, Group Captain Christopher Platt (UK Embassy, Paris), the Pailleux Family, Colin and Kathy Mowl.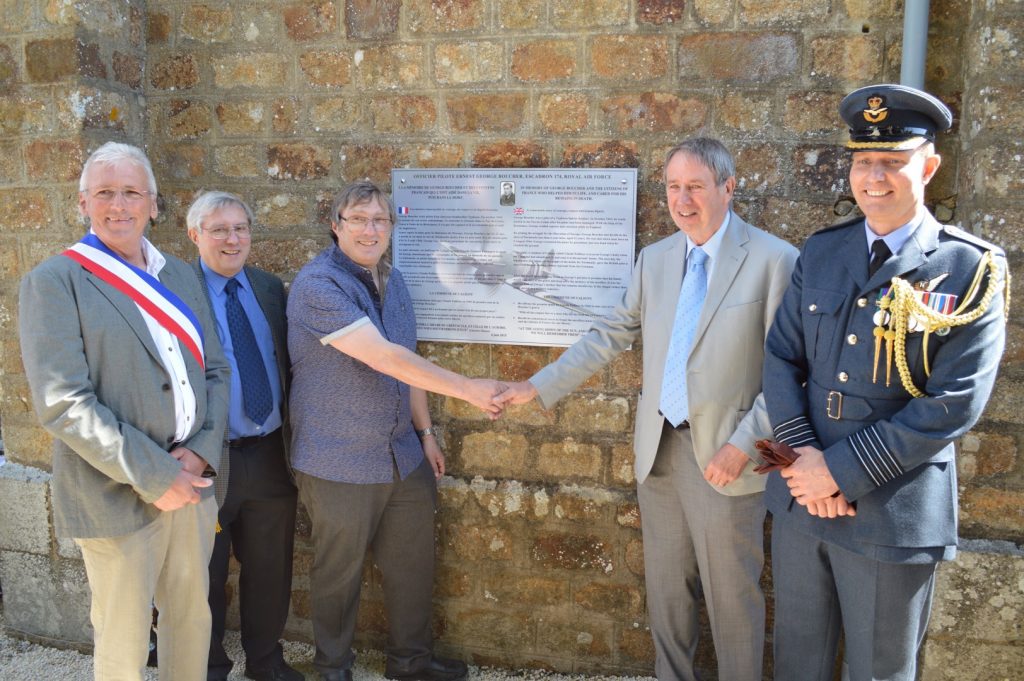 L-R Gilles Rabache, Mayor of Caligny, David Boucher, Michael Boucher, Colin Mowl and Group Captain Christopher Platt
Claude's sons, Jacques and Jean-Claude have visited the British Normandy Memorial. And on 9 November 2021 I made a visit  with my wife, Lesley, and Colin and Kathy Mowl, to see George's name recorded on column 252.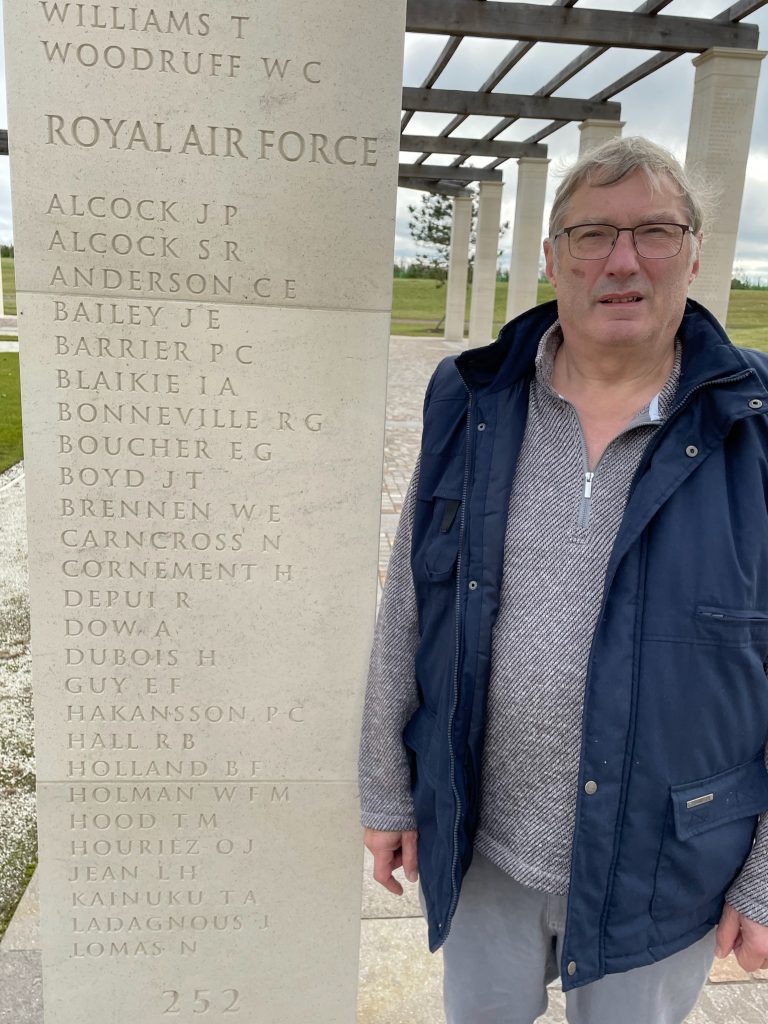 We then went to Caligny where, on the 10th November, a scale model of George's plane I had originally made for Colin was gifted to the Maire at Caligny. An Act of Remembrance was held on the 11th at the Chapelle and the opportunity to meet up with Jean-Claude, Jacques and Isabelle completed a special visit. It was particularly emotional when Isabelle read out the French version of George's story from the plaque. During a meal afterwards we realised that during the placement of the family wreath she stood in exactly the same spot as she had in 1970 when she was with her father!
FALLEN HEROES
ERNEST GEORGE BOUCHERRoyal Air Force • PILOT OFFICER

Royal Air Force
174 (Mauritius) Squadron, Royal Air Force

DIED 05 August 1944

AGE 21

SERVICE NO. 174408