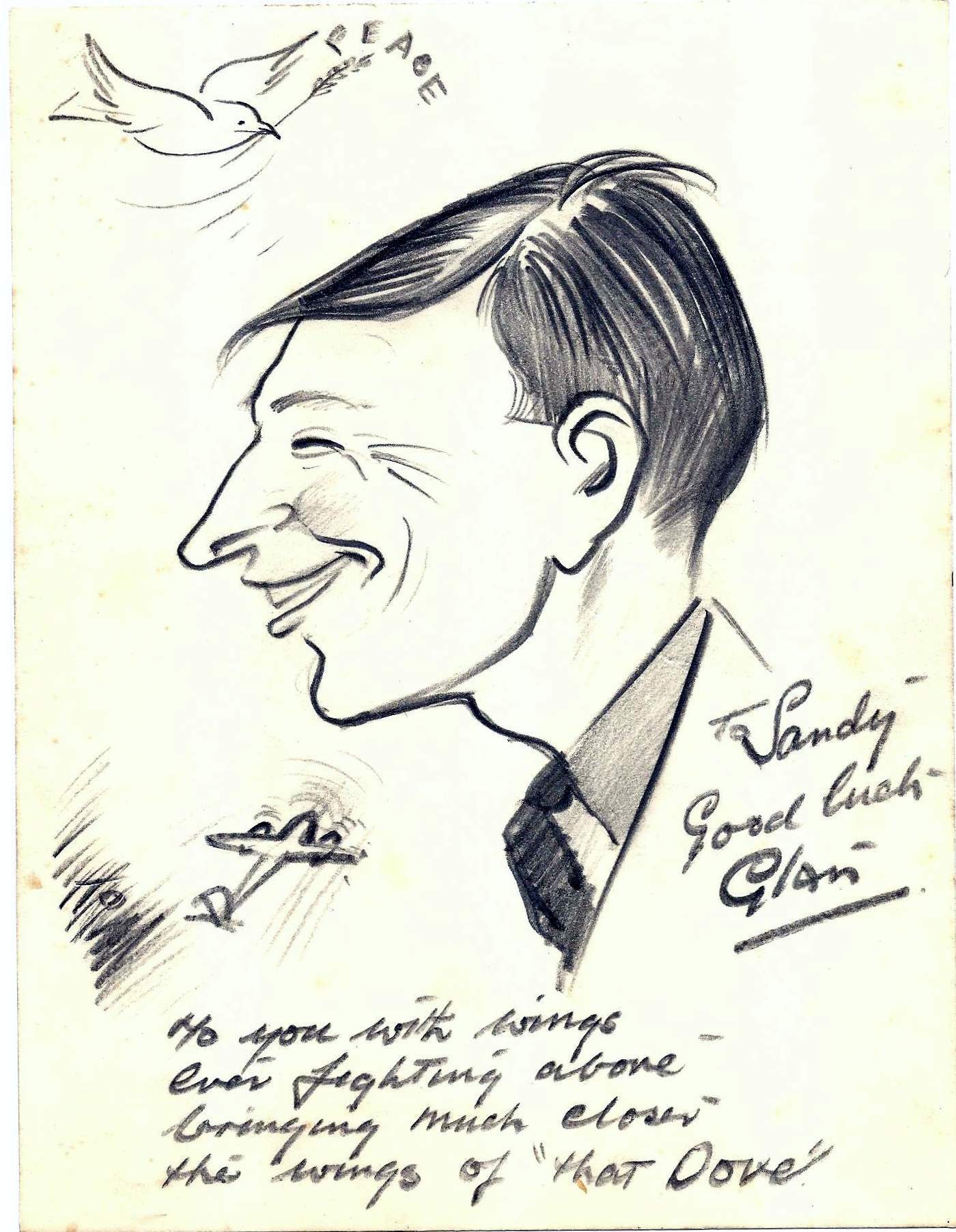 "Sandy" Arthur Alexander Ballantine #2
The story and photographs are shared by the Trust with kind permission from Christine Ballantine, Sandy's daughter.
Flt/Lt. Arthur Alexander Ballantine, known as "Sandy", died of his injuries on 20 June 1944. You can read more about that part of his story here.
I began my research in earnest on Sandy many years ago. I've mourned his loss every day of my life, even though I was only 8 months old when he was killed. Unfortunately, I had a rocky relationship with my late Mother, so Sandy's loss was made ever more poignant to me and hence my leaving Britain and immigration to Canada in 1966. His death has had a huge effect on my life, but, I found that in doing the research on him to be quite therapeutic. I do so want him well remembered.
The drawing of Sandy at the start of this story was done by Glan Williams in 1941. Glan was a well known British caricaturist and I believe they were friends and must have met when Glan was in Norwich during the war. I also have a few photos like the one below which show Sandy before the war in his beloved Marendaz Special sports car, registration JB 1937, at the home where he was born in Dullatur, Scotland.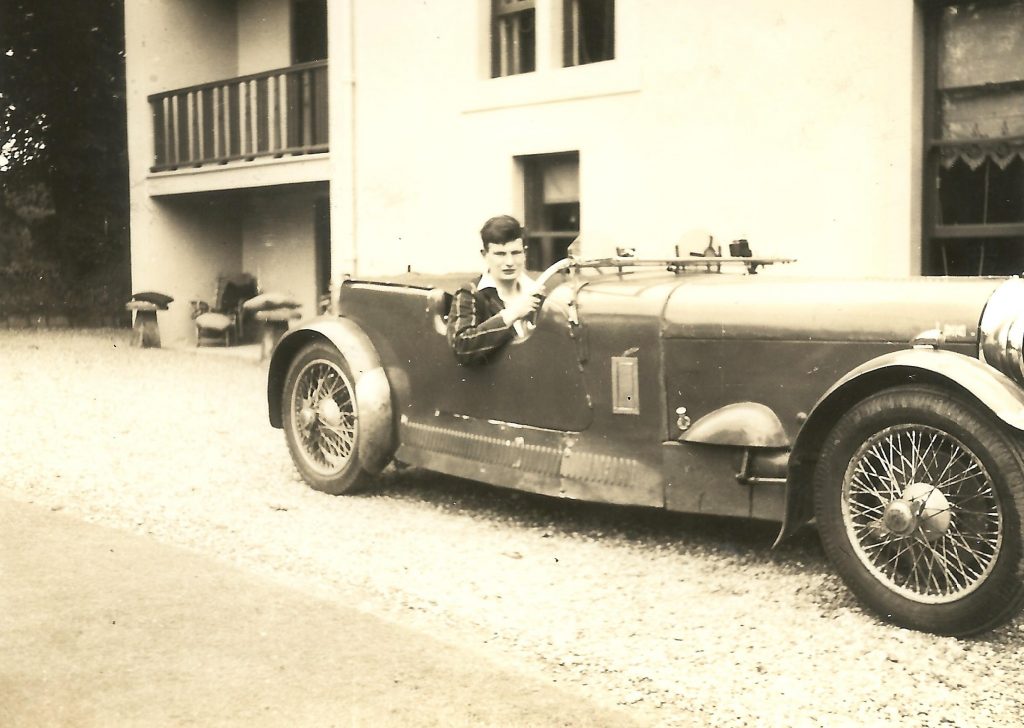 I also have this photo of Sandy, (in the centre) having fun with his 255 night fighter squadron. This pub was down the road from where my late mother finally resided and was close to Coltishall aerodrome. I gather that Sandy never stood on his superior rank with the men and always 'mucked in'. Several letters I received from those who served with him alluded to this fact. He was recognised for his great sense of humour and humility.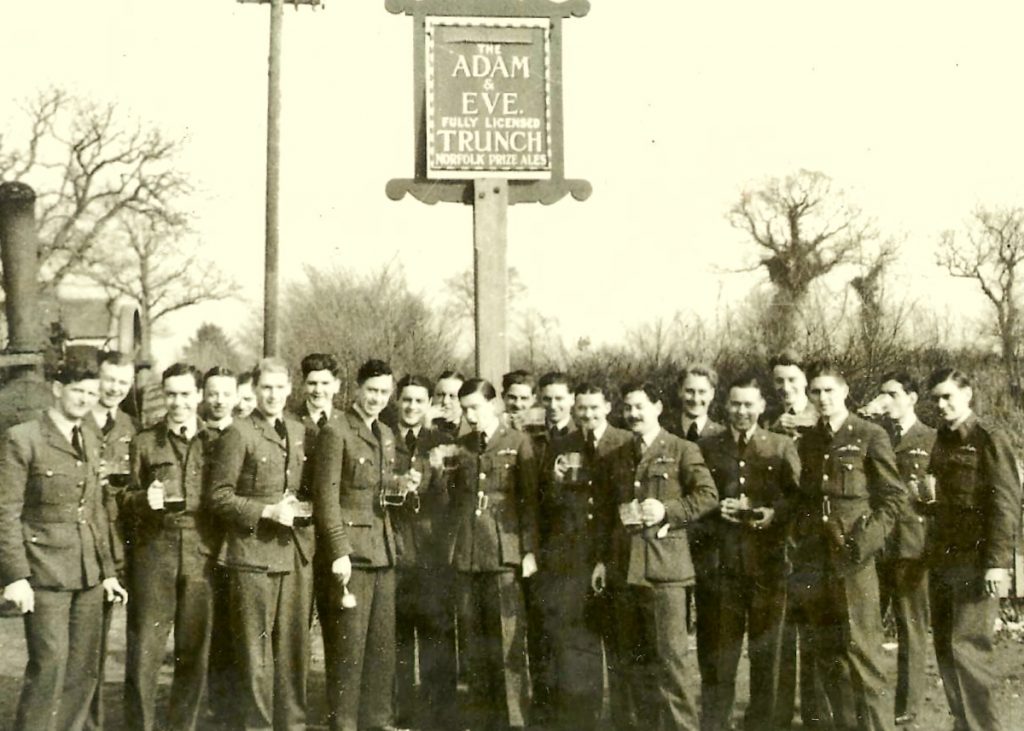 I discovered the following tribute to Sandy in A Norfolk Village in War Time 1939 - 1945 (1946), edited by Charles F Carrodus. It reveals his aptitude for the work he carried out in Normandy. I inserted Sandy's photo when I scanned the pages - it wasn't in the book but I just love that write-up and that photo of Sandy.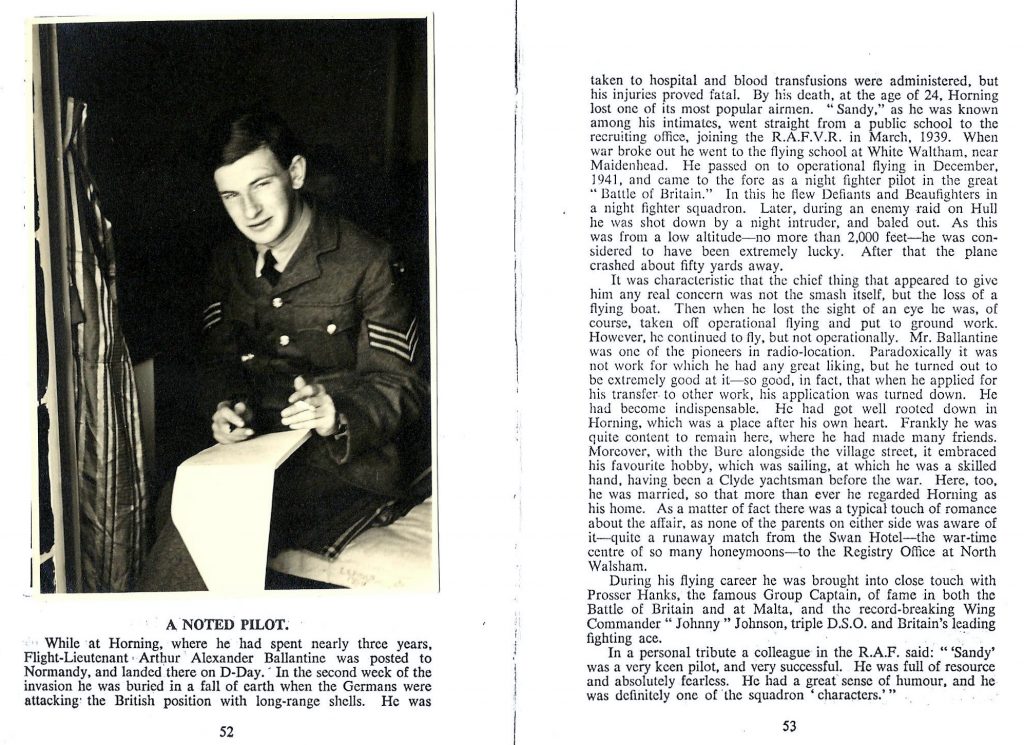 Details of Sandy's place of burial  in La Deliverande War Cemetery, Douvres were sent to my mother along with photos of his grave and the cemetery he was in.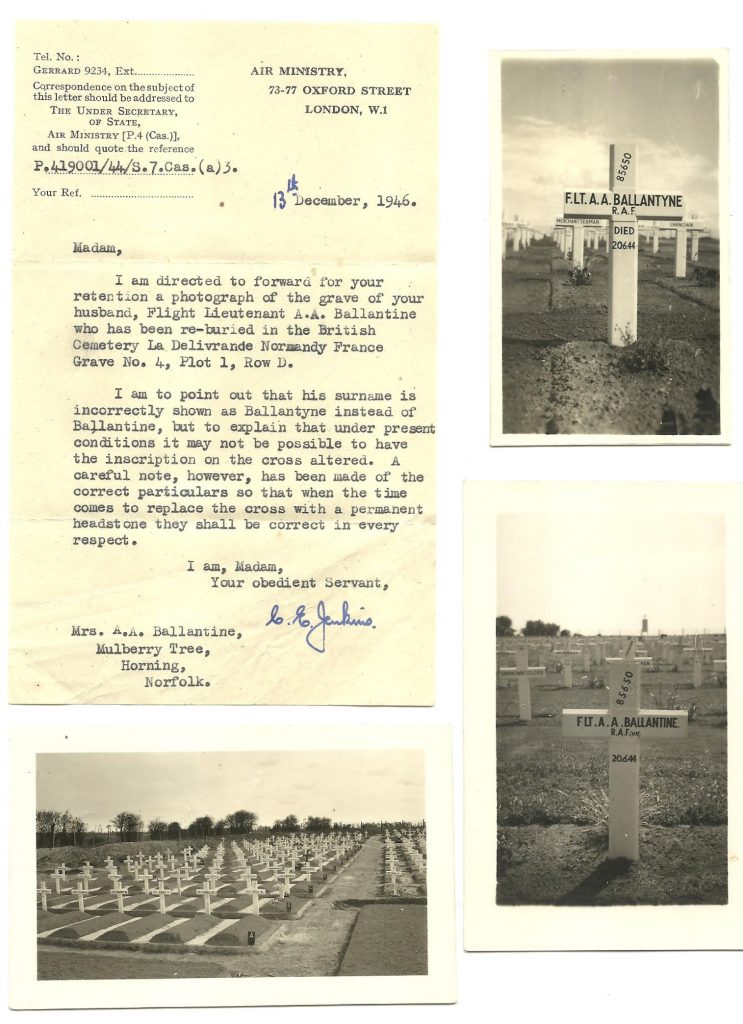 LAC Bill Findley, whom I mentioned in the first story, has returned to France a number of times and his daughter sent me this photo of him by Bazenville church and marked on it the spot where he said Sandy was fatally injured.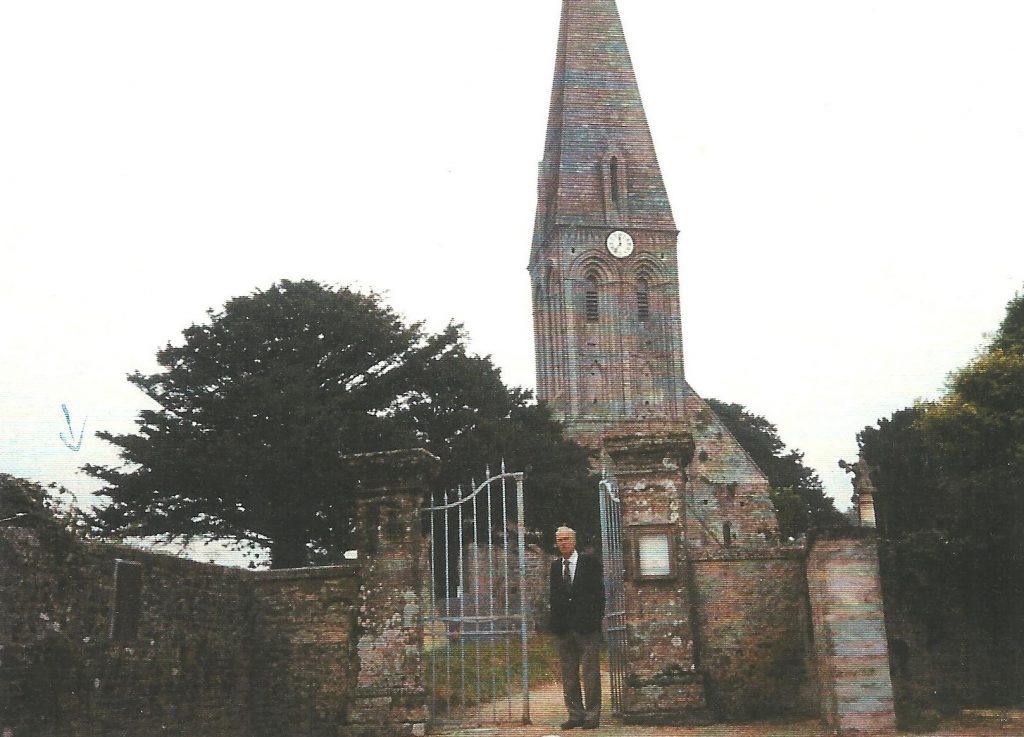 But it was not until 2018 that I got to visit the exact location where he was injured. This was as part of a television programme which was filmed in Lincolnshire: "World War 2 Treasure Hunters", Series 2, Episode 2, "Hull Blitz", telling the story of the recovery, led by Stephen Taylor, an amateur WW2 detectorist, of Sandy's Boulton and Paul Defiant which crashed in 1941.
Armed with a wealth of documents, I revealed how Sandy later ended up landing at Gold Beach on D-Day but was then mortally wounded two weeks later. The film concluded on location on Gold Beach and at the former wartime location of the Bazenville airfield behind the church where Sandy was fatally injured. Stephen had found the exact location where Sandy was injured in the German attack and, in an emotional visit, took me there for the very first time. I also visited Sandy's grave whilst I was in France for the filming.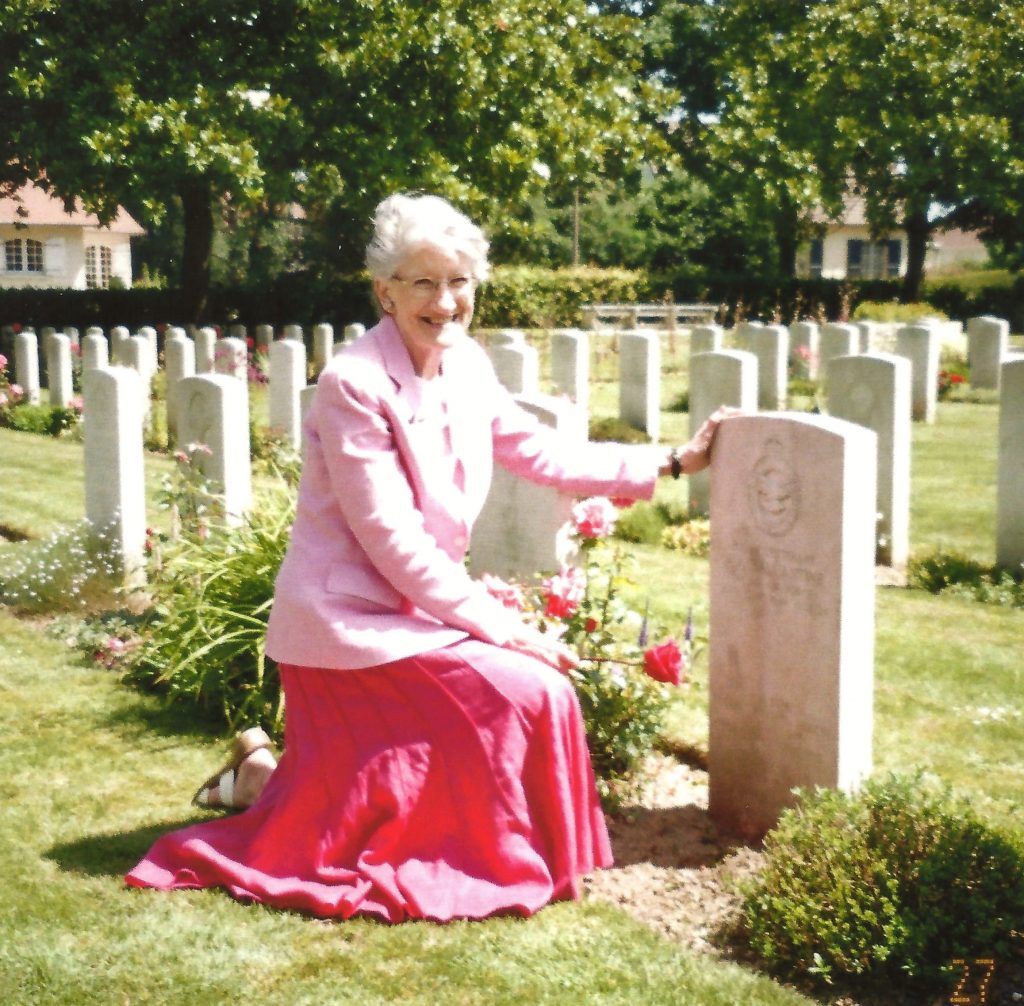 Sandy was in France before the war and I gather he so loved it he said that he would love to live and die in France - unfortunately, he got his wish. But I am so proud he is now commemorated on Column 80 of the British Normandy Memorial.
FALLEN HEROES
ARTHUR ALEXANDER BALLANTINERoyal Air Force • FLIGHT LIEUTENANT

Royal Air Force Volunteer Reserve
483 Group Control Centre, Royal Air Force

DIED 20 June 1944

AGE 24

SERVICE NO. 85650