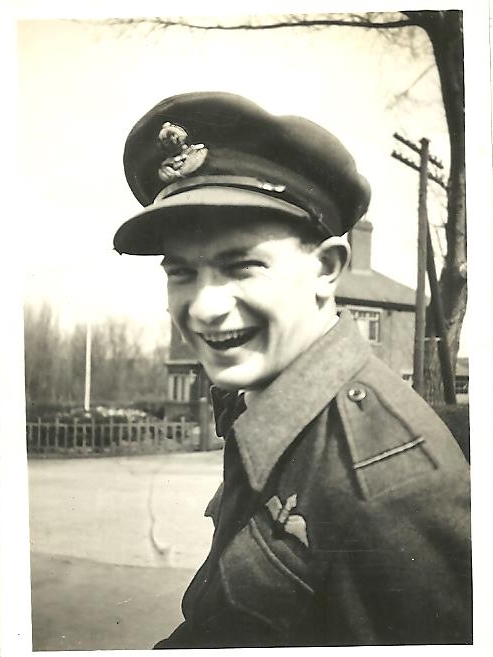 "Sandy" Arthur Alexander Ballantine #1
The story and photographs are shared by the Trust with kind permission from Christine Ballantine, Sandy's daughter
Flt/Lt. Arthur Alexander Ballantine, known as "Sandy", service number 85650, was born on the 13th March, 1920. He was an optician apprenticed into the family business of J. Lizars Opticians and Camera business of Scotland and Northern Ireland. He was educated at Merchiston Castle School in Edinburgh, Scotland. His activities included sailing on the River Clyde in Scotland and later on the Norfolk Broads in England. He also played rugby.
Sandy first went to The De Havilland School of Flying at White Waltham, Berkshire in July, 1939 where his proficiency as a pilot was noted as "Above Average" and again, while training at RAF Shawbury, Shropshire. He received his commission in the Royal Air Force Voluntary Reserve as a Pilot Officer on the 7th September, 1940.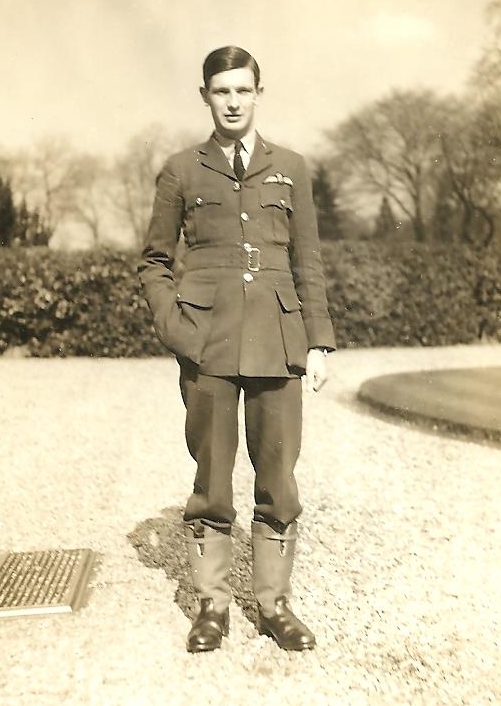 Flt.Lt. A. A. Ballantine aka Sandy at home in Dullatur, Scotland
On the 16th December, 1940 he joined 255 Squadron, RAF, a night fighter squadron based at RAF Stations at Kirton-in-Lindsey then Hibalstow, Lincolnshire and later Coltishall, Norfolk.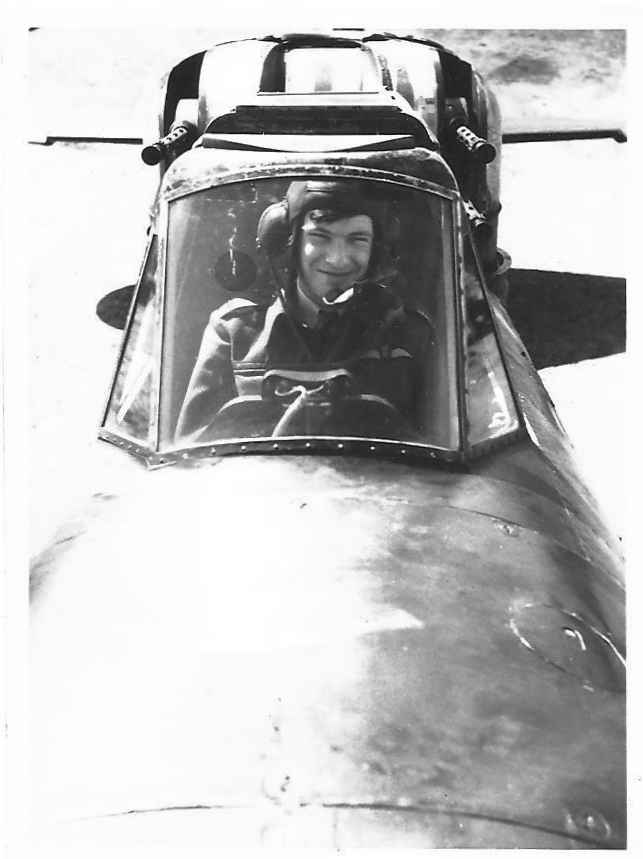 Sandy in his Boulton and Paul Defiant
At 3.30 a.m. on the night of 4th May, 1941 Sandy and his gunner, Sgt. Chris McTaggart, were flying Boulton and Paul Defiant N3333 YD-B when they were shot down while on patrol at 4,000 feet and bailed out at only 1,500 feet, into a ploughed field at Lark Farm, Nochton Fen, Potterhanworth, Lincolnshire, 6 miles south-east of Lincoln. Sandy was unhurt but was charged at by the farmer with a pitch fork thinking he was an enemy! McTaggart, who was slightly hurt, credited Sandy with saving his life. Sandy then borrowed a bicycle from the farmer and went for help. Their plane crashed and burned a short way away. Thus Sandy received the Irvin Parachute Company ruby-eyed caterpillar for bailing out of a burning plane. The day after the crash Sandy was up flying solo again, this time in a Hurricane!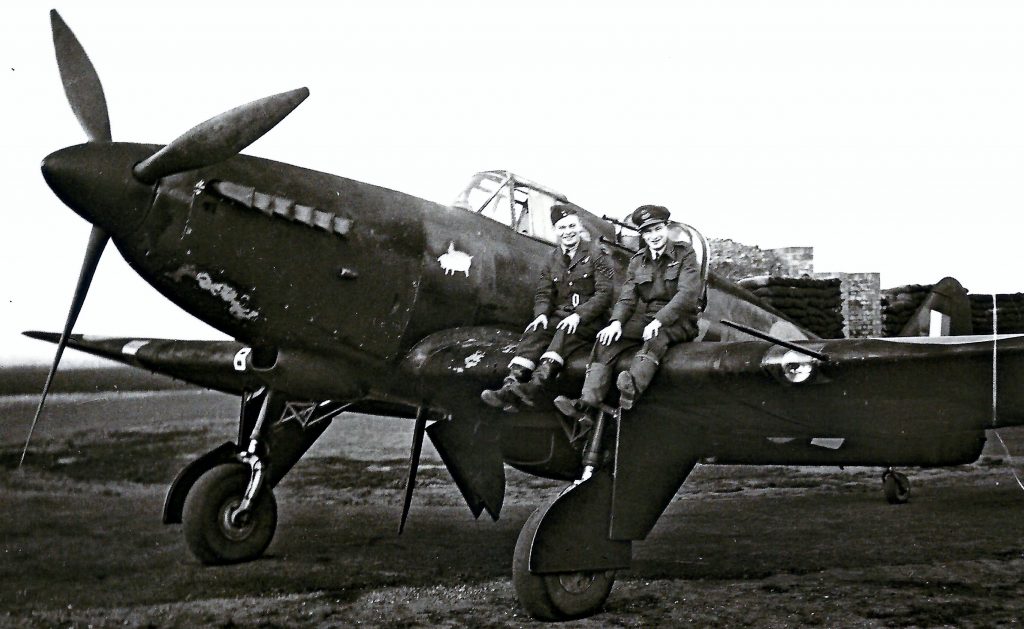 Boulton & Paul Defiant. (L-R) Sgt. Gnr. McTaggart & Sandy
In May, 1941 Sandy briefly volunteered for the Merchant Ship Service Fighter Protection Unit and flew out of Farnborough and Gosport, Hampshire and Speke, Merseyside but later returned to 255 Squadron. He was promoted to Flying Officer on the 7th September, 1941.
In April 1942 he married Peggy, whom he called "Topper". His daughter, Christine, was born in October, 1943.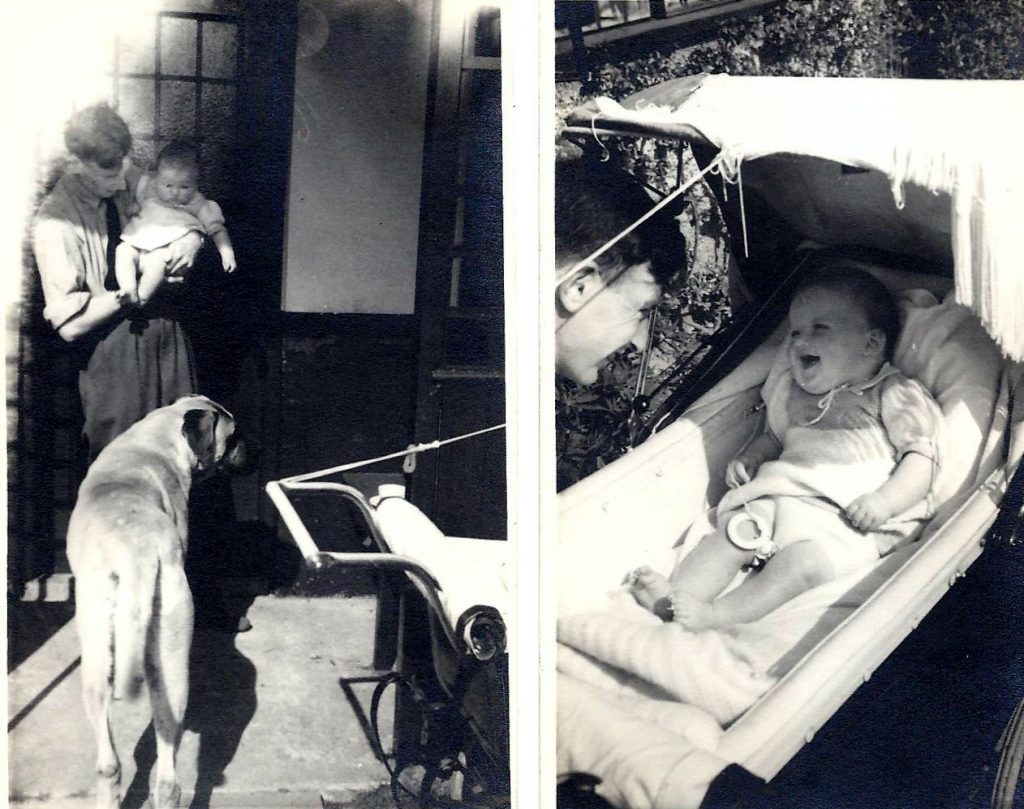 Sandy and Christine as well as the 255 Squadron Mascot, Pilot Officer Bruce, 1944
At this time they rented off-station accommodation in Horning, on the Norfolk Broads. But his flying career would be curtailed in early 1942 when he was blinded in his right eye after the optic nerve was accidentally severed during a sinus operation.
He continued some flying and was promoted to Flight Lieutenant on the 7th September, 1942 but then joined RAF Radar Station Neatishead, Norfolk, 12 Group as a Ground Control Interception (GCI) Controller on the 14th October, 1942 and later became Chief Controller. On the 9th May, 1944 it was conjectured that he was acting Squadron Leader GCI Controller at Rein Pool Holding Unit prior to D-Day. Before going to Normandy, Sandy had 10-day training at the Ground Control Intercept station at Sopley near Bournemouth, Dorset with 11 Group.
On the 6th June, 1944 - D-Day - Sandy landed in the late afternoon on Gold Beach at Le Hamel in the vicinity of Asnelles to set-up the radar units at Bazenville, known as B2 airstrip, with 483 Group Control Centre, 83 Group. On the 17th June Sandy had dug himself a slit trench to sleep.
In the 1990s I got in contact with LAC Bill Findley who was at the Bazenville airfield with Sandy. Bill was able to tell me a bit about Sandy's time in France as he spoke to him whilst Sandy was digging his trench the night before his death. Sandy apparently said to him that he was a lot more frightened on the ground in France than he'd ever been when night fighter flying. This broke me up!
Early in the morning of the 18th, German aircraft dropped sticks of anti-personnel bombs, one of which rolled toward his trench and exploded, burying him. He was dug out alive but his internal injuries needed specialist surgery, so he was transported the 15 miles east to #26 General Hospital near Douvres where he died on the 20th June, 1944.
Sandy was initially buried in La Deliverande Civil Cemetery but he was reinterred in Plot 1, Row D, Grave 4 in La Deliverande War Cemetery, Douvres on 9th November 1944. The inscription at the bottom of the headstone reads: "For ever in our thoughts, darling. All our love, "Topper" and Christine." I was absolutely stunned and cried when I saw my name on it when I first visited his grave when I was just 19.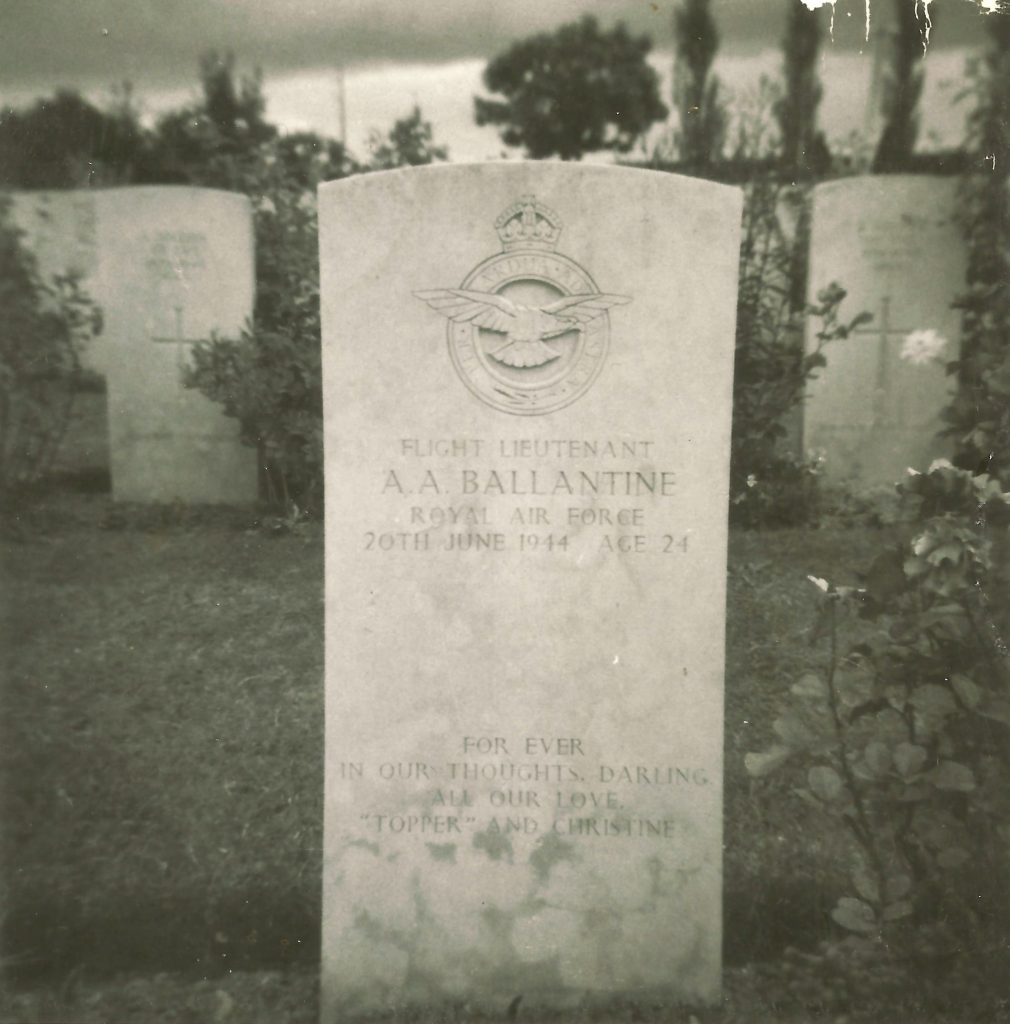 Sandy's grave Plot 1, Row D, Grave 4, La Deliverande War Cemetery
During his RAF career Sandy flew some 25 different aircraft including:- Beaufighters, Blenheims, Defiants, Hurricanes, Tiger Moths, Avro Lancaster, Fairey Fulmar, Fairey Swordfish, etc., etc.
Sandy's death has had a huge effect on my life, but, I found that in doing the research to find out more about him and his life to be quite therapeutic. I do so want him well remembered. You can read more about what I found here
FALLEN HEROES
ARTHUR ALEXANDER BALLANTINERoyal Air Force • FLIGHT LIEUTENANT

Royal Air Force Volunteer Reserve
483 Group Control Centre, Royal Air Force

DIED 20 June 1944

AGE 24

SERVICE NO. 85650