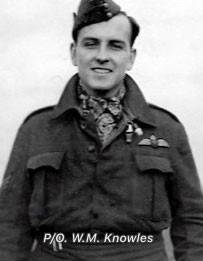 Martin Knowles
The story is shared by the Trust with kind permission from Robert Knowles, nephew of Martin Knowles
I never met my Uncle Martin. He was one of 5 brothers, the second youngest.
My Dad, William, or Bill as he was called,  the middle brother always told me about Martin, whom I am named after, telling me he was a talented artist and a kind brother.
Martin and eldest brother Val along with Tom, William and Peter were born in the British Colony of Barbados. My two uncles, along with many fellow West Indians, volunteered their services.
My grandmother is of Irish descent and the clan arrived there from Ireland in the 1700's.
There is so much info on flight ND 975. I shall be 70 years this year and quite often have wondered about my uncle. It is good to read that he had a "good crew".
Sad that I never met him but now feel that he and his fellow crew members are at peace.
Normandy Memorial Trust: Additional information
Martin Knowles was a crew member on Lancaster ND975, 625 Squadron, Royal Air Force. You can read about the story of ND975 and its crew here.
FALLEN HEROES
WILFRED MARTIN KNOWLESRoyal Air Force • PILOT OFFICER

Royal Air Force Volunteer Reserve
1 Group Special Duties Flight

DIED 01 July 1944

AGE

SERVICE NO. 172412