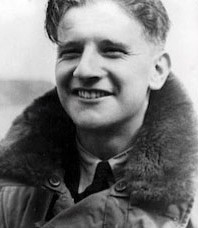 Leslie Harold Lloyd and crew of ND975
The story and photographs are shared by the Trust with kind permission from Leslie's niece, Maureen Hicks
My uncle, Leslie Harold Lloyd, was born on 2nd December 1921 in north London to parents Joseph and Beatrice Lloyd.  He volunteered for the Royal Air Force Volunteer Reserve (RAFVR) (Bomber Command) in August 1941 and was selected for training in South Africa as Pilot/Observer (Navigator).   In October 1942 he was re-selected as an Air Bomber (Bomb Aimer) and eventually joined PO Knowles crew who were posted to 625 Squadron at RAF Kelstern on 15th March 1944.  Two months later, the crew joined a 'Special Duty Flight' at Base 12 RAF Binbrook, where they operated as 'target markers' for precision bombing attacks in the run up to D-Day and following weeks as the Allies advanced across Normandy.
Beatrice Lloyd was my grandmother and fortunately had kept all Leslie's letters up to June 1944. When I read the letters I realised Leslie's crew were just like today's young men. They enjoyed socialising, beer, football and snooker.  Leslie called the crew his 'mates' and 'a good team'. Navigator Robert Frankfurth agreed and wrote to his mother that Skipper P/O Martin Knowles had chosen 'a very good crew' and they worked well together.
The crew were: Pilot: P/O Wilfred Martin Knowles from Trinidad and Tobago; Navigator:  W/O Robert Louis Frankfurth from Canada; Air Bomber:  Fl/Sgt Leslie Harold Lloyd from London; Flight Engineer:  Sgt Alfred Williams Faircloth from London; Wireless Operator:  Sgt Basil Richardson from London; Mid Upper Gunner:  Sgt Mathew John Wallen from Wales; and Rear Gunner Sgt Richard Davison from County Durham.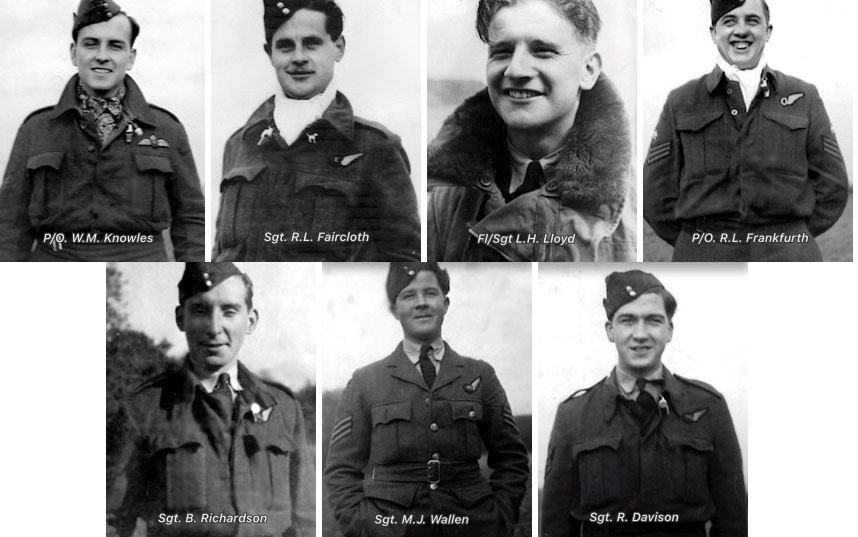 The whole crew were 'Killed in Action' in Lancaster ND975 on night of 30th June/1st July 1944 while dropping coloured flares onto the railway marshalling yards at Vierzon to illuminate and identify aiming point of target for the following bomber stream. Official records note the great accuracy of bombing – a success for No. 1 Group's 'Special Duty Flight'. Sadly, in Leslie's final letter home he mentions going through his 'commission process to officer' and hoped to be on leave on 14th July - home in a fortnight! (Instead, Beatrice and Joseph received the telegram families dreaded most – "Regret to inform you that your son is reported missing ….. "
Before the Normandy invasion took place, Allied Forces recognised it essential for accurate targeting of enemy military targets and transport systems. They had to prevent enemy reinforcements reaching Allied ground forces front line as they advanced across Normandy. So it was decided Group 1 created a highly trained ''Special Duty Flight", based at RAF Binbrook, to mark targets for precision bombing. The "SDF" was a self-contained force that could find, mark and illuminate targets without assistance from RAF Pathfinders.
During this dangerous period, the crew worried about families back home, and while training at RAF Blyton in March 1944, Leslie wrote to Beatrice: "Our Flight Engineer had a bit of bad luck when he went home because his wife is going in hospital and while he was there he was bombed out. He lives in Shepherds Bush, so when I heard that I didn't like it, that place is too near my family for my liking. But I don't think the raids will last long. I'm hoping so anyway, so keep your spirits up."
Then in mid-May, Flight Engineer Alfred Faircloth became a father for the first time. Leslie writes to Beatrice. "I have just received some good news, Alf has just said we should get leave at the end of this week. Alf became a Father yesterday, Sunday, 7lb 6oz, and he's just come from the C.O. who told him about the leave. But although I'm hoping it will be so, I'm keeping my fingers crossed because these things have a habit of coming unstuck." (Keith Faircloth was born 14 May 1944)
Later in May 1944, Leslie writes to Beatrice again about Alfred Faircloth: 'I arrived back OK [at RAF Binbrook] and in time to report in the morning, I waited half-an-hour for Alf at Hammersmith but he never turned up. It's a good thing I never waited any longer as he had wired away for an extension and got it. But even though his extra time has passed now, he still hasn't shown his face. I think he's a damn fool because if he hasn't got a good reason, he's certain to fall in the cart."
Few days later Leslie writes: "Alf eventually came back 9 hours adrift after having 4 days extension, he had quite a strip torn off him by the C.O. but luckily for him that's as far as it went."
Early June 1944 Leslie writes from Binbrook: "As much as I would like to phone up every evening, it just can't be done, especially these times when private calls are strictly barred at all camps"
RAF aircraft depended on expert maintenance and Robert Frankfurth wrote to his mother asking for more cigarettes for the excellent ground crews. Unfortunately, ground crews couldn't stop battle damage. Lancaster MkIII ND975 was shot down by a German night fighter and crashed into the ground at Les Mazeaux, near La Ferte-St. Cyr. There were no survivors. Several body parts were removed and put into a communal grave in La Ferte-St Cyr churchyard. A memorial to Leslie's crew consisting of a marble column was erected by the villagers at crash site.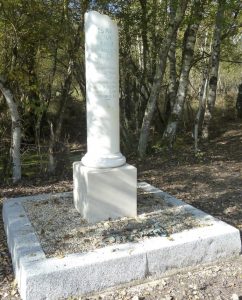 With assistance from the Royal British Legion, Beatrice attended the unveiling on 20th July 1952.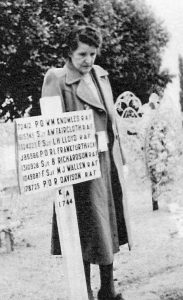 Beatrice was greatly comforted by the kindness and friendship she'd received from the villagers and kept in contact with some for many years. Although she attended the Memorial Service in July 1952 she never returned. She was content that Leslie's final resting place was with his 'mates' in friendly French soil.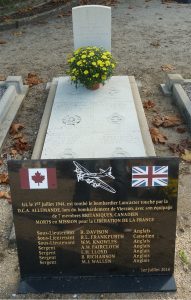 I wanted to learn more about these young men and began further research.  I obtained Leslie's Service Record from RAF Historical Branch, who recommended I should search National Archives RAF records.  Nobody had collected Leslie's medals, so I did (as next-of-kin).  I contacted 625 Squadron Memorial Association and the Commonwealth War Graves Commission. I bought reference books, searched countless on-line records and social media sources, and discovered more information about Leslie's crew and all the thousands of 'Bomber Boys' who lost their lives fighting for freedom.  You can find out full details of what I discovered here. The Normandy Memorial is a fine tribute to them all.
FALLEN HEROES
LESLIE HAROLD LLOYDRoyal Air Force • FLIGHT SERGEANT

Royal Air Force Volunteer Reserve
1 Group Special Duties Flight

DIED 01 July 1944

AGE 23

SERVICE NO. 1324223

ALFRED WILLIAMS FAIRCLOTHRoyal Air Force • SERGEANT

Royal Air Force Volunteer Reserve
1 Group Special Duties Flight

DIED 01 July 1944

AGE

SERVICE NO. 1615345

BASIL RICHARDSONRoyal Air Force • SERGEANT

Royal Air Force Volunteer Reserve
1 Group Special Duties Flight

DIED 01 July 1944

AGE 23

SERVICE NO. 1310928

MATHEW JOHN WALLENRoyal Air Force • FLIGHT SERGEANT

Royal Air Force Volunteer Reserve
1 Group Special Duties Flight

DIED 01 July 1944

AGE 22

SERVICE NO. 1049087

ROBERT LOUIS FRANKFURTHRoyal Air Force • PILOT OFFICER

Royal Canadian Air Force
1 Group Special Duties Flight

DIED 01 July 1944

AGE 22

SERVICE NO. J/86986

WILFRED MARTIN KNOWLESRoyal Air Force • PILOT OFFICER

Royal Air Force Volunteer Reserve
1 Group Special Duties Flight

DIED 01 July 1944

AGE

SERVICE NO. 172412

RICHARD DAVISONRoyal Air Force • PILOT OFFICER

Royal Air Force Volunteer Reserve
1 Group Special Duties Flight

DIED 01 July 1944

AGE 21

SERVICE NO. 178725