The passing of Normandy Veteran and ambassador Ronald Clements
It is with great sadness that the Trust has learned of the news of the passing of Normandy Veteran and Trust ambassador, Ronald Clements. Ronald died on 7 March at the age of 98.
The Trust was extremely grateful for Ronald's great and long-standing support of the project. He attended the official inauguration of the Memorial on 6 June 2019 (the 75th anniversary of D-Day) alongside his beloved granddaughter, Rebecca.
Ronald was a Petty Officer in the Royal Navy and was on HMS Mounsey on D-Day itself. In October 2019 he shared his story, which you can read here.
The Trustees and all involved in the British Normandy Memorial project send their deepest condolences to Ronald's family and friends.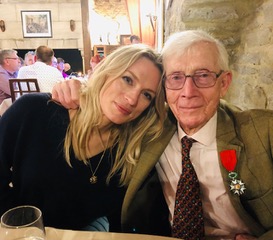 Ronald and granddaughter, Rebecca, in Normandy for the 75th anniversary of D-Day 75.