MEET NORMANDY VETERAN AND AMBASSADOR RONALD CLEMENTS
Normandy Veteran Ronald Clements has been appointed as an ambassador for the Normandy Memorial Trust in recognition of his long-standing support.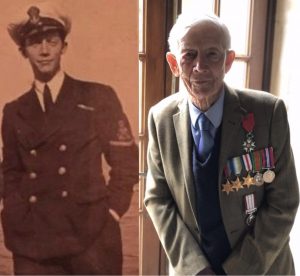 Then and now: Ronald Clements pictured during his time as a Petty Officer and at the D-Day 75th anniversary commemorations in Normandy.
Ronald was a Petty Officer in the Royal Navy. In the early part of the war in 1940 he was employed in the Dover Command servicing the flotillas of mine sweepers and MTB (Motor Torpedo Boats). In those days, Dover was called Hell Fire Corner because they were shelled from Cap Gris-Nez in France and were eventually shelled out of their office and store. They used to stand on the cliffs in Dover and watch for the flash at the Cap, timing the arrival of the shell over in Dover. Very often the Messerschmitts used to come over and shoot down the barrage balloons which protected the harbour – quite a spectacular thing to watch. This was in order to clear the way for the bombers.
In the later parts of the war, Ronald spent time stationed in Iceland and eventually went to America to commission a Captain- class frigate being built in Boston – HMS Mounsey (K569). The United States transferred the ship to the United Kingdom under Lend-Lease on 23 December 1943. She was sailed out of Boston and went on to do the working up in Bermuda.
Leaving Bermuda for the United Kingdom Ronald ended up escorting two liberty ships. These boats could do 16 knots which was quite something in comparison to the speed of a normal convoy.
Eventually, Ronald was based in Belfast to form part of the 15thFlotilla where we spent a year or so escorting convoys across the Atlantic and hunting U-Boats.
Ronald was on HMS Mounsey on D-Day itself. Two weeks prior to D-Day, Ronald and his comrades were detached from Atlantic duties and sent to Moelfre Bay off Anglesey in Wales. On 6 June 1944 they were part of the large invasion force already assembled. They crossed the channel escorting the invasion fleet and from there went on to form the outer screen which was designed to ensure U Boats and E Boats did not get in amongst the invasion fleet.
"The bronze sculpture of three British soldiers landing on Gold beach is quite amazing. It is a fitting memorial to honour the 22,442 people who died and will be a place of peaceful contemplation for years to come, not only for the families of the fallen but for the future generations," says Ronald.
To find out more about our ambassadors sign up for our newsletter.