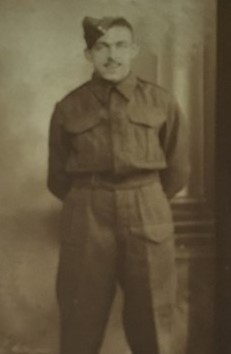 William Samuel Goss
This story and photos are shared by the Trust with kind permission from Anthony and Wayne Goss, son and grandson of William Goss
William Samuel Goss was the son of Harry Samuel and Margaret Dorothy Goss of Plymouth and the husband of  Gertrude Iris Goss of Stonehouse, Plymouth.
He served with the 4th Battalion, Kings Shropshire Light Infantry, 159 Infantry Brigade, 11th Armoured Division. In April 1944 the Division moved south to their concentration area around Aldershot for their final preparations ahead of the Normandy invasion. On 8 June they received their orders to move and arrived in Haywards Heath on the 9th where they were kept in one of the pre-D-Day sealed camps. The battalion's Rifle Companies embarked from Newhaven on June 13th and landed on at Courseulles-sur-Mer, Normandy on 14th June 1944 and advanced to their concentration area at Cainet.
They remained here until their first engagement as part of Operation Epsom. On 27th June the battalion moved to their harbour area south of Norrey-en-Bessin and then advanced through Cheux towards the village of Baron, located at the foot of Hill 112. They captured, and then held, Baron during one of the fiercest battle the battalion fought in, namely that around Hill 112.
After the Germans forced the Allies to withdraw from Hill 112 they then launched an offensive on the night of 30 June/1st July towards Baron and the Odon river crossing at Tourmauville. William was killed in action on 1 July 1944 during this offensive but the battalion repelled the German attack and held Baron.
We still have William's original boxed medals presented to him.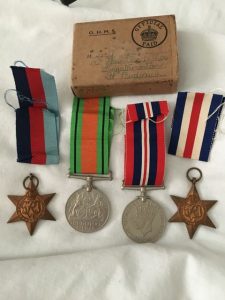 FALLEN HEROES
WILLIAM SAMUEL GOSSArmy • PRIVATE

King's Shropshire Light Infantry
4th Battalion

DIED 01 July 1944

AGE 27

SERVICE NO. 5626384