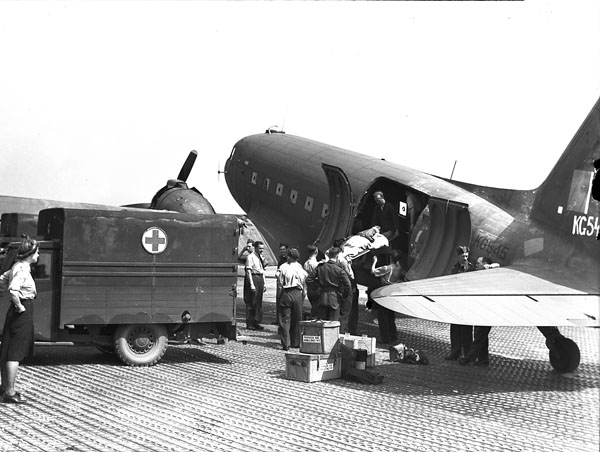 William Edward Brennen
RAF Squadrons did not always have offensive roles in support of the Battle of Normandy. One important task was the repatriation of the wounded back to Britain for urgent medical treatment. Hundreds, if not thousands, of lives were saved as a result of daily flights between UK airfields and the newly established Normandy beachhead in France.
575 Squadron was one of the units involved in this vital role.
Courtesy of Library and Archives Canada
At the beginning of the Battle of Normandy, 575 Squadron was involved in Operation Tonga (6th Airborne Division's parachute and glider assault in the early hours of D-Day). 21 Dakota aircraft from the Squadron dropped around one thousand airborne troops from 1st Canadian and 9th Parachute Battalions, part of 3rd Parachute Brigade on Drop Zone 'N' between the villages of Ranville, Amfreville and Le Mariquet. Later that day 19 aircraft, towing Horsa gliders, took part in Operation Mallard (bringing reinforcements for 6th Airborne Division on the evening of D-Day) which they released on Drop Zone 'N'.
But as the offensive continued, Anson aircraft joined the Squadron and it was given the additional crucial task of delivering supplies and personnel in support of frontline units on a daily basis, bringing the wounded back home on the return journey.
Courtesy of Library and Archives Canada
Allied fighters did have supremacy over the Luftwaffe by this stage in the battle, but flights over the Channel were not without risk.
On 5th August 1944, Dakota MKIII FZ674 took off from RAF Broadwell, Oxfordshire bound for Landing Ground B14, Amblie, 9 miles north of Caen, France. But it crashed in foggy weather just short of its destination killing all the crew.
One of those on board was Corporal William Edward Brennen, who was serving with the Squadron as a Nursing Orderly to help care for the wounded on board whilst they were repatriated back to the UK.
He is buried in Ryes Cemetery, in Bazenville, France.
Courtesy of Commonwealth War Graves Commission
With thanks to Pegasusarchive.com for additional information.
FALLEN HEROES
WILLIAM EDWARD BRENNENRoyal Air Force • CORPORAL

Auxiliary Air Force
575 Squadron, Royal Air Force

DIED 05 August 1944

AGE

SERVICE NO. 867113

ERNEST FRANCIS GUYRoyal Air Force • FLIGHT SERGEANT

Royal Air Force Volunteer Reserve
575 Squadron, Royal Air Force

DIED 05 August 1944

AGE

SERVICE NO. 1317603

PETER CARL HAKANSSONRoyal Air Force • FLYING OFFICER

Royal Air Force Volunteer Reserve
575 Squadron, Royal Air Force

DIED 05 August 1944

AGE 20

SERVICE NO. 152699

NORMAN LOMASRoyal Air Force • FLYING OFFICER

Royal Air Force Volunteer Reserve
575 Squadron, Royal Air Force

DIED 05 August 1944

AGE 32

SERVICE NO. 154352

JOHN ALEXANDER MORRISONRoyal Air Force • FLIGHT LIEUTENANT

Royal Air Force Volunteer Reserve
575 Squadron, Royal Air Force

DIED 05 August 1944

AGE 26

SERVICE NO. 131804