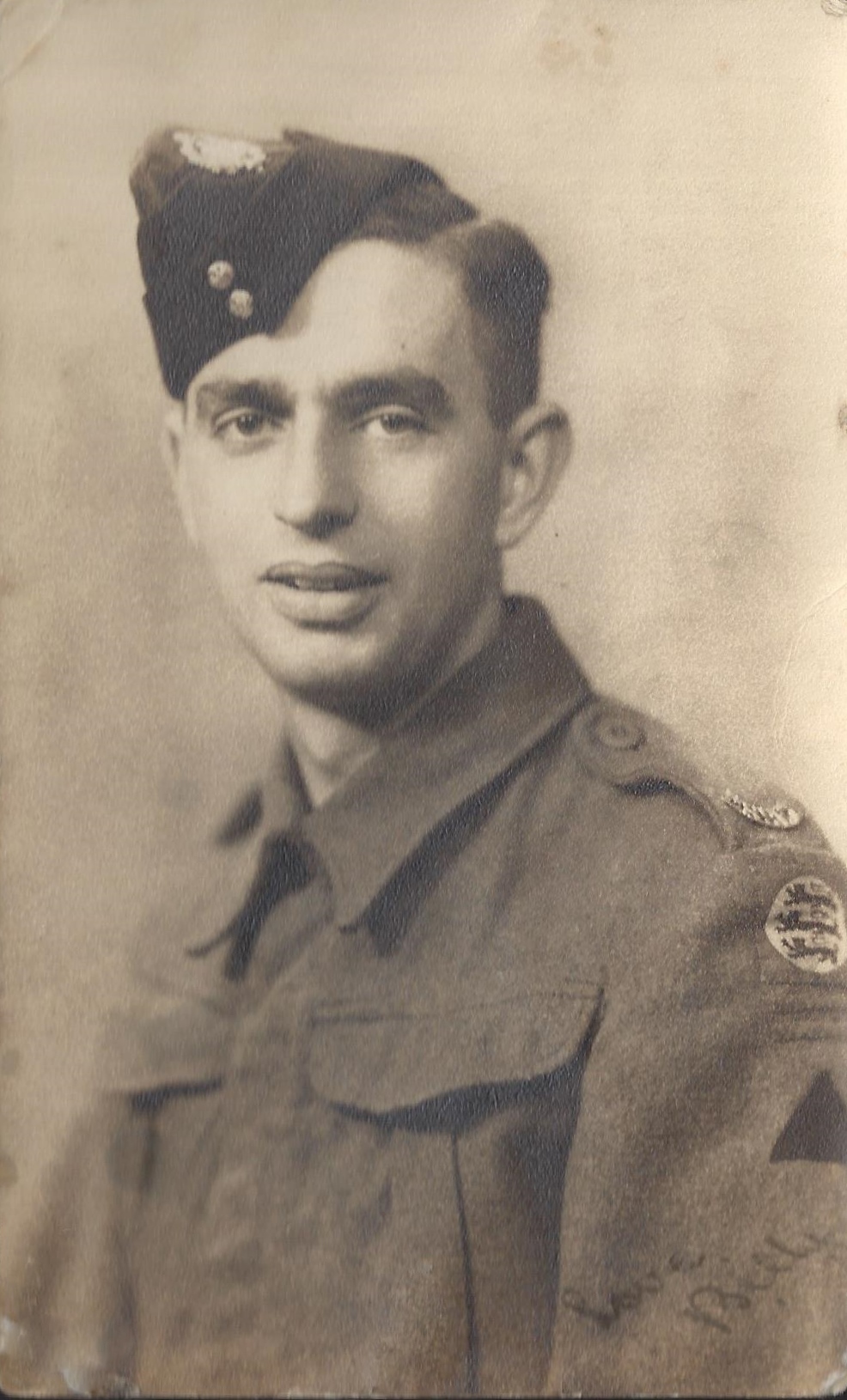 William Charles Hill
This story and photos are shared by the Trust with kind permission from William Hill, son of William Charles Hill
William Charles Hill was born on 2nd December 1915 at the Maternity Hospital, Bury St Edmunds, Suffolk. He was the eldest of three sons, William, Fred and George, born to Paul William Hill and Margaret Sophia Hill (née Brabrook).  They  lived at Cullum Road in Bury St Edmunds.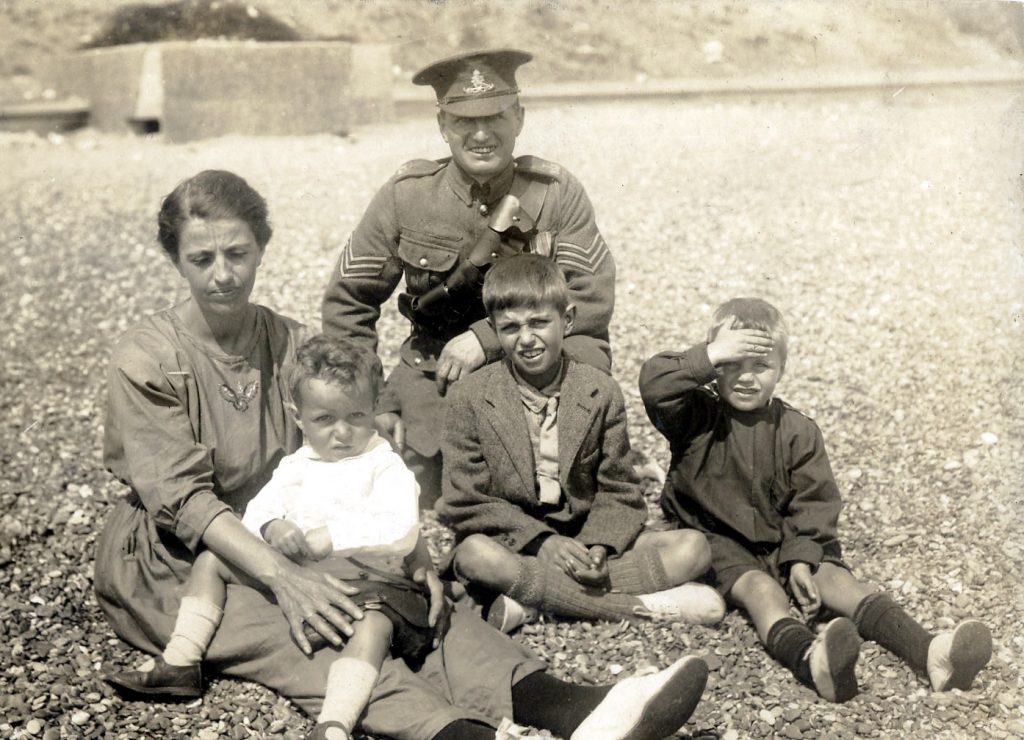 Paul William and Margaret Sophie with George, William (centre) and Fred c. 1922-23
William was educated at the Bury St Edmunds Guildhall Feoffment Boys School from the age of 9. When he left school five years later, he started work as an apprentice at the Victorian Iron Works but after a few months he left to work as an upholsterer at Smith's Furnishing Company on the Cornhill.
His younger brother Fred described him as very much an outdoor type with his social life revolving around the Better Britain Brigade, which was a junior offshoot of the Church Army. Each year he attended the summer camp at Sea Palling in Norfolk. He joined the band and displayed a natural talent at playing the side drum and formed a small dance band with his brother Fred which only lasted a short time. He also had an interest in amateur dramatics, but his real love was the West Suffolk Wheelers cycling club where he took up competitive cycling. Fred described him as 'impetuous to a degree, never shirking from a challenge and constantly looking for fresh horizons. His only failing was that he did not take kindly to being corrected'. At one time William even considered joining the Royal Marines.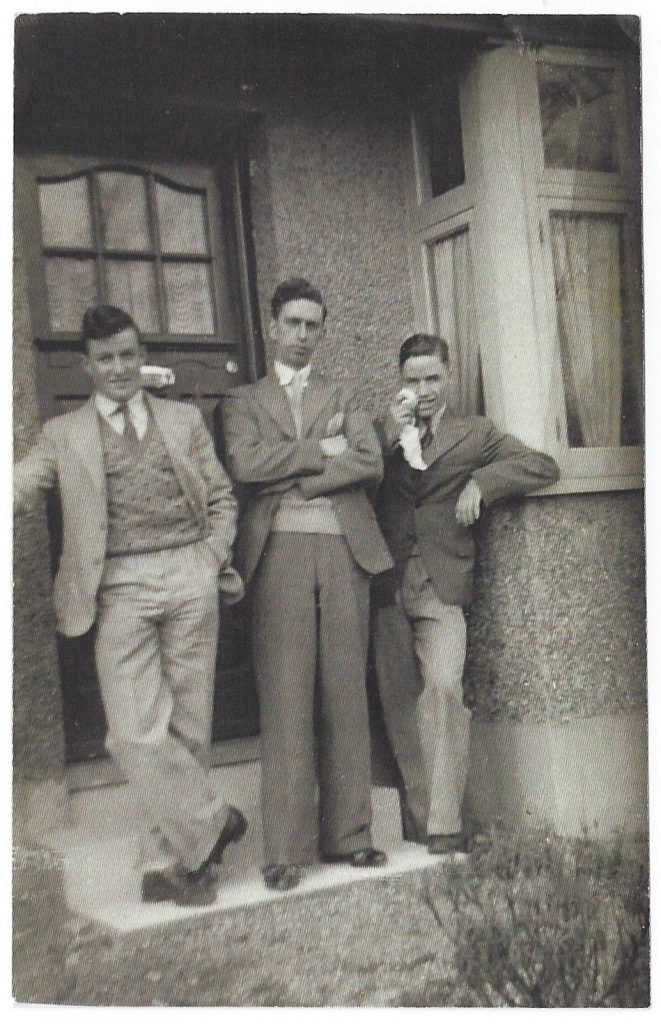 William (centre) with his brothers, George and Fred
He represented the West Suffolk Wheelers in 25 and 50 mile time trials and his wife to be, Violet Carter, was also a member of the cycling club. When he left Bury St Edmunds in 1936, he took up employment as an upholsterer for De'Ath and Co in Chelmsford, Essex.
In 1937 he married Violet and their first home together was in Riverside, Chelmsford. After the birth of their first child, Pauline, they moved to Woodham Ferrers where their second child Anthony (Tony) was born and finally to an end of terrace three bedroom house in South Woodham Ferrers in 1940. William often cycled the 22 mile trip to his work in Chelmsford. Three more children completed the family: Yvonne was born in 1940, Christine in 1942 and William (Bill) in 1945, sadly 5 months following the death of their father.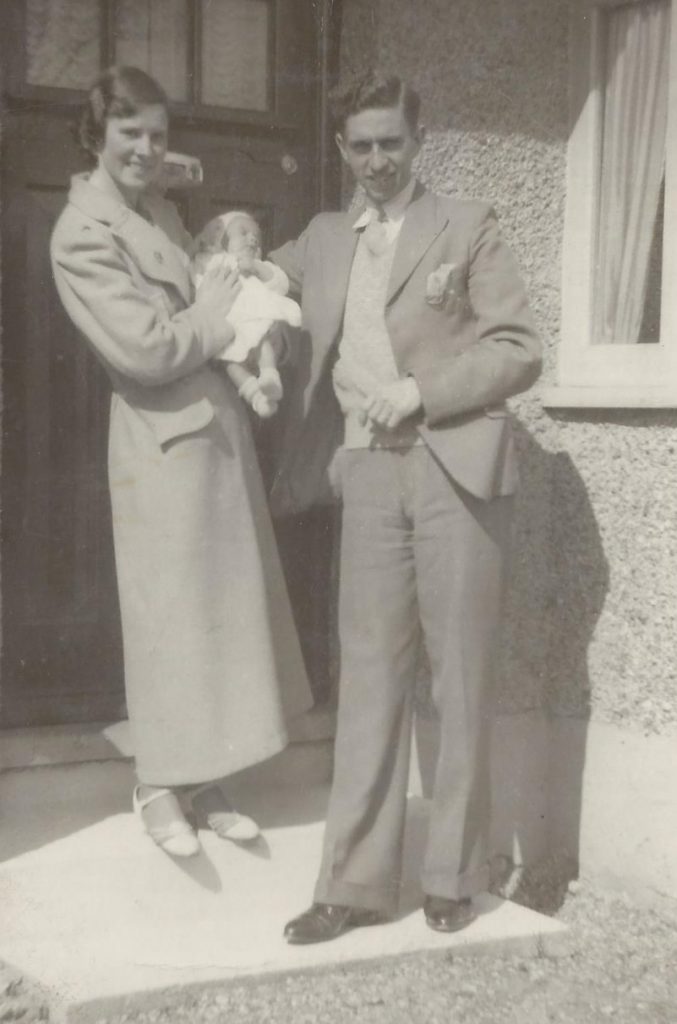 William and Violet with their first child, Pauline, born in 1938
Following the outbreak of war, William left home on 11th July 1940 with his village friend, Les Holden, travelling to Redditch near Birmingham, where they enlisted and were posted to the 8th Battalion, Essex Regiment on 26th July 1940. By 5th June 1941 he had passed his first-year test as a signaller. On 1st Dec. 1941, 8th Battalion was transferred to the Royal Armoured Corps and converted to armour, becoming the 153rd (Essex) Regiment, Royal Armoured Corps, part of the 34th Army Tank Brigade. At this point Les transferred to 2nd Battalion, Essex Regiment and trained as a mine and explosives specialist.
From 19th November 1941 until 29th January 1942, William was attached to the 57th Training Regiment where he passed his trade test as a tank driver Group C, Class III. based at Warminster in Wiltshire.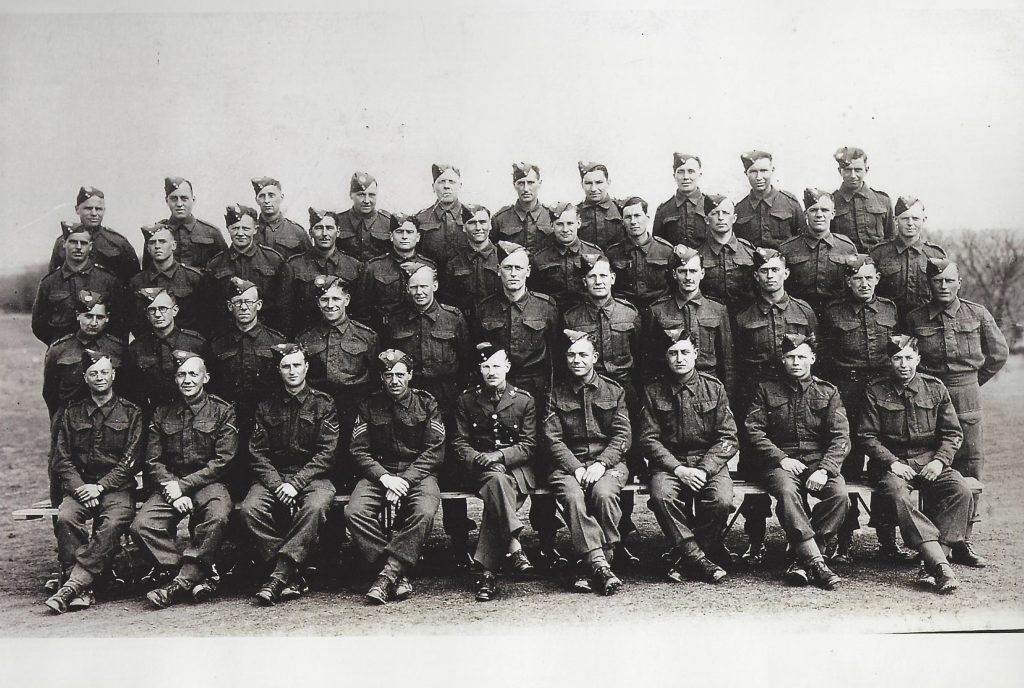 William (top right) at training camp c. 1941
After initial training he returned to 153rd Regiment, Royal Armoured Corps which was then based in Swindon, Wiltshire, under the command of Lt Colonel C L Wilson. Further training took place in several locations including Didlington in Norfolk, Worthing in West Sussex, Catterick in North Yorkshire, the South Downs and Broome Park near Canterbury in Kent. Throughout these years William would have been trained on Mk IV and later Churchill tanks and undertaken a variety of exercises in South East England. This would have included tank maintenance and waterproofing, coastal defence, night manoeuvres, camouflage and firing range practice as well as more formal lectures. Pre-invasion exercises were also undertaken with 43rd Wessex Infantry Division and XII Corps. There was a gradual increase in troop numbers and tanks during this time and by July 1944 the strength of the Regiment was over 40 officers and 680 other ranks.
The three Royal Armoured Regiments making up the 34th Army Tank Brigade each had distinguishing tank markings. The 153rd Regiment had tanks marked with the number '158' in white on a green background. In addition, each of the three squadrons within each Regiment was marked with a blue diamond for 'A' Squadron, a square for 'B' Squadron and circle for 'C' Squadron. We know that William was a tank driver in 'A' Squadron.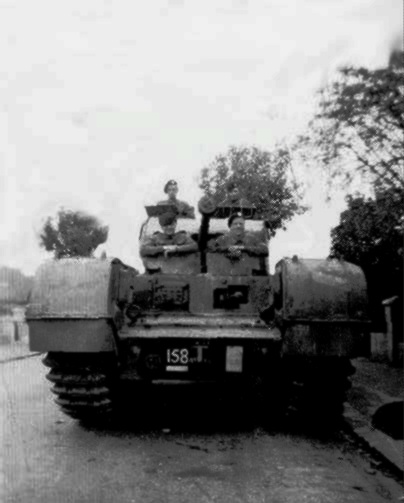 William, top left, in a Churchill tank of 153rd Regiment, Royal Armoured Corps
On 3rd July 1944 153rd Regiment embarked for Normandy from Gosport Hardway, Hampshire. Amongst them was LST 306 bound for Juno Beach on the Normandy coast with 5 officers and 55 other ranks including 6028227 Tpr William Charles Hill. Also on board were 10 Churchill tanks.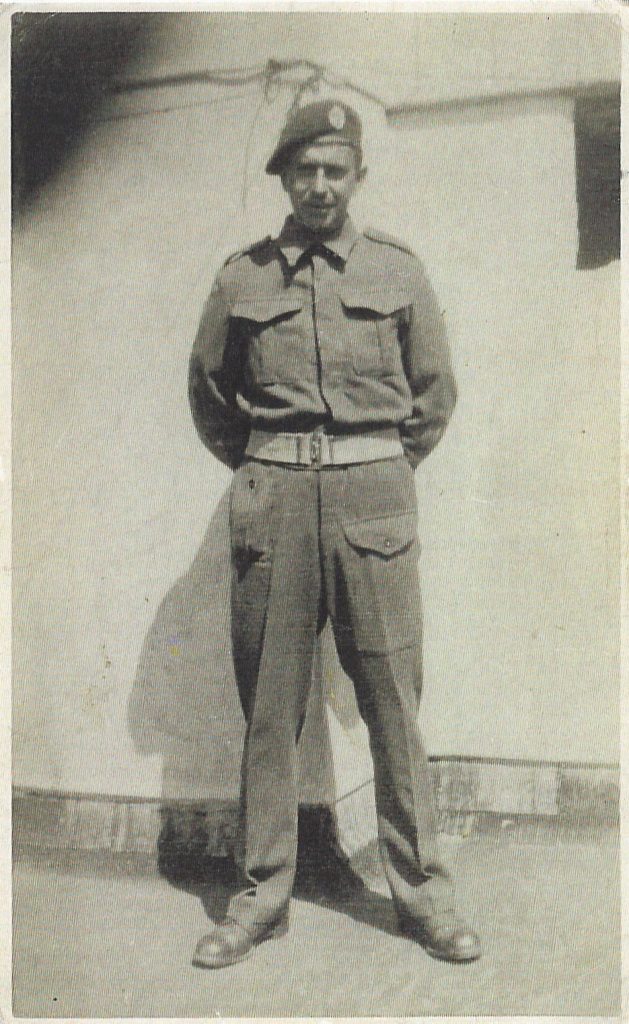 William photographed prior to leaving for Normandy
The regiment disembarked at Graye-sur-Mer on 4th July and moved to an assembly area in a wood north of Coulombs for de-waterproofing and general preparations for action. Two more tanks disembarked on 5th July and joined them to bring 153rd Regiment RAC to full strength.
At this time the Germans were most worried about losing Caen and the strategically important high ground known as Hill 112. The battle for control of Hill 112 lasted many weeks and involved some of the fiercest tank battles of the Normandy campaign. Following attempts to capture Caen in operations Epsom and Jupiter, Operation Goodwood was launched to outflank Caen from the east.
On the night of 15/16th July, the 153rd Regiment went into action just prior to this operation to distract the Germans ahead of the main offensive. They moved to the forward assembly point at Mondrainville about 5 kilometres west of Caen and on the morning of 16th July the attack commenced.
153rd RAC advanced to Bougy where it suffered a number of casualties. The regiment was finally relieved by 107th RAC and moved to La Biyude to reorganise. The regiment had lost 14 tanks and there were many personnel casualties. The regiment remained in La Biyude and was placed in support of 158th Infantry Brigade in a defensive role.
On 26th July 'A' squadron moved to Maltot to support 6th Battalion, Royal Welsh Fusiliers and then the counter attack by 7th Battalion, Royal Welsh Fusiliers. The attack on Maltot continued for a number of days and it was here that on 28th July the war diary reported that at 15:00, during a visit by Maj General Richards and the Brigade Commander, William and his co-driver were wounded. The front glacis plate of the Churchill tank took a direct hit from a shell causing the glacis plate to collapse onto both driver and co-driver, trapping them by their legs. They had to be cut free using oxyacetylene cutters.
William was probably taken first to Banville field hospital and eventually flown to RAF Broadwell then on to Whitchurch Emergency Hospital in Glamorgan. He was admitted on 4th August 1944 with severe injuries to both legs but died from his wounds 22 days later on 26th August 1944 aged 28. On his death certificate the cause of death is stated as 'septicaemia with compound fractures to left tibia, fibula and femur and right tibia and fibula'.
His wife Violet was left to raise his four young children, Pauline, Tony, Yvonne and Christine and was four months pregnant with his youngest son, Bill. During his time in hospital he wrote a note on a piece of paper asking his brother, Fred, "Please take care of Vi and the children."
He now lies in the cemetery at Bury St Edmunds and is commemorated on the memorials in St Mary's Church in Woodham Ferrers and St Peter's Church, Hospital Road, Bury St Edmunds. .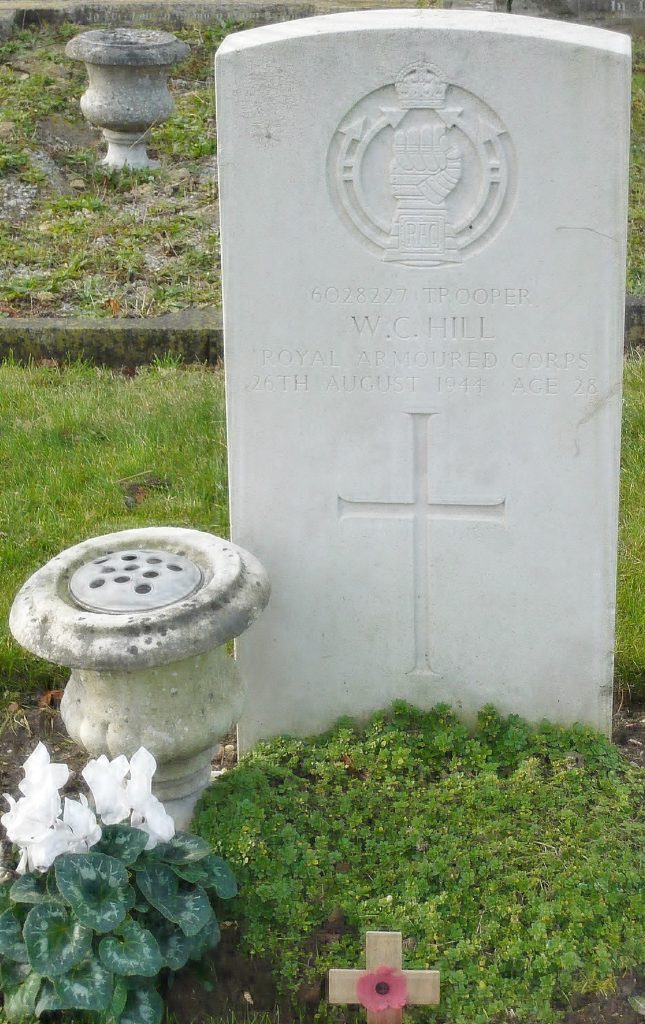 FALLEN HEROES
WILLIAM CHARLES HILLArmy • TROOPER

Royal Armoured Corps
153rd (8th Battalion, The Essex Regiment) Regiment

DIED 26 August 1944

AGE 28

SERVICE NO. 6028227