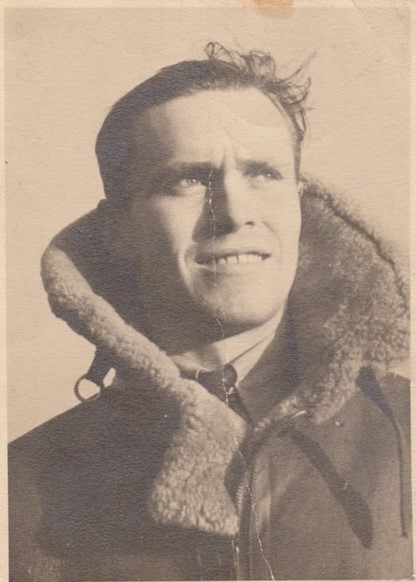 William Albert Hannaford and crew of LK385
This story and photos are shared by the Trust with kind permission from Keith Hannaford, son of William Hannaford
W/O WILLIAM ALBERT HANNAFORD service number 640428 born 4th December 1916 died 6th June 1944 while serving with 149 Squadron.
He was the wireless operator in a heavy bomber aircraft Stirling LK385, which set out on a Special Operations Mission to attack a target near Caen, in connection with the Normandy invasion and sadly failed to return.
The aircraft crashed into a farmhouse at Baudre, a village south of St Lo, Manche, Normandy, France. It is not known if the plane was shot down or developed an engine fault.
The rest of the crew were:-
37177 S/Ldr CJK Hutchins -Pilot
152049 F/O JB Hornby – Navigator
1671946 Sgt RHS Hart – Navigator
1580762 F/Sgt AR Wincott – Air Bomber
631478 F/Sgt W McCoy – Flight Engineer
165926 Sgt RW Abrams - Air Gunner
1625609 Sgt FW Bellamy – Wireless Operator
Additional information from Normandy Memorial Trust: The crew were carrying out a Special Duties mission to drop dummy parachutists as part of Operation Titanic. This operation aimed to confuse the Germans and make them think that the Allied airborne landings were taking place over a wider area than they really were.
FALLEN HEROES
WILLIAM ALBERT HANNAFORDRoyal Air Force • WARRANT OFFICER

Royal Air Force Volunteer Reserve
149 (East India) Squadron, Royal Air Force

DIED 06 June 1944

AGE 27

SERVICE NO. 640428

CHARLES JOHN KENNETH HUTCHINSRoyal Air Force • SQUADRON LEADER

Royal Air Force
149 (East India) Squadron, Royal Air Force

DIED 06 June 1944

AGE 27

SERVICE NO. 37177

JAMES BROOKS HORNBYRoyal Air Force • FLYING OFFICER

Royal Air Force Volunteer Reserve
149 (East India) Squadron, Royal Air Force

DIED 06 June 1944

AGE 21

SERVICE NO. 152049

ROBERT HENRY STANDING HARTRoyal Air Force • FLIGHT SERGEANT

Royal Air Force Volunteer Reserve
149 (East India) Squadron, Royal Air Force

DIED 06 June 1944

AGE 23

SERVICE NO. 1671946

ARTHUR RONALD WINCOTTRoyal Air Force • FLIGHT SERGEANT

Royal Air Force Volunteer Reserve
149 (East India) Squadron, Royal Air Force

DIED 06 June 1944

AGE 20

SERVICE NO. 1580762

WILLIAM CHRISTOPHER MCCOYRoyal Air Force • PILOT OFFICER

Royal Air Force
149 (East India) Squadron, Royal Air Force

DIED 06 June 1944

AGE 23

SERVICE NO. 55793

RONALD WALTER ABRAMSRoyal Air Force • SERGEANT

Royal Air Force Volunteer Reserve
149 (East India) Squadron, Royal Air Force

DIED 06 June 1944

AGE 20

SERVICE NO. 165926

FRANK WILLIAM BELLAMYRoyal Air Force • SERGEANT

Royal Air Force Volunteer Reserve
149 (East India) Squadron, Royal Air Force

DIED 06 June 1944

AGE 20

SERVICE NO. 1625609