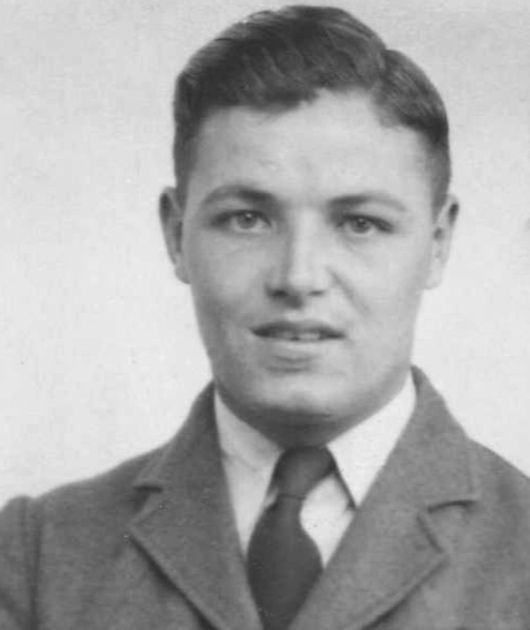 Walter Cyril Vatcher
This story and photo is shared by the Trust courtesy of Michael Boucher, using information from several sources including the Typhoon Project, Canadian Virtual War Memorial, "The Typhoon and Tempest Story" by Chris Thomas and Chris Shores and the Yorkshire Aircraft Site.
Walter Cyril Vatcher (known as "Vatch") was a pilot with the RAF during the Second World War, part of 174 'Mauritius' Squadron. He enlisted in Newfoundland on July 20, 1940. He was the son of Frederick and Ada Maud Vatcher of Rose Blanche, Newfoundland, Canada. His brother, Austin, also served in the RAF.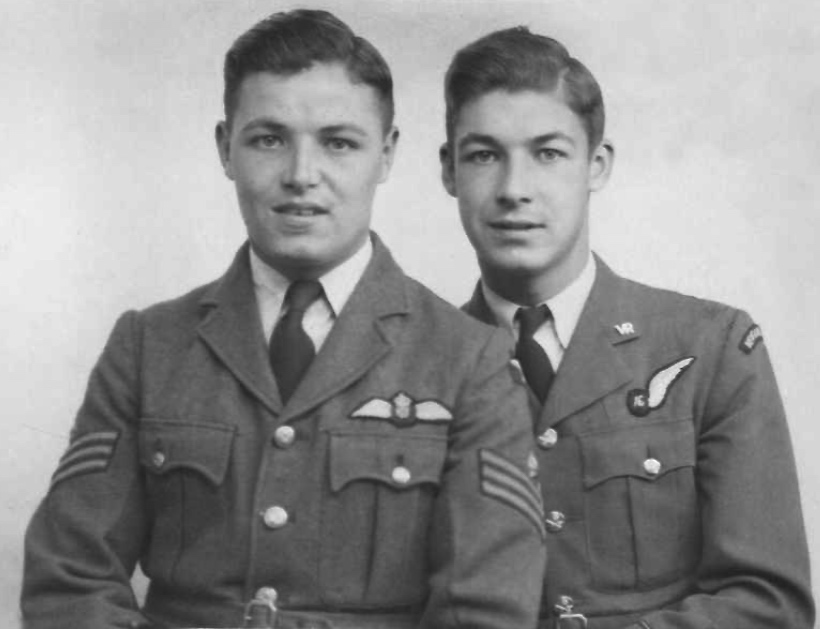 L-R: Walter and and Austin Vatcher
On August 20, 1941, he was flying Defiant V1180 of 60 OTU [Operational Training Unit] when it struck a tree at 13:35 hours at Ecclesfield, Sheffield. He was attempting a forced landing as he had become lost on a cross-country training flight and had run out of fuel. Both he and his Air Gunner, Sgt James Thomas [Thomans], sustained minor injuries.
After this incident, he was posted to 125 Squadron on October 5, 1941. He seems to have damaged two more aircraft and was posted away by December 1941. By March 1942 he was flying "Hurribombers" with 174 Squadron. He took part in the Dieppe Raid during which the squadron lost five aircraft and his newly appointed French CO, Emille Fayolle, was killed. He was mentioned in despatches on 1 January 1943 and commissioned on April 28, 1943. 174 Squadron converted to Hawker Typhoons in March 1943.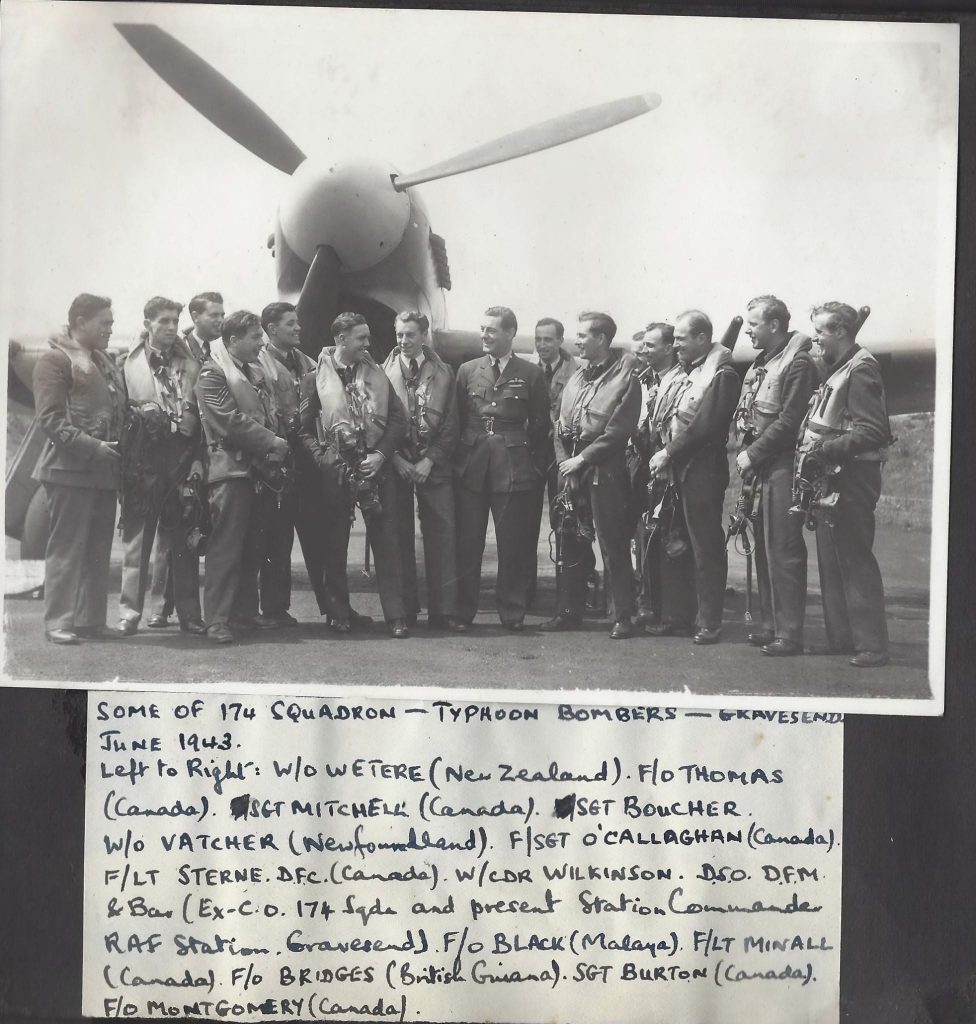 Vatch is standing 4th from the right.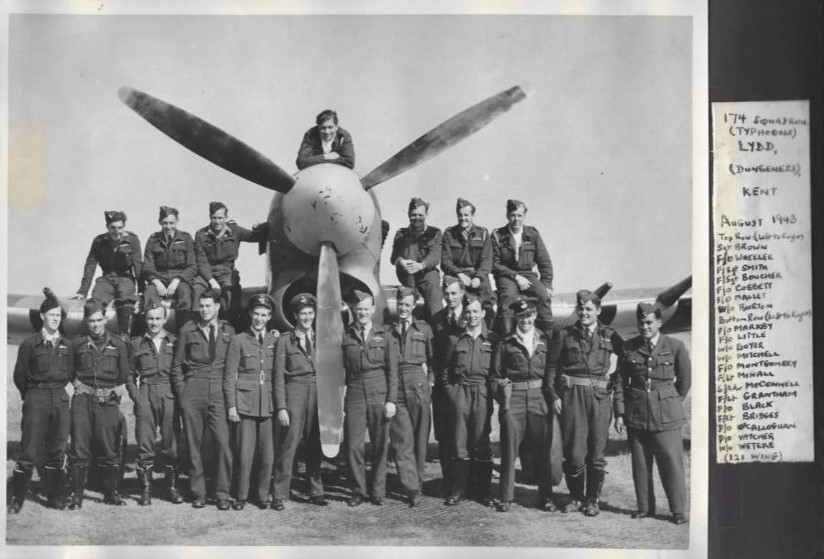 Vatch stands bottom row, second from the right
He took part in Operation Jericho on 18 February 1944. The squadron was one of those escorting the Mosquitoes making the attack on the prison at Amiens. This was undertaken at very low level and the return flight was made particularly hazardous by poor weather and low fuel. The squadron lost two aircraft, one to enemy action and the other to no fuel.
As D-Day approached the squadron attacked radar and marshalling yards to disrupt the enemy infrastructure. They operated out of  RAF Holmsley South but shortly after D-Day the squadron began flying from B2 ALG [Advanced Landing Ground] - Bazenville, B3 ALG - St Croix-sur-Mer and B4 ALG - Bény-sur-Mer, France. They then moved to their permanent base at B5 ALG - Le Fresne-Camilly.  Their role as part of the Second Tactical Airforce was to support the ground troops by attacking tanks, motor transport, armoured vehicles and strongpoints.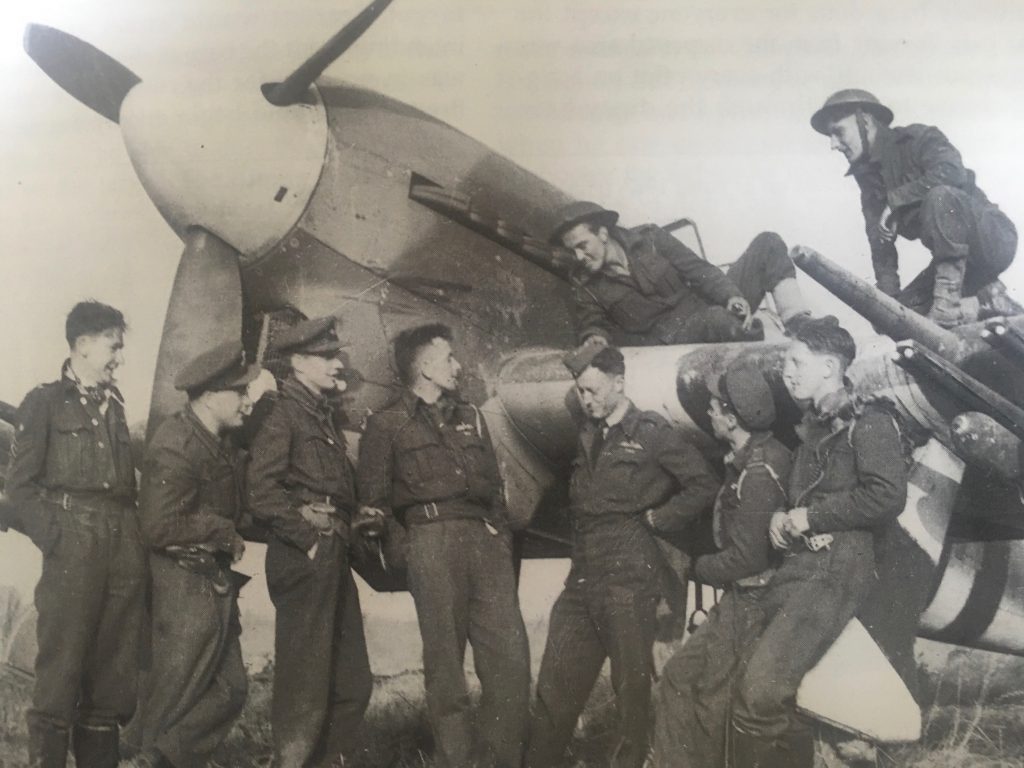 Pilots and ground crew of 174 Squadron in Normandy, 23 June 1944.
At 08:45 on the 26th July "Vatch" took off on patrol in Typhoon Mk IB, MN525 XP-B  but was shot down by flak near Saint-Pierre-sur-Dives, and is buried at the Banneville-la-Campagne War Cemetery in Calvados, France, Grave Reference VIII. E. 3.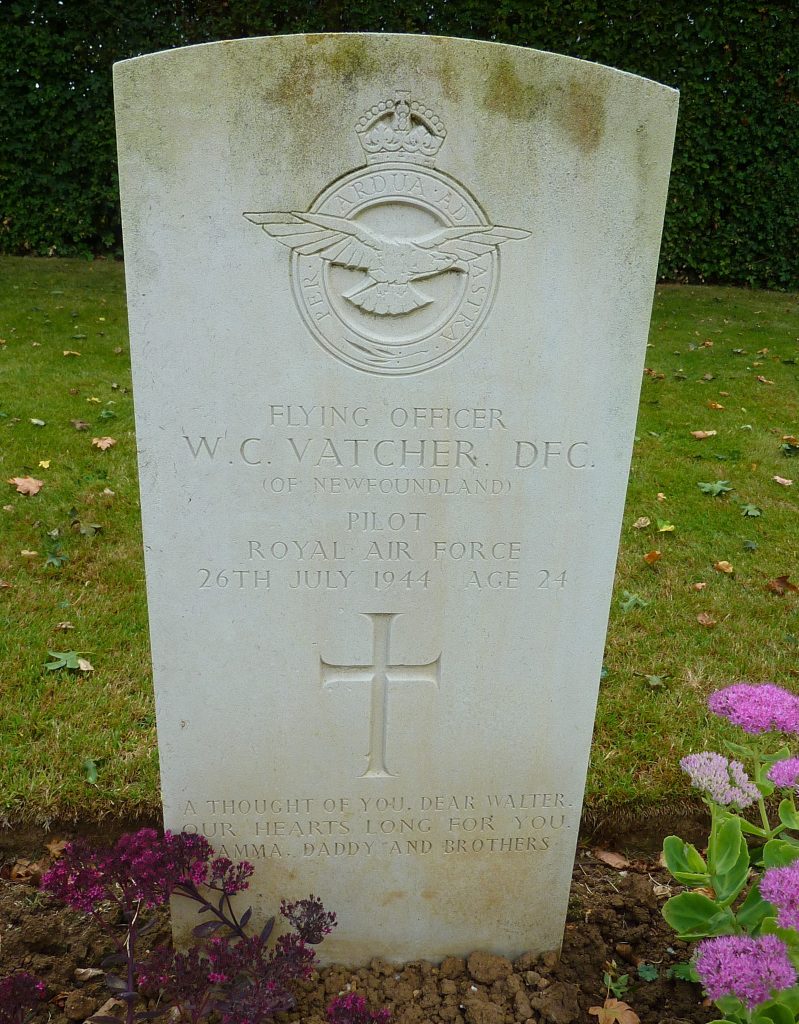 The day before he died "Vatch" was awarded the Distinguished Flying Cross, effective from 25 July 1944. The citation printed in the London Gazette, dated 18 September 1945, reads:
"This officer has operated with this squadron since March, 1942, and took part in the attack on Dieppe. Since then he has participated in many varied operations and has completed a large number of sorties over enemy occupied territory involving the bombing of well defended targets such as airfields, military installations and shipping. Since April 1944, he has acted as flight leader and since the invasion of Normandy has done fine work attacking enemy tanks and transport columns. On all his missions he has operated with great keenness in the face of heavy opposition. Mentioned in despatches, awarded as per London Gazette dated 1 January 1943."
British Normandy Memorial – Additional Information
The Hurribomber was a variant of the Hawker Hurricane, developed to carry out a ground attack role. The Hawker Hurricane was originally developed as a fighter aircraft. But it wasn't as agile as the Spitfire and its performance wasn't able to match the latest German fighter designs so, in Oct 1940, it was redesigned as a fighter bomber and was able to carry two 250lb or 500lb bombs under its wings. It became know as the Hurribomber but it was eventually superceded by the Hawker Typhoon.
B2, B3, B4 and B5 Advanced Landing Grounds were one of a number of temporary airfields built in Normandy. These airfields were built to help exploit the Allied air superiority by maximising the time aircraft had over the battlefield and reduce any potential impact of them not being able to get to France from Britain due to adverse weather. On 22 June 1944, 174 Squadron moved to B5 airfield.
FALLEN HEROES
WALTER CYRIL VATCHERRoyal Air Force • FLYING OFFICER

Royal Air Force Volunteer Reserve
174 (Mauritius) Squadron, Royal Air Force

DIED 26 July 1944

AGE 24

SERVICE NO. 146339