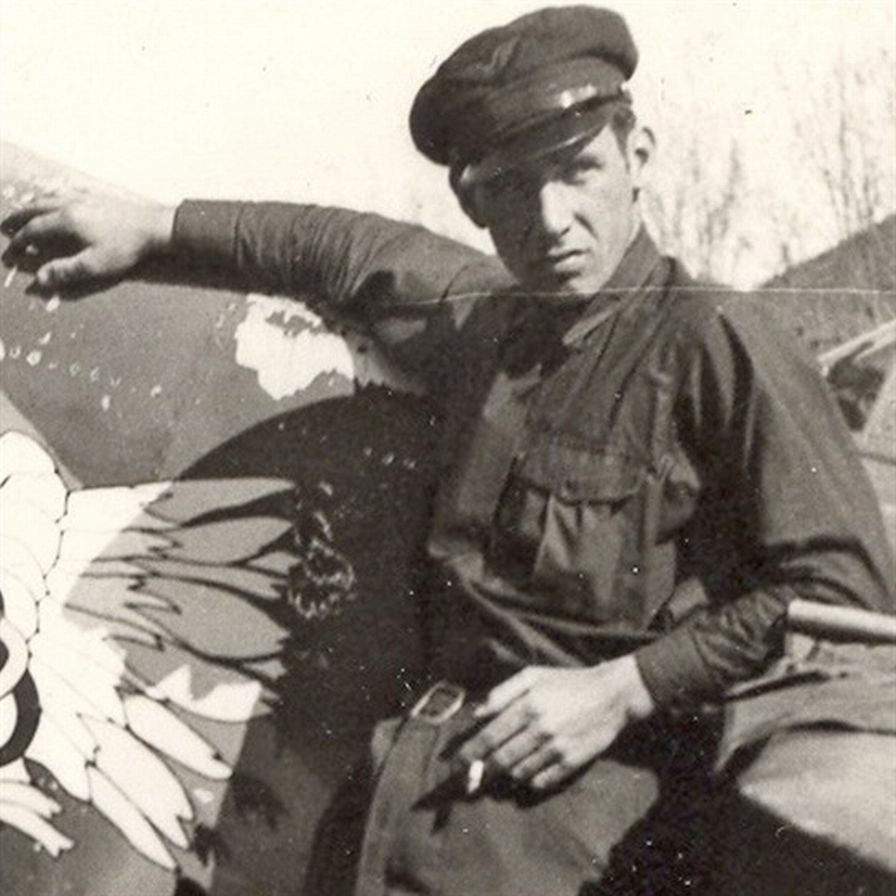 Vilem Nosek
The story and photograph are shared by the Trust with kind permission from Jan Břečka, Head of the Historical Department of the Moravian Museum, Brno, Czech Republic using information from Jiří Rajlich's 2003 book, "In the Sky of Proud Albion, Part 5 - 1944")
Photo source: Photo archive Jiří Rajlich
Nosek was born on January 30, 1916 in the small village of Líně in the district of Pilsen, Czechoslovakia. He trained as a calligrapher, but his lifelong hobby was flying, so he became a member of the West Bohemian Aeroclub even before the war. As part of his basic military service, he graduated from a non-commissioned officer's school in Kbely in the late 1930s, where he also underwent a course for aircraft mechanics.
After the Nazi occupation, in June 1939 he went first to Poland and then to France. After a short stay in the French Foreign Legion, in December 1939 he was assigned as a mechanic to the Groupe de Chasse II/5, air combat unit at Toul-Croix-de-Méty. He is pictured above in France 1940 whilst serving with With this unit he retreated to Algiers in June 1940 and on July 9 he sailed from the port of Casablanca on a ship transporting Czechoslovak airmen to Great Britain, where he arrived on August 5, 1940.
On August 13, he was posted to the Royal Air Force, and on September 5, 1940, he was posted to 312 (Czech) Squadron, Royal Air Force. Although he was rated by his superiors as an excellent aircraft mechanic, he constantly sought to be included in pilot training. In July 1941 he was awarded the Czechoslovak Medal "For Bravery" (Za chrabrost). It is currently unknown as to why he was awarded this medal.
His efforts to become a pilot were successful in late 1942 when he was sent to Canada to the 31st Elementary Flying Training School on 29 December. He was awarded his pilot's badge on June 11, 1943. After returning to Great Britain, there was a short deployment with the 5th (Pilots) Advanced Flying Unit and the 57th Operational Training Unit.
On 5 May 1944 he was posted back to his original squadron, 312 (Czech) Squadron, Royal Air Force as a fighter pilot. However, his posting would only last for five weeks.
On 11 June 1944 he took off in his Spitfire LF Mk.IXc, MJ840 from RAF Appledram, West Sussex at 16:27 to provide a fighter umbrella over the Normandy beachhead. Sgt Vilém Nosek was part of the four-member Red Section of the 312th squadron led by  F/Lt Vojtěch Smolík, (together with F/Lt František Truhlář and F/Sgt Vladimír Soukup).
The fighters returned to their home base after their sortie but landing was difficult due to bad weather and poor visibility. During the return flight, commander F/Lt Smolík was constantly in contact with air traffic control. They lingered over the airfield for a long time but, in order to enable Red section to land, it was split into pairs by air traffic control and sent to different airfields.
F/Lt František Truhlář and F/Sgt Václav Soukup formed one pair. They were sent to Airspeed's factory airport near Portsmouth but the fog was still thick. While Václav Soukup landed safely, František Truhlář caught the plane's undercarriage against a road fence, crashed and burst into flames. He was rescued with severe burns by workers and firefighters from the nearby aircraft factory.
Meanwhile Smolík and Nosek were sent to the reserve airport at Ford, which they both missed.  Smolík crash-landed at Black Brook Farm near Chailey, north of Worthing after running out of fuel (but survived).
Nosek wasn't so lucky. He crashed in the fog into a hill at Barnes Farm near the town of Washington, about 25 km from Appledram's home airport, at 18:50. He was killed in the crash and was buried on 16 June 1944 at Chichester Cemetery.
FALLEN HEROES
VILEM NOSEKRoyal Air Force • FLIGHT SERGEANT

Royal Air Force Volunteer Reserve
312 (Czech) Squadron, Royal Air Force

DIED 11 June 1944

AGE 28

SERVICE NO. 787647