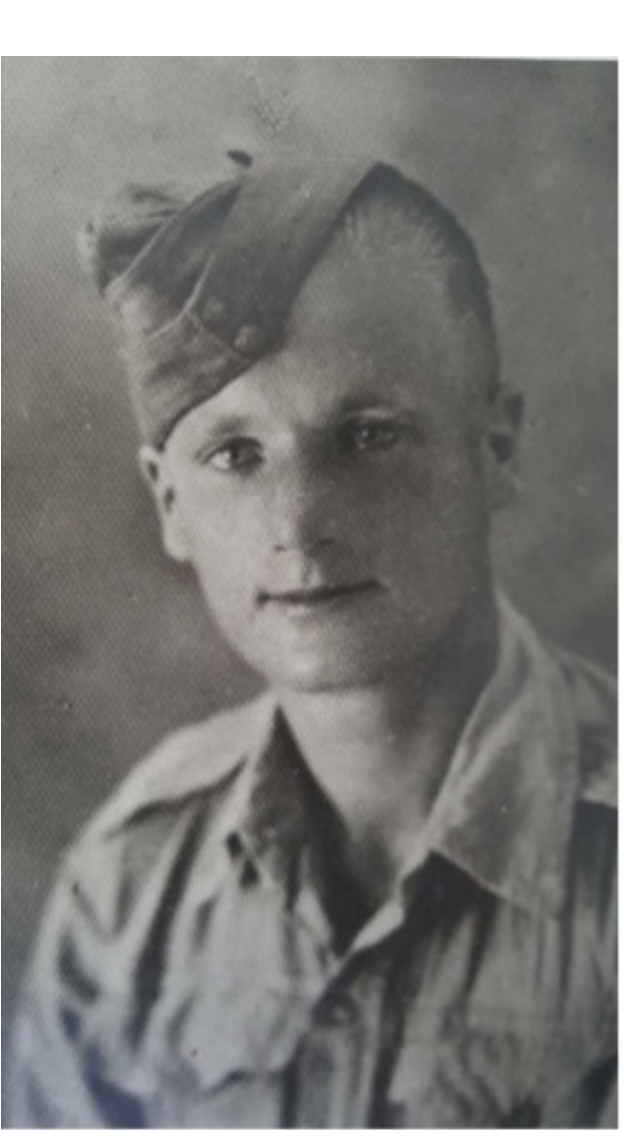 Ronald Davies
The story and photographs are shared by the Trust with kind permission from Ronald's granddaughter, Claire Davies.
My Grandad, Ronald Davies, was born on 20 September 1922 and grew up in the small pit village of Bearpark, County Durham. His father, Edward, was a miner and his mother, Annie, a mother and housewife, with ten children to look after. Ronald was the middle child in quite a musical family and as a child played the violin. His sisters Marion and Letty were also musical, Marion playing the piano and Letty had a good opera voice.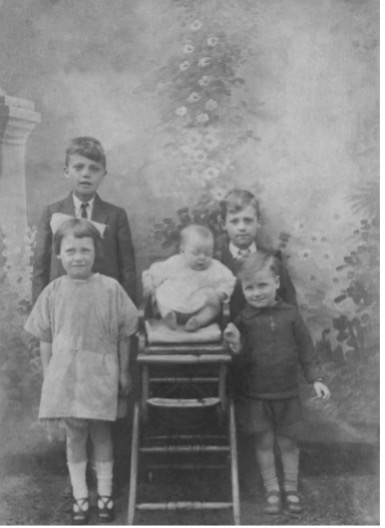 Ronald, front right with Norman directly behind. Brother Harold back left, sister Letty front left and sister Jean centre.
In April 1942, Ronald married Alice Byrne in Stepney, London. Alice was working as a waitress in a hotel and Ronald as toolmaker for Franko British – a profession that was considered essential to the war effort so he had not been required to sign up. During the course of the war, the five siblings that were of an age to do so served for their country. Initially both Ronald and his older brother, Norman had wanted to join the Navy but their father was not happy about this as he was concerned they would both end up on the same ship and lose them both if something happened. Norman did go on to join the Navy and served as an Able Seaman on HMS Veteran. In September 1942 the family got word to say HMS Veteran had been hit by a torpedo and sunk with the loss of all lives. The ship had been part of the Atlantic convoys when attacked by a U-boat wolf pack. On hearing the news, Ronald left his job at Franko British and went to sign up. He joined the Royal Engineers and was based in West Yorkshire for training. Alice moved back up North to be nearer family. The following month, when Ronald and Alice's son was born, they named him Norman (my father).
In April 1943, Ronald embarked with No. 6 training Battalion, Royal Engineers for the North Africa Arena. It was from Sicily that Ronald sent Norman a card for his first birthday and told how they were sleeping in an orange grove at the time. In December 1943 he returned to the UK to begin preparations for D-Day. On what would be his final period of leave, Ronald and Alice attended a family wedding. Part way through the day Alice realised Ronald and Norman were missing and when she got home she found Ronald bathing Norman in a tin bath and getting ready to put him to bed. Alice wondered if he had realised things were becoming more serious as they had been preparing for a big operation. The following morning it was a rushed goodbye as he had to run to catch the bus back with fear of being court marshalled if he was back late at base. This was to be the last time he would return home.
On 1 June 1944, Ronald, with the 66th Field Company was based at Brentwood Camp. They departed early in the morning from Tilbury docks set for Normandy on 4 June. On 7 June, D-Day +1, they landed on Gold Beach and commenced mine clearance duties and recce in the transhipment area. Mine clearance and minefield recce continued through Arromanches-les Bains, Tracy-sur-Mer, and to Longues-sur-Mer and the German held battery on 13 to 14 June where the company successfully spiked one of the guns and the rest out of action.
On 14 June, one of the mines exploded, killing two soldiers and injuring Ronald. Alice received a letter dated 23 June telling her Ronald was dangerously ill in a field hospital in North West Europe suffering from a compound fracture of his left arm due to enemy action and had been placed on the dangerously ill list on 14 June. Family and friends rallied around Alice and told her he would probably be discharged and brought home. In fact Ronald died of his injuries on 15 June at the age of 21, long before the letter had been written. Alice was eight weeks pregnant with Ronald's daughter, Anne when she finally found out he had died. On the day she was told of his death, she received the present he had bought for her 23rd birthday which wasn't until the following month. It was returned to her with his belongings and was a pair of nylons.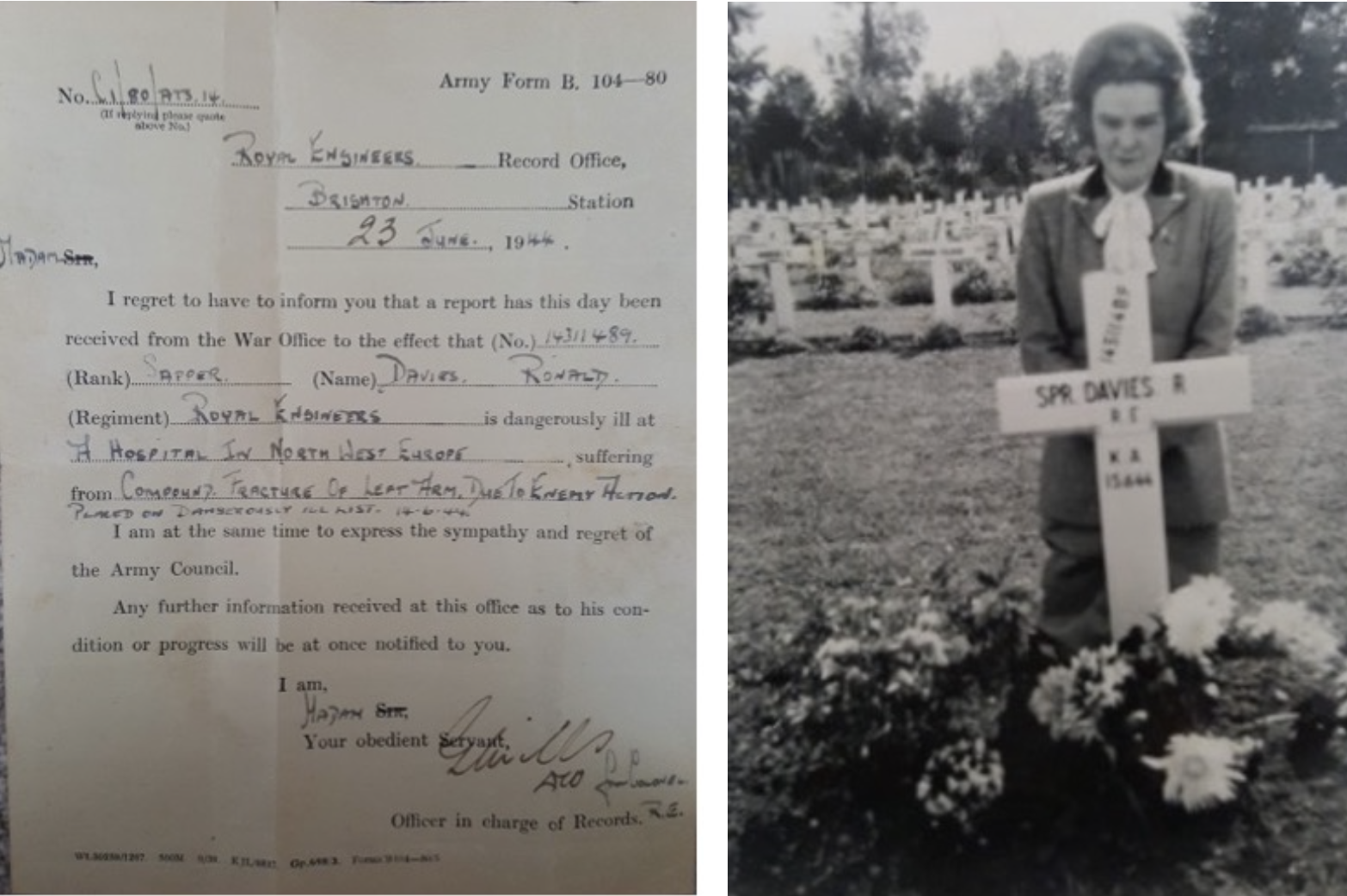 Ronald is buried in the immaculately kept Commonwealth War Cemetery in Bayeux.