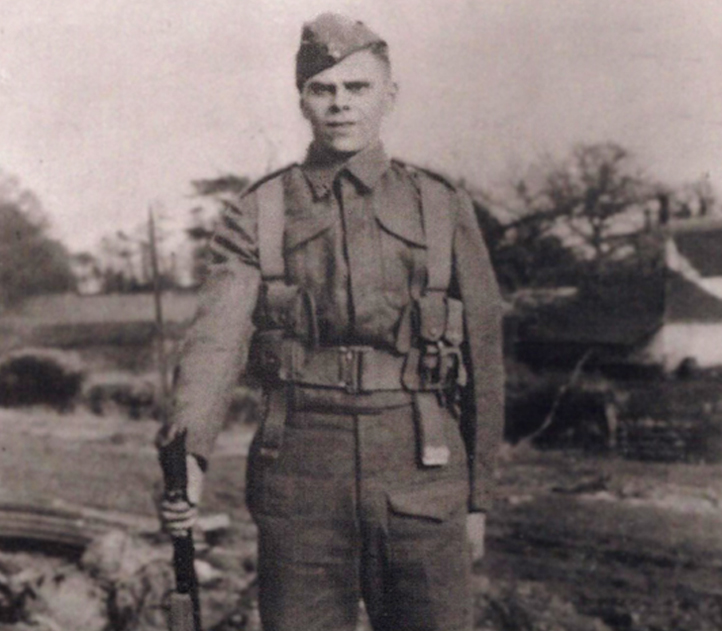 Robert Casson
The story of Robert Casson is told by Mary and John Holland. Mary is the niece of Robert and Joseph Casson, two brothers who lost their lives in Normandy. Robert died on D-Day while his brother Joseph was killed just a few weeks later on 27 June 1944.
At the bottom of this page you will find a video, narrated by Mary, sharing further information about her Uncle.
Robert Casson (EX/3236) was called up on Valentine's Day 1940 whilst working at the Rowntree's factory in York, reporting to Royal Marine (RM) Reserve Depot, Lympstone, Devon, near Exmouth on the River Exe.
He was first posted 101st R.M. Brigade HQ as a cook. In February 1941 he was temporarily attached to 5th Battalion HQE but in March he re-joined 101st R.M. Brigade HQ. During October 1942 he was promoted twice, first to Lance Corporal and then Corporal.
On 15th September 1943 he reverts to the rank of Marine volunteering to train as a Commando. On the 23rd of October, he joins 46 RM Commando and attends the Commando Training Depot at Achnacarry, Scotland. On completion of his training, he is assigned to HQ Staff 4th Special Service Brigade.
From the 1-4 June 1944, he was stationed in Southampton, receiving his briefing in C.19 Camp. Embarking from HMS Tormentor, Warsash on the river Hamble, near Southampton on 5 June 1944 with LSIs Serials 1519 and 1520 to take part in the D-Day landings, and was to land at St. Aubin-sur-Mer, code named Nan Red, Juno Beach, being part of 4th Special Service Brigade supporting the Canadian troops. However, Robert never made it to shore as he was shot in the neck and died instantly as his landing craft approached Juno Beach.
He was initially buried at sea, but after the storm of 19 June 1944 his body was washed up on the beach, temporarily buried by the sea wall at St. Aubin-sur-Mer, then subsequently exhumed on 9th August 1944 and moved to Ryes War Cemetery, Bazenville and laid to rest in Plot 1, Row F, Grave 5.
His mother, Mrs Mary Ellen Casson received confirmation of his and younger brother Joseph's death, in letters dated 17th and 18th July 1944 but learning later that his body had been wash up on the beach, she exchanged correspondence with the authorities and requested that her sons be buried alongside each other.
On 13th November 1944, Marine Robert Casson was exhumed again and transferred to his final resting place in Ryes War Cemetery, Plot 4, Row B, Grave 2 (his fourth burial), to be laid next to his younger brother, Private Joseph Casson (18) of the 9th Battalion, Durham Light Infantry, who had been exhumed and transferred from Jérusalem War Cemetery, Chouain and lies in Plot 4, Row B, Grave 1.
A letter from the War Office to Mrs Casson dated 1 December 1944 from the Director of Graves Registration Enquiries, confirmed that her two sons are interred side by side at Ryes War Cemetery. Robert has had three headstones over his grave at Ryes, the first incorrectly attributed him to 45 RM Commando, this was replaced with 46 RM Commando in 2018, but this was also incorrect, it transpired that 46 RM Commando did not actually land until 7th June 1944. Further investigations established that 4th Special Service Brigade was his unit, his final headstone being erected in February 2021.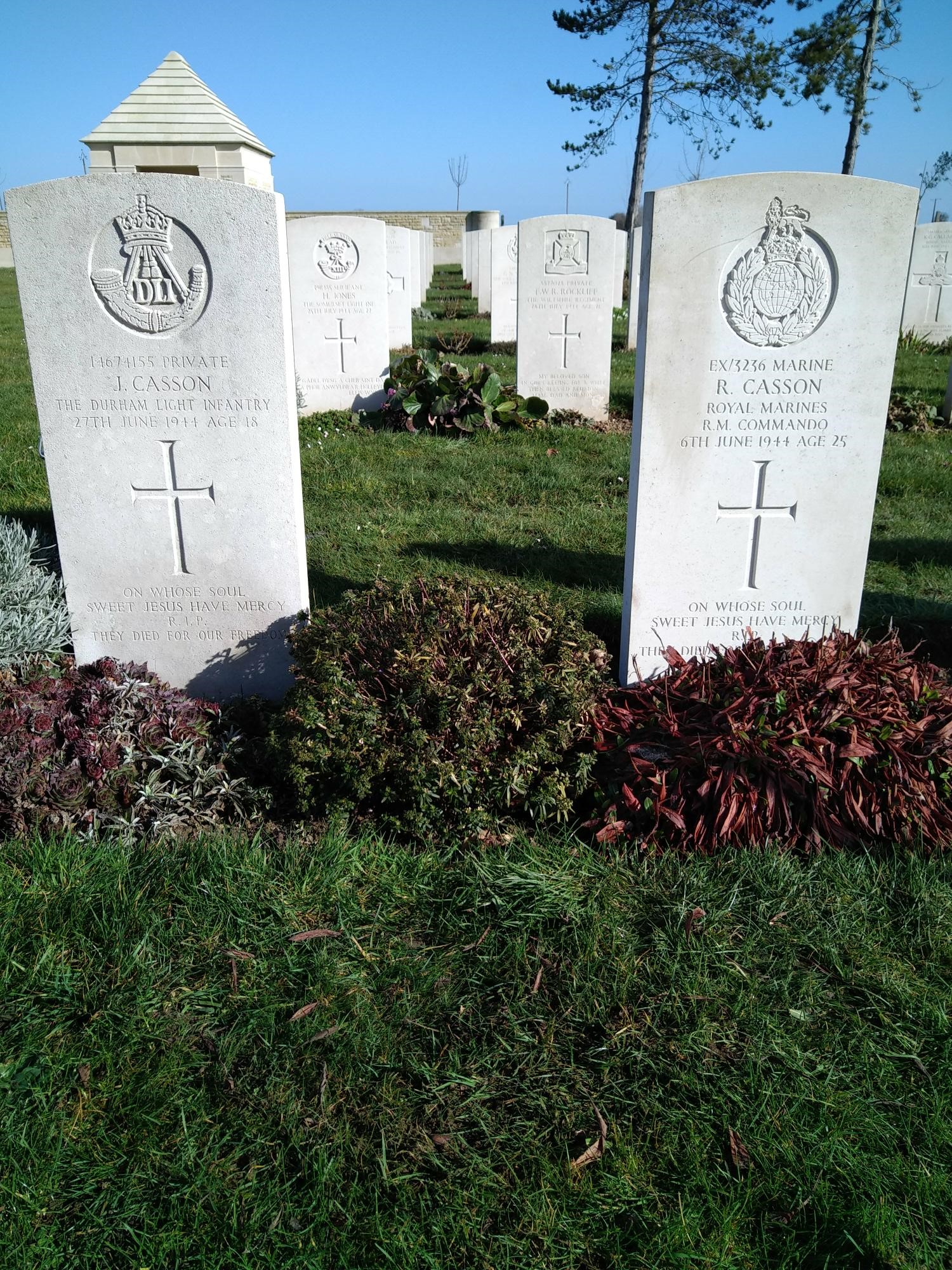 FALLEN HEROES
ROBERT CASSONRoyal Navy • MARINE

Royal Marines
4th Special Service Brigade

DIED 06 June 1944

AGE 25

SERVICE NO. EX/3236