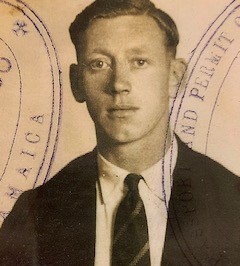 Reginald George Reynolds
This story and photos are shared by the Trust with kind permission from Beverly Peet, daughter of Reginald Reynolds.
My father was born in Wolverhampton, England, on January 21, 1914. His address was 35 Bell St. in Wolverhampton. His parents were William and Elizabeth Reynolds (née Cowern). He had a sister named Gladys Skinner who moved to Scotland.
My father joined up and served with the Sherwood Foresters (Notts and Derby Regiment) and when the regiment was deployed to Jamaica they helped the police maintain order on the island. He met my mother, Joyce Brooks, when he was in Jamaica and they married on 8th June, 1937, and had three children.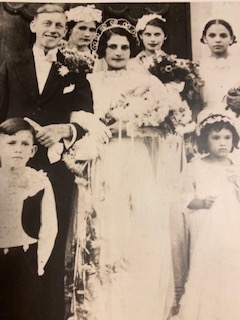 I was the youngest, born in February 1945, so I never had the pleasure of meeting him.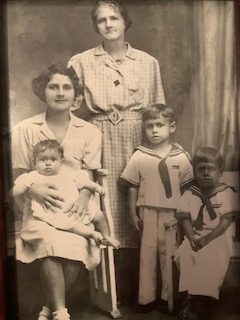 He and my mother both played guitars together and one of his friends told me he loved sailing and that he had many friends on the island.
After he received his honourable discharge, he worked as a plumber on the island. But when he learned about the Invasion of Normandy, he re-enlisted and was posted to the 6th Battalion, Green Howards to do his part in the then current world conflict. He trained at the Camperdown Road British Training Facility in Kingston, Jamaica before leaving to defend his homeland and Europe. He fought for six weeks before being killed in action in a field near Longraye.
My mother received a telegram stating my father was Killed in Action in North-Western Europe. Unfortunately, she died never knowing the truth about how nor where he died in Normandy. My father's obituary in the THE GLEANER, Kingston, Jamaica, 1944 also stated he was Killed in Action in North-Western Europe.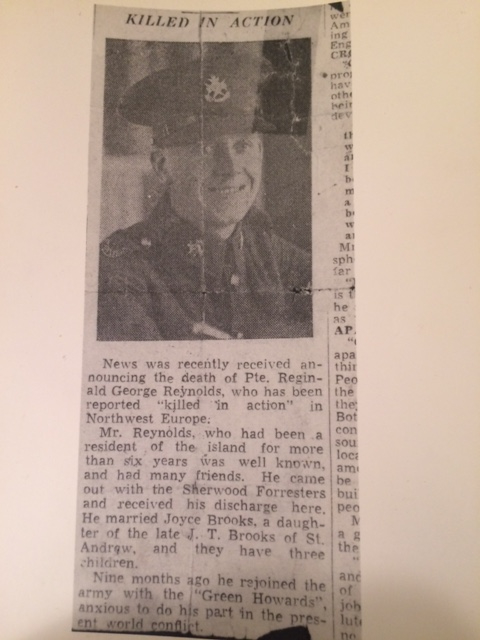 "KILLED IN ACTION
News was recently received announcing the death of Pte. Reginald George Reynolds, who has been reported "killed in action" in Northwest Europe.
Mr. Reynolds, who had been a resident of the island for more than six years was well known, and had many friends. He came out with the Sherwood Forresters (sic) and received his discharge here. He married Joyce
Brooks, a daughter of the late J. T. Brooks of St. Andrew, and they have three children.
Nine months ago he rejoined the army with the "Green Howards", anxious to do his part in the present world conflict."
It was not until I asked my aunt in Leicester, England, and she wrote the Commonwealth War Graves Commission in London on my behalf in 1965, that that I learned he was killed in action near Longraye and buried in Hottot-les-Bagues War Cemetery in Tilly-sur-Seulles. We booked a couple of tours to retrace his steps. It was after I made nine trips to Normandy that I learned all the information I gave you.
Dad, thank you for your sacrifice for our freedom! May you always Rest In Peace!
FALLEN HEROES
REGINALD GEORGE REYNOLDSArmy • PRIVATE

Green Howards
6th Battalion

DIED 13 July 1944

AGE 30

SERVICE NO. 4973069