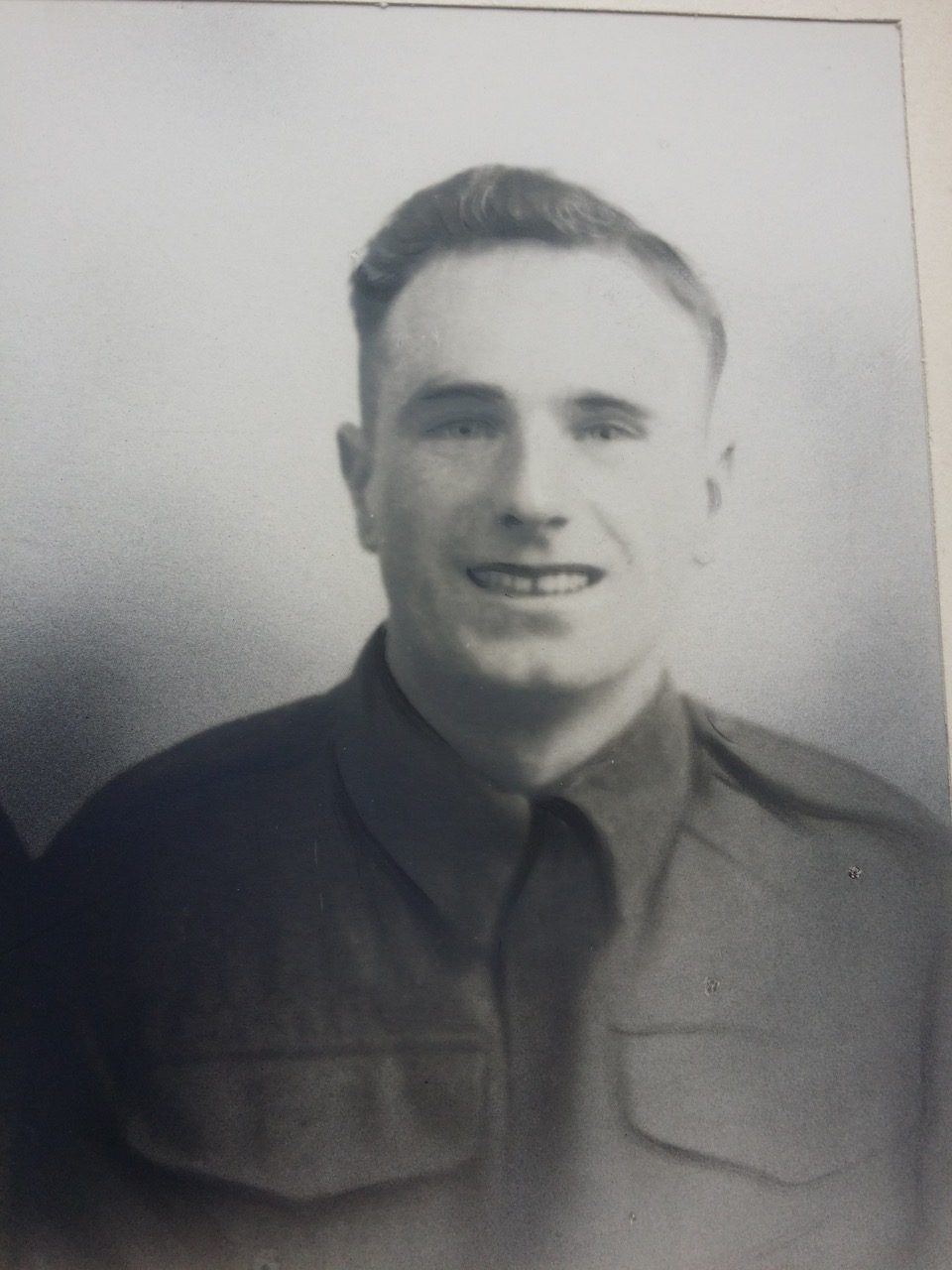 Martin Coyne
This story and photo is shared by the Trust with kind permission from Julie Wright, niece of Private Martin Coyne 
Great Uncle Martin (my Grandma's brother) was born in Blackburn, Lancashire in July 1918. His parents were John and Elizabeth Coyne. He came from a large family whom I'm sure sadly missed him deeply.
From what I have learnt, on the 28th August 1944 Martin's battalion, the Hallamshire Battalion, York and Lancaster Regiment was taking part in the final days of the Battle of Normandy and on that particular day they were clearing the German's from the south bank of the River Seine in a heavily wooded area around Aizier, Eure, Normandy. The front man of the leading section was killed as he came out of the woods 1/4 mile from Aizier and there were 4 more killed on that day. Martin was one of them.

My Grandma and Grandad visiting Martin's grave
He was laid to rest in St. Desir War Cemetery, Calvados.
Although I did not know my Great Uncle Martin I do feel very proud of him.
Normandy Memorial Trust – Additional Information
Martin Coyne was originally buried near where he was killed. He was reinterred in St Desir War Cemetery on 29 July 1946.
FALLEN HEROES
MARTIN COYNEArmy • PRIVATE

York and Lancaster Regiment
Hallamshire Battalion

DIED 28 August 1944

AGE 26

SERVICE NO. 4748397

PETER BENEArmy • SERJEANT

York and Lancaster Regiment
Hallamshire Battalion

DIED 28 August 1944

AGE 24

SERVICE NO. 4747551

HARRY CLAYTONArmy • PRIVATE

York and Lancaster Regiment
Hallamshire Battalion

DIED 28 August 1944

AGE 27

SERVICE NO. 4750342

DENNIS ALBERT BISCOEArmy • PRIVATE

York and Lancaster Regiment
Hallamshire Battalion

DIED 28 August 1944

AGE 19

SERVICE NO. 14666478

GEORGE MORGANArmy • PRIVATE

York and Lancaster Regiment
Hallamshire Battalion

DIED 28 August 1944

AGE 18

SERVICE NO. 14714418