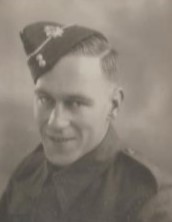 Leslie Fifield
This story and photo is shared by the Trust with kind permission from Mavis Burton and Valerie Franklin, nieces of Leslie Fifield.
Leslie Fifield was a Driver in the Royal Army Service Corps, 90 Armoured Brigade Company. He was 22 years old when he was killed on 8 June 1944 during the Normandy campaign. Only three months before our uncle died he had married Violet Nowell; she never re-married.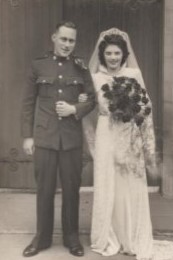 According to War Records, Leslie and his comrades were transporting supplies of ammunition and fuel when they were attacked by a rogue enemy plane that opened fire causing severe explosions and destruction to the supplies camp on the evening of the 8th June 1944. We believe Leslie was an outrider – on a motor bike – that rode alongside the supply trucks. Leslie rests in the British War Cemetery, Hermanville-sur-Mer, in a group plot with 6 comrades who all tragically died together on that fateful night.
Leslie was the third of 4 children born to Ernest and Margaret Fifield of Plumstead, London SE18. Their first born had died of whooping cough when just 3 months old, and their younger son had died of peritonitis in 1938 aged 14 years. The subsequent loss of their elder son Leslie in 1944, was devastating for them.
Our mother, Hilda, was Leslie's older sister and his only surviving sibling. At the time of his death she had a 3 month old baby, Mavis. Valerie was born in 1945, a week after VJ day. Our grandparents had visited Uncle Les' grave at Hermanville a few years after the war, and about 20 years ago we fulfilled our mother's wish and took her to see where her brother is laid to rest. Our children, Leslie's great nieces and great nephews, have also paid their respects at his burial place in France.
On 6th June 2021 we attended the Normandy Memorial ceremony at The National Arboretum in Staffordshire, linked to the official Memorial Opening Ceremony at Ver-sur-Mer. We hope one day to visit the wonderful memorial which now stands overlooking the Normandy beaches, in memory of the uncle we never knew, and all the other young men and women who lost their lives that we might live in peace.
God bless them all.
FALLEN HEROES
LESLIE ERNEST WALTER FIFIELDArmy • DRIVER

Royal Army Service Corps
90 Armoured Brigade Company

DIED 08 June 1944

AGE 22

SERVICE NO. T/10666898

FREDERICK WILLIAM BRINSDENArmy • DRIVER

Royal Army Service Corps
90 Armoured Brigade Company

DIED 08 June 1944

AGE 24

SERVICE NO. T/168228

JOHN EDWARD GEORGE CHEESEMANArmy • DRIVER

Royal Army Service Corps
90 Armoured Brigade Company

DIED 08 June 1944

AGE 21

SERVICE NO. T/10663143

REGINALD PERCY GALEArmy • LANCE CORPORAL

Royal Army Service Corps
90 Armoured Brigade Company

DIED 08 June 1944

AGE 26

SERVICE NO. T/168267

HENRY WILLIAM KEARNEYArmy • DRIVER

Royal Army Service Corps
90 Armoured Brigade Company

DIED 08 June 1944

AGE 23

SERVICE NO. T/276011

GEORGE MARK TRUBSHAWArmy • DRIVER

Royal Army Service Corps
90 Armoured Brigade Company

DIED 08 June 1944

AGE 27

SERVICE NO. T/168756

WILLIAM WALTER WOODArmy • DRIVER

Royal Army Service Corps
90 Armoured Brigade Company

DIED 08 June 1944

AGE 23

SERVICE NO. T/286312