Leonard William Jubb
The story and photographs are shared by the Trust with kind permission from Allen Jubb, son of Leonard Jubb.
Remembering Leonard William Edward Jubb. My father, was born into a naval family. His father, Cecil Stanley Jubb was long term navy at Chatham from 1904. He started at RN Shotley then to Chatham as a Signalman until 1922, after spending four years on Ascension Island.
Cecil Jubb retired back to Chatham, then moved to West Thurrock, Essex where the boys went to school. Father was one of five boys, being second son. He met my mother at school, both worked at the local Thames Board Mills. Father was working on machines that printed on the board, but was known as a cutter. They bought their bungalow, newly built in 1937 and my mother died there in 2006.
My Great Grandfather on my mother's side was also 25 years plus in RN. He spent time in Africa, serving during the Boer War and Zulu War. He also retired from Chatham.
My father joined the Royal Navy in October 1942 and was first posted to HMS Collingwood, Portsmouth, Hampshire.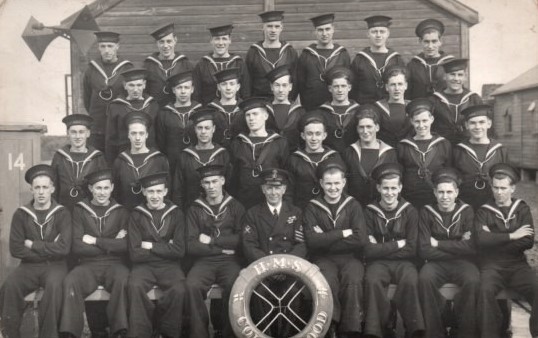 Leonard Jubb, back row, second from the right
He served on LCT 967 from November 1943. LCT 967 was sunk by a mine on the 13th June 1944 whilst approaching the Normandy beaches, believed to be on their second approach, position 49-27-8n 01-05-3 w.
All crew were lost and only one body was found, that of Leonard Stocks, who is buried at Bayeux War Cemetery.
Normandy Memorial Trust – Additional Information
Leonard Jubb is commemorated on the Chatham Naval Memorial to the Missing, Kent along with four other crew members. The remainder are commemorated on the Portsmouth Naval Memorial to the Missing, Hampshire and the Plymouth Naval Memorial to the Missing, Devon.
FALLEN HEROES
LEONARD WILLIAM EDWARD JUBBRoyal Navy • LEADING MOTOR MECHANIC

Royal Navy
LCT 967

DIED 13 June 1944

AGE 31

SERVICE NO. C/MX 620140