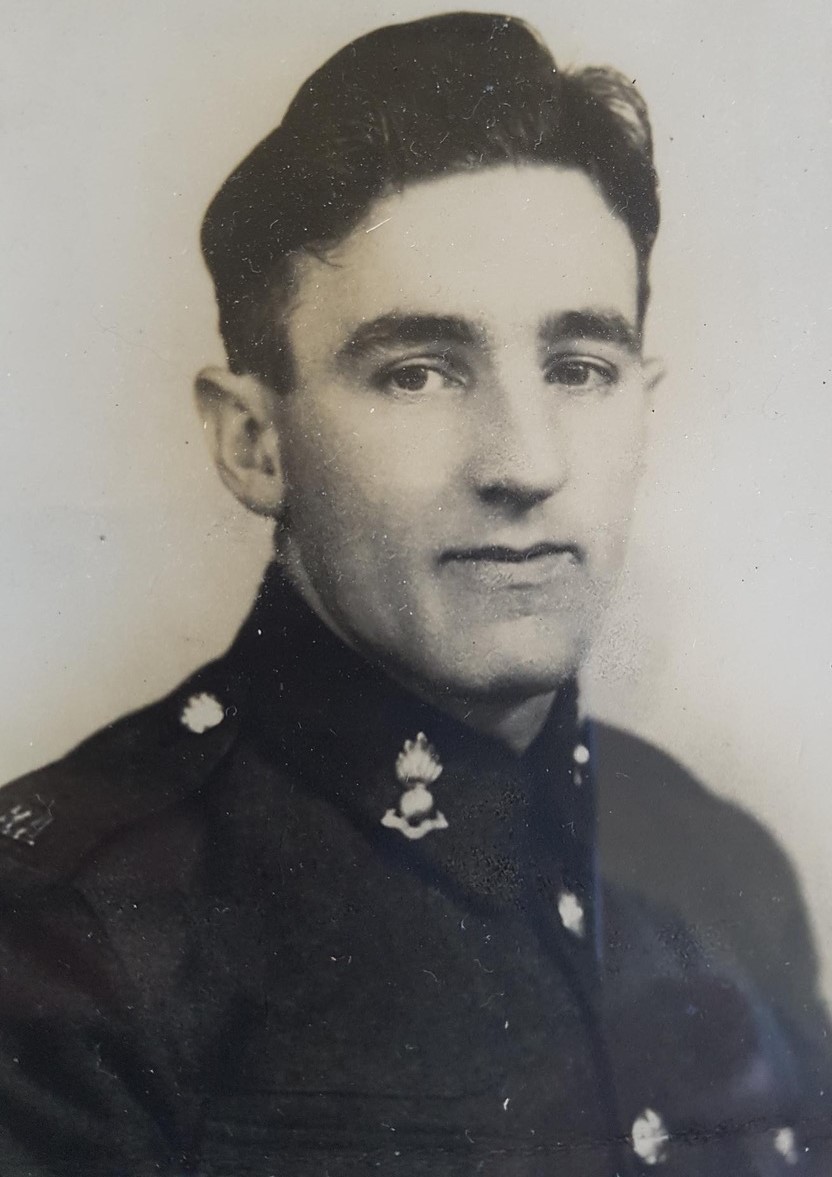 John Russell
This story and photos are shared by the Trust with kind permission from Brian Studholme, grandson of John Russell.
John Russell 907192-53 was born in Whitehaven in 1918, the son of Joseph and Catherine Russell (née Tait). He died in Normandy on 6th June 1944.
John was in the 203 Battery, Royal Artillery, Territorial Army and was on training manoeuvres on the Isle of Man when war was declared. He saw active service in in North Africa and Italy, taking part in the Cassino fighting. On his return to the UK he was attached to 53rd (The Worcestershire Yeomanry) Airlanding Light Regiment.
John left Tarrant Rushton at 01.44 on 6 June 1944 bound for Ranville near Caen aboard Glider 125 with an eta of 03.20 in France. On board were 2 pilots - George Philpott and Eric Taylor and 5 soldiers - Richard Bellerby, Keith Rodwell, Robert Dennison, Dennis Simons and John Russell plus a jeep, trailer, motor cycle and munitions.
Glider 125 was towed by a Halifax Mark V LL348 piloted by Flight Sergeant J. B. Mutton. Their objective was to set up a forward observation post at Ranville behind enemy lines. At approximately 03.00 Glider 125 was hit by German anti-aircraft fire off the Normandy coast and crash landed in the sea. Only two bodies, that of Dennison and Simmons, were recovered. Dennison was buried in Bayeux War Cemetery and Simmons was buried in Tilly-sur-Seulles War Cemetery.
I was told that the form below, sent in August 1945, was the only notification his parent's received about John's death.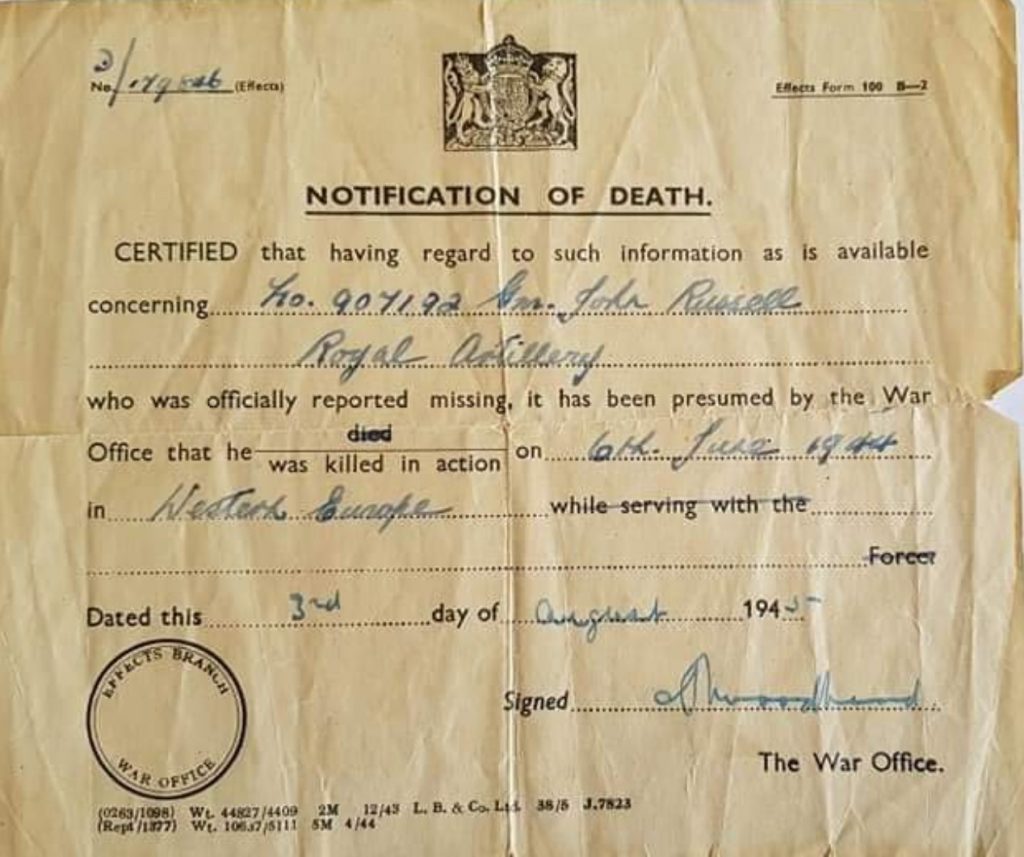 In my early days just after the war I lived with my great grandparents and would look at his photo above his mams bed in the living room as she was bed ridden with arthritis. I was told many times that John was sent back to the UK in a troopship which sailed into Glasgow. He was given three days leave to go home and when he got home he told his father, my grandfather, he had joined the Parachute Regiment. His father went absolutely mad telling him he had signed his own death warrant. When he left after his leave he gave my mother his winged badge. Even in 1951 it was still very sore to them and up to her death his mother refused to lock the front door in case he came home.
I miss the man I never met but felt so much association. It was only about 1978 that his brother and sister found out his name was on the Bayeux memorial so I took them over just to see his name on a panel. I think it was panel 11. They were so happy just to see his name there. I could do nothing while my grandparents were alive but I feel after my research I can put it to bed for them and my deceased mother, his "wee sis".
FALLEN HEROES
ERIC MANLEY TAYLORArmy • SERJEANT

Glider Pilot Regiment
1 Wing

DIED 06 June 1944

AGE 25

SERVICE NO. 2036063

GEORGE EDWARD PHILLPOTTArmy • STAFF SERJEANT

Glider Pilot Regiment
1 Wing

DIED 06 June 1944

AGE 28

SERVICE NO. 6746290

RICHARD STANLEY BELLERBYArmy • CAPTAIN

Royal Artillery
54th Field Regiment

DIED 06 June 1944

AGE

SERVICE NO. 155132

ROBERT THOMAS DENNISONArmy • GUNNER

Royal Artillery
53rd (The Worcestershire Yeomanry) Airlanding Light Regiment

DIED 06 June 1944

AGE 29

SERVICE NO. 828108

KENNETH SARGENT RODWELLArmy • LANCE BOMBARDIER

Royal Artillery
54th Field Regiment

DIED 06 June 1944

AGE 23

SERVICE NO. 913299

DENNIS SIMMONSArmy • GUNNER

Royal Artillery
2 Airlanding Light Anti-Aircraft Battery

DIED 06 June 1944

AGE 23

SERVICE NO. 1807362

JOHN RUSSELLArmy • GUNNER

Royal Artillery
53rd (The Worcestershire Yeomanry) Airlanding Light Regiment

DIED 06 June 1944

AGE 26

SERVICE NO. 907192