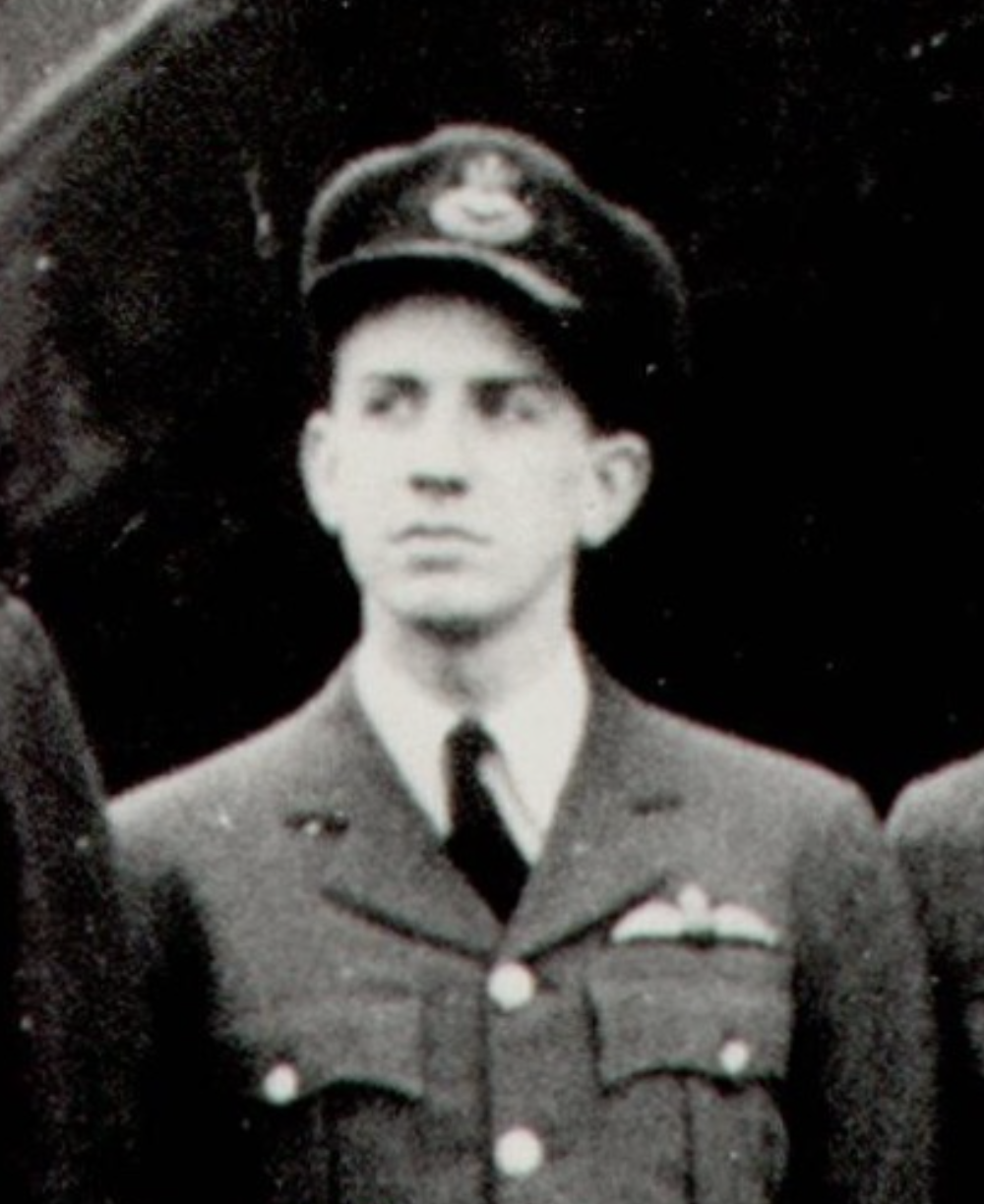 John Marcus Wesley
The story and photograph are shared by the Trust with kind permission from John's cousin, Chris Wesley. The entire seven-man crew of Lancaster 115 Squadron lM533 died on 7 June 1944 and are all named on the Memorial.
My cousin, John 'Jack' Marcus Wesley was the younger son of John and Annie Wesley of 33 Haugh Lane, Sheffield. He attended King Edward VII School in Sheffield and afterwards worked at the National Provincial Bank in Hillsborough. He initially joined the Home Guard and then the RAF Volunteer Reserve. Following the outbreak of war, he was sent to Saskatoon, Canada where he qualified and was commissioned as a pilot.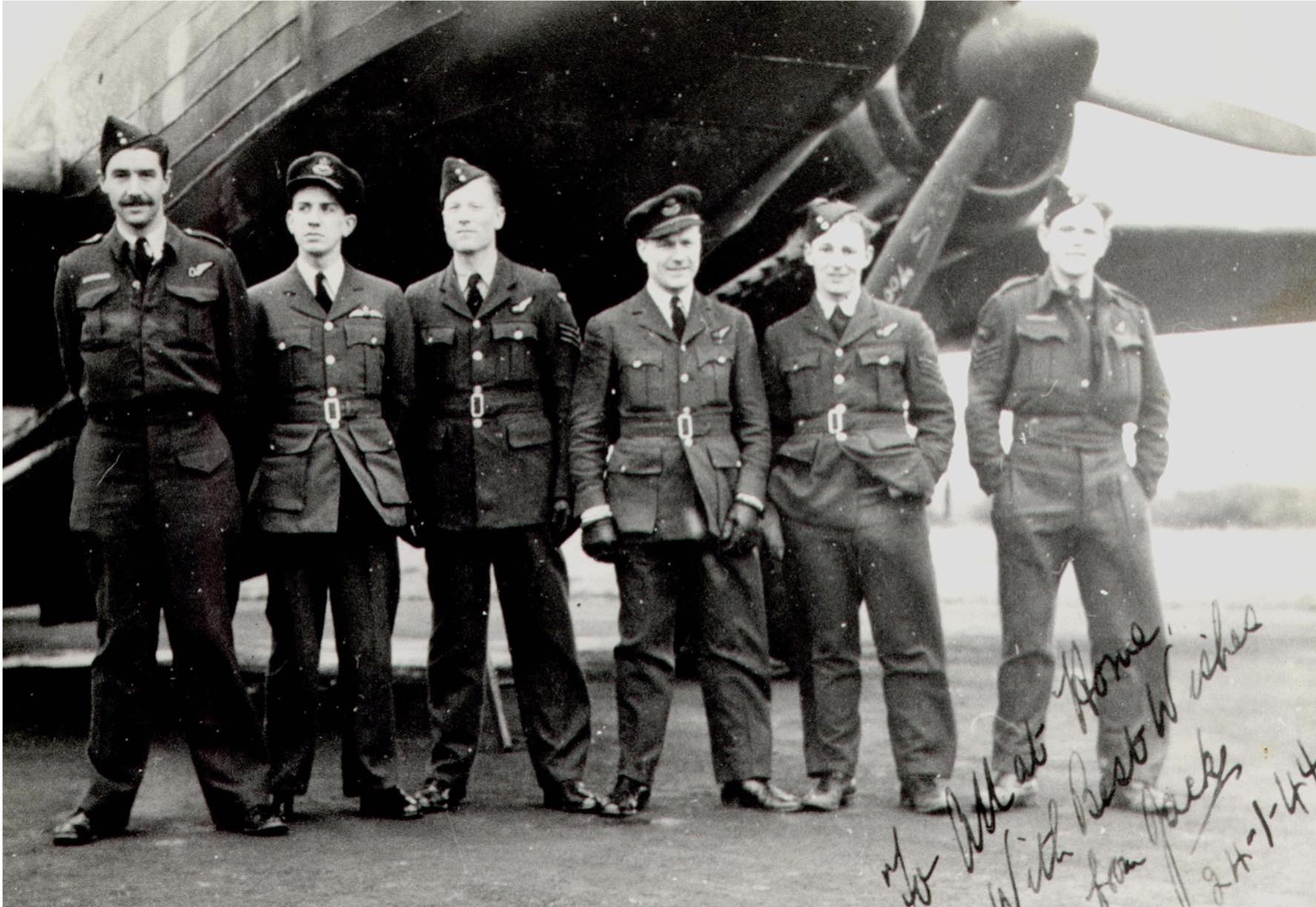 Jack, second from the left on a bomber conversion course, prior to converting to the Lancaster Bomber. The aircraft is a Vickers Wellington Bomber and several of the aircrew joined up with Jack on 115 Squadron. Extreme left is his observer (navigator), Flying Officer Patrick John Edmonds, who also went missing with Jack on 7 June 1944. The photograph was sent to the family by Jack and reads, 'To All at Home, With Best Wishes, from Jack. 24.1.44'.
On the morning of 7 June 1944, 23 Lancaster aircraft of 115 Squadron took off from their base at RAF Witchford, near Ely, Cambridgeshire. Their target was the railway marshalling yards at Lisieux with an aim to restrict movement of German reinforcements to the Caen area. Jack was first to take off at 00.01 in LM533 aircraft "T" for Tango. The aircraft was loaded with 16 500 lb general-purpose bombs.
Jack Wesley and his crew failed to return from the mission and none of the other aircraft witnessed their fate. The crew are remembered on the Air Forces Memorial at Runnymede in Surrey and at the International Bomber Command Centre in Lincoln.
FALLEN HEROES
JOHN MARCUS WESLEYRoyal Air Force • FLYING OFFICER

Royal Air Force Volunteer Reserve
115 Squadron, Royal Air Force

DIED 07 June 1944

AGE 21

SERVICE NO. 152067

PATRICK JOHN EDMONDSRoyal Air Force • FLYING OFFICER

Royal Air Force Volunteer Reserve
115 Squadron, Royal Air Force

DIED 07 June 1944

AGE 31

SERVICE NO. 133096

BERNARD JACK LEERoyal Air Force • SERGEANT

Royal Air Force Volunteer Reserve
115 Squadron, Royal Air Force

DIED 07 June 1944

AGE

SERVICE NO. 1895651

RONALD ERIC DODSONRoyal Air Force • SERGEANT

Royal Air Force Volunteer Reserve
115 Squadron, Royal Air Force

DIED 07 June 1944

AGE 22

SERVICE NO. 1332730

COLIN IAN DUNCAN CAMPBELLRoyal Air Force • SERGEANT

Royal Air Force Volunteer Reserve
115 Squadron, Royal Air Force

DIED 07 June 1944

AGE

SERVICE NO. 1560116

THOMAS LANGANRoyal Navy • LANCE CORPORAL

Royal Marines
601 LCM Flotilla

DIED 21 July 1944

AGE 27

SERVICE NO. PO/X 119536

FREDERICK JOHN FRANKLINRoyal Air Force • SERGEANT

Royal Air Force Volunteer Reserve
115 Squadron, Royal Air Force

DIED 07 June 1944

AGE 37

SERVICE NO. 1895945