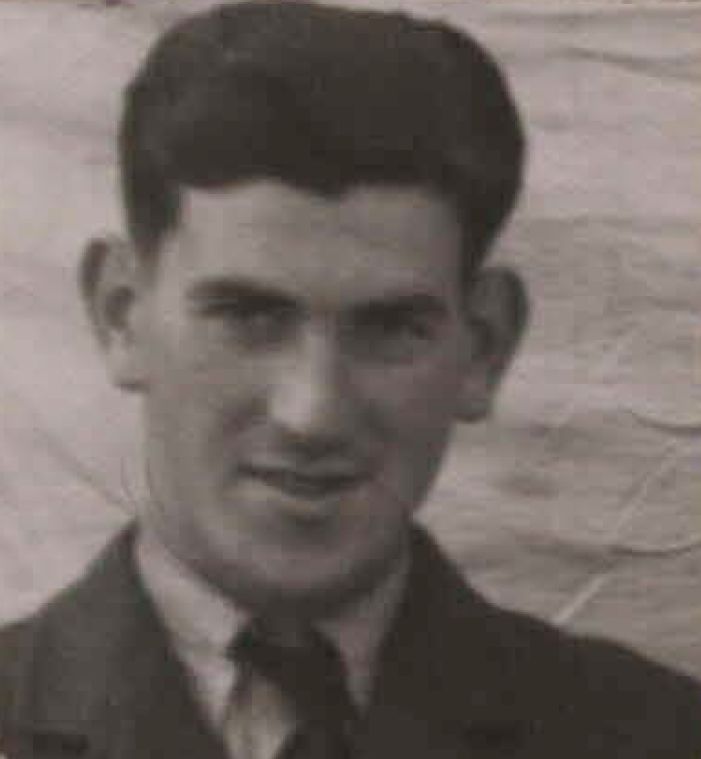 Jiri Bauer
The story and photographs are shared by the Trust with kind permission from Jan Břečka, Head of the Historical Department of the Moravian Museum, Brno, Czech Republic with additional information from Jiří Rajlich's 2003 book, "In the Sky of Proud Albion, Part 5 - 1944") and his 1993 book , "310th Fighter Squadron", Jan and Zdeněk Rail's 2018 book "Over obstacles to stars". plus information from https://scarletboy44.tumblr.com
Jiří Bauer (service number 788248) was born into a Jewish family in Trutnov on November 3, 1923. He studied at the general school and gymnasium in the town of Náchod. After the arrival of the Nazi occupiers, the sixteen-year-old boy was lucky enough to be able to leave Prague for Great Britain in a transport of Jewish children before the outbreak of war, on August 1, 1939.
Jiří Bauer apparently never learned about the tragic fate of his parents – his mother, Eliška Bauerová, died on January 10, 1940, and his father, Ervín Bauer, perished in 1944 in Auschwitz concentration camp.
In England he worked as an agricultural mechanic and tractor driver in the village of Weston Bath, Somerset. At the age of 19, on January 8, 1942, he signed up for the Czechoslovak army in Leamington Spa with the wish to serve in the air force. Therefore, he was accepted into the Royal Air Force Voluntary Reserve in the rank of Aircraftsman 2nd Class (AC2) on March 1, 1942, and three months later he was assigned to general duty service with the 310 (Czech) Squadron in Exeter.
From October 1942 he began his long and demanding pilot training at No. 4 Initial Training Wing (I.T.W.) in Paignton, Devon. In February 1943 he was transferred to No. 3 Elementary Flying Training School at Shellingford, Oxfordshire and on April 5, 1943, he sailed to Canada, where he completed the 31st and 34th Elementary Flying Training School courses.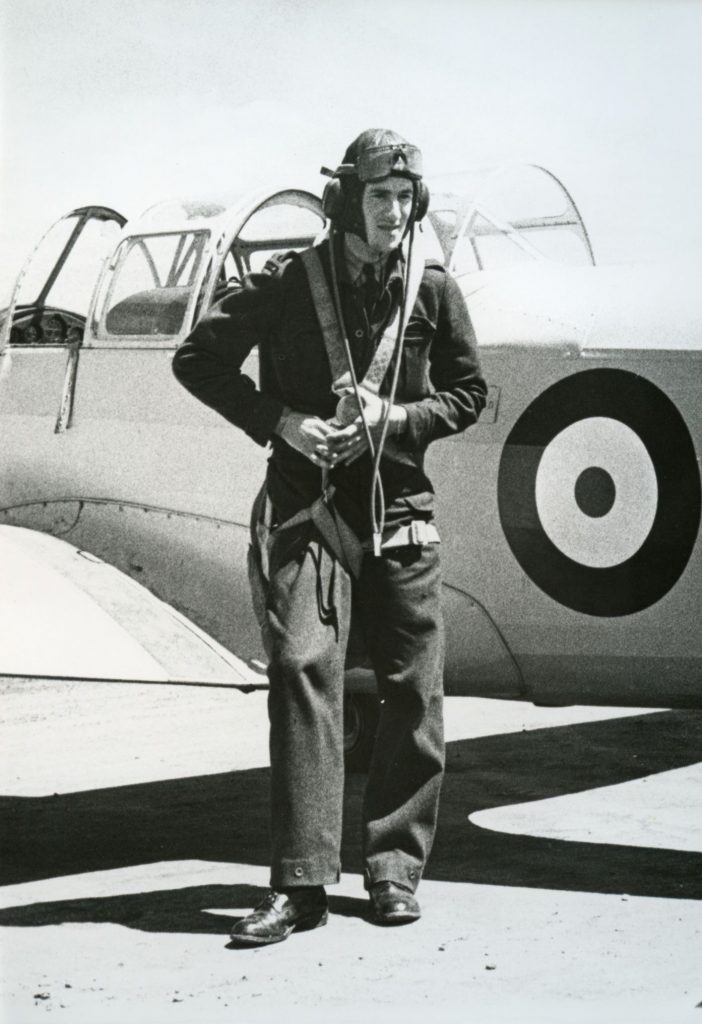 Jiri Bauer during flight training, taken at some point between 1942-1944(Courtesy of the Photo Archive of the Historical Department of the Moravian Museum
After returning to Great Britain, with the rank of Sergeant, he was transferred to the 51st Operational Training Unit in Llandow, South Glamorgan in March 1944. Two days after the start of the invasion, on June 8, 1944, he returned to 310 (Czech) Squadron as a fighter pilot. He took off for the first operational flight over the Normandy region on June 18.
Unfortunately, 11 days later, on only his second mission, he was killed. On June 28, 1944, pilots of three Czechoslovak fighter squadrons (310, 312 and 313), forming No. 134 (Czechoslovak) Wing RAF, flew over the territory of liberated France to the B-10 temporary field airfield near the village of Plumetot. The day after, June 29 at 10:30 a.m., Sgt Jiří Bauer took off in his Spitfire LF Mk IX (H570) to attack targets around Caen.
At 10:55, he and three other aircraft attacked a German staff car and tanks near the village of Meidon, about 12.5 miles south of Caen. He was reported missing but it was only after the war that his grave was discovered in Bayeux. His machine was probably hit by anti-aircraft fire as heavy flak had been reported at the time of the attack.
This young Czechoslovak pilot is buried in the Bayeux War Cemetery to this day (section XV, row M, grave 24).
British Normandy Memorial - Additional Information
Jiri Bauer's date of death had been recorded as 28 June 1944. But this is being checked as it is believed that this is incorrect and he was killed a day later, on 29 June 1944.
The transports from occupied Czechoslovakia that Bauer was part of became known as the Kindertransport. They were organized by Sir Nicolas Winton, MBE (1909-2015), originally a stock exchange clerk in London, who at the end of 1938 became involved in rescuing Jewish children in cooperation with the Prague office of the British Committee for Refugees from Czechoslovakia. He found sponsors and homes for them which enable a total of 669 children, most of them Jewish, to be rescued and sent to Great Britain in eight transports (March 14 – August 2, 1939).
It wasn't until 1988 that Winton's humanitarian work was publicised and he became known as the British Schindler. He died peacefully in his sleep on 2016 at the age of 106.
FALLEN HEROES
JIRI BAUERRoyal Air Force • SERGEANT

Royal Air Force Volunteer Reserve
310 (Czech) Squadron, Royal Air Force

DIED 28 June 1944

AGE 20

SERVICE NO. 788248