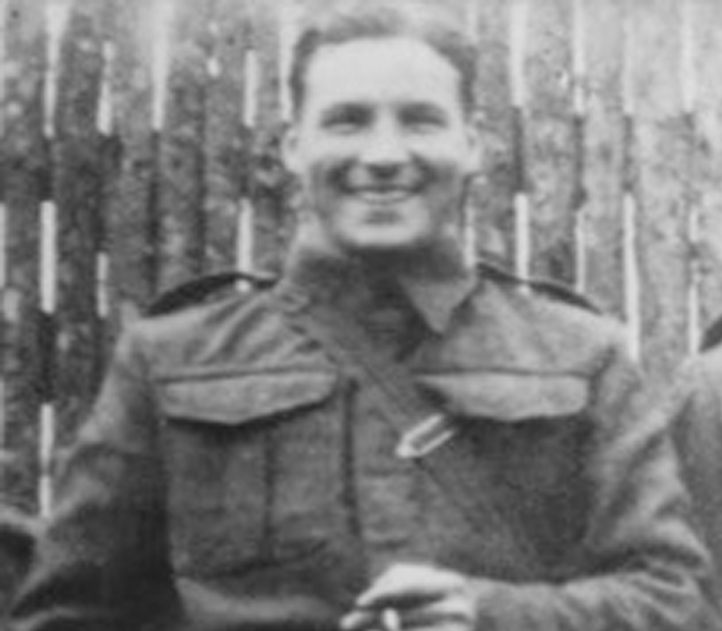 Jack Jeavons
This story and photo is shared by the Trust with kind permission from Dawn Hogg
Corporal Jack Jeavons 2126077. 55 Electrical & Mechanical Section, Royal Engineers. Killed by enemy bomb blast 00.20hrs 10th June 1944 whilst on guard at the water point, Creully Bridge on the River Seulles with Sapper W. E. Jones.
Jack was born 3rd September 1914 at Lord Street, Bilston to James & Lucy. He had two older bothers, Baden and Wilf. Wilf died of consumption in 1938. Jack was a tailor at Horne Bros. Queen St, Wolverhampton prior to enlisting.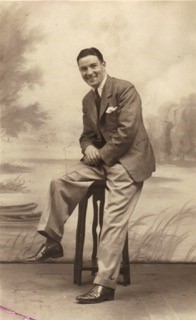 War was declared on Jack's 24th birthday 1939. He enlisted at Barton Stacey on 17 October 1940 and joined H.Q. 8 Communication Wing as a Signaller.  1940 had also seen the death of his father and Jack's marriage to Mary Adeline Eadie.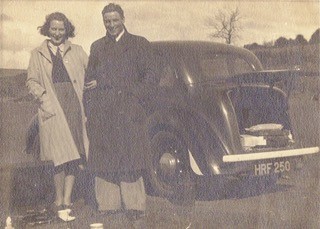 Jack and Mary lived in Ward Street, Coseley with his mother. Mary had also joined up and was serving in the ATS [Auxiliary Territorial Service] but in November 1941 she was discharged on 'Family Grounds'. Their son was born May 1942. Jack was granted leave of 6 days, which covered the christening of their son, David James Robert, in August of that year at St Chad's.
Jack was promoted to Corporal on 7 October 1942. After serving in 8 GHQ Troops Engineers he was posted to 55 Electrical & Mechanical Section, 623 Field Park Company as part of the water supply party.  From January 1944 there was a full itinerary of preparation. From rifle practice and a mine course at Stewarton, Ayrshire. To training exercises in Chatteris, Cambridgeshire and Brancaster, Norfolk.
By late April the unit were at Southampton Common doing preparatory work for the various sapper units of the Beach Sub-Area they had been assigned to for the Normandy landings. In preparation for the beach landings, Jack took part in Operation Fabius, in early May. He bumped into good friend Vic Miller on the 13th who had also been on the last Pre-invasion exercise. They had supper and swapped home addresses. Vic later wrote 'Little thinking it was to be our last meeting'.
On May 19th Jack's section headed off for the assembly area on the East Coast. He embarked for Normandy and once landed, his unit were under the command of Lt. Col G. D. S. Adami,  8 GHQ Troops Engineers, 104 Beach Sub-Area. The section war diary entry stated '7th June 1944 Water Supply Party, under Lt. Snidall, landed France and erected water point at Creully."
In peacetime Creully is beautiful. The bridge is overlooked by the medieval Castle where BBC war correspondents were housed. To the right is Chateau de Cruelly where Field Marshal Montgomery set up HQ to co-ordinate the Battle of Normandy.
News of Jack's death in the early hours of the 10th shocked friends and family. Mary received letters from Lt. Col. Adami, Captain K.M. Bean, 623 Corps Field Park Company & Lieut. D. Snidall. All said Jack was cheerful, well liked, one of the most popular men in the company. This sentiment was echoed by friends Vic Miller, Abe Coleman & Percy Slade. Percy added that 'Jack's thoughts were always at home with you and your little boy' when he wrote this letter to Mary on 31 August 1944.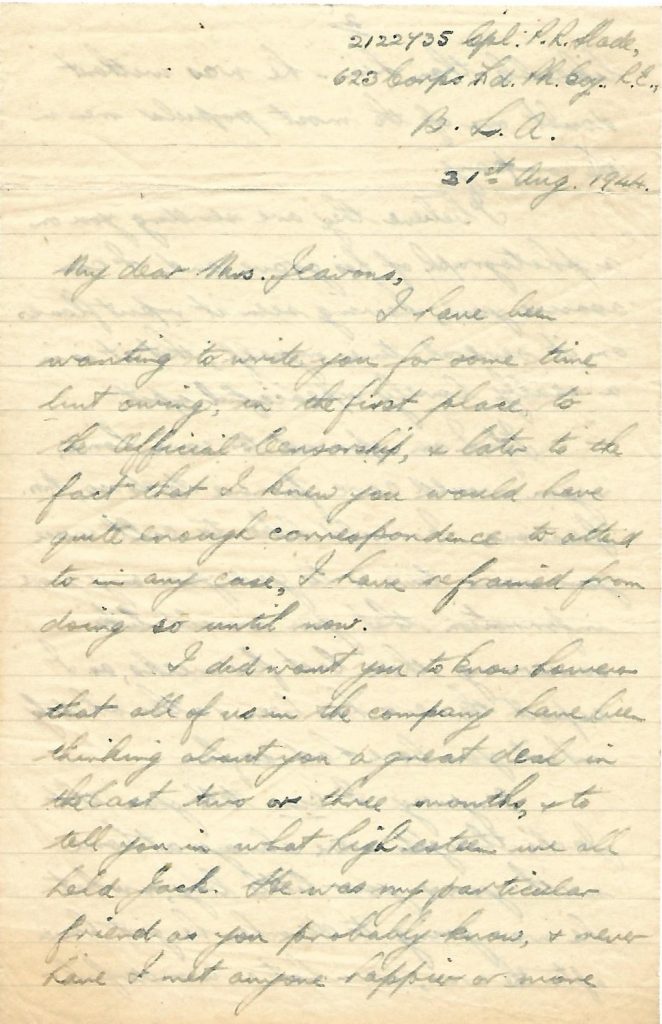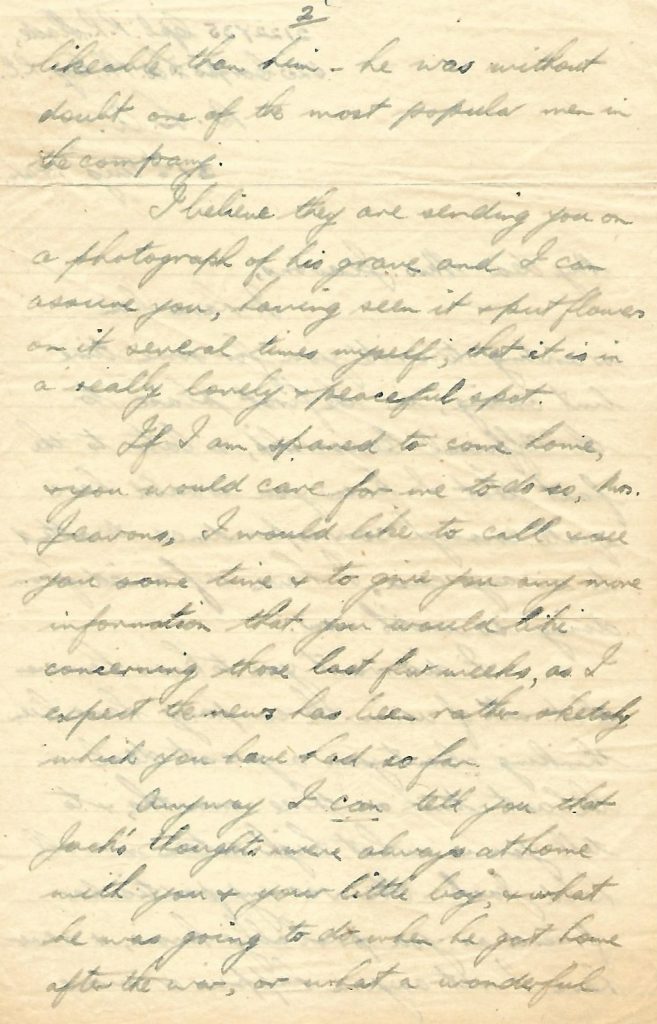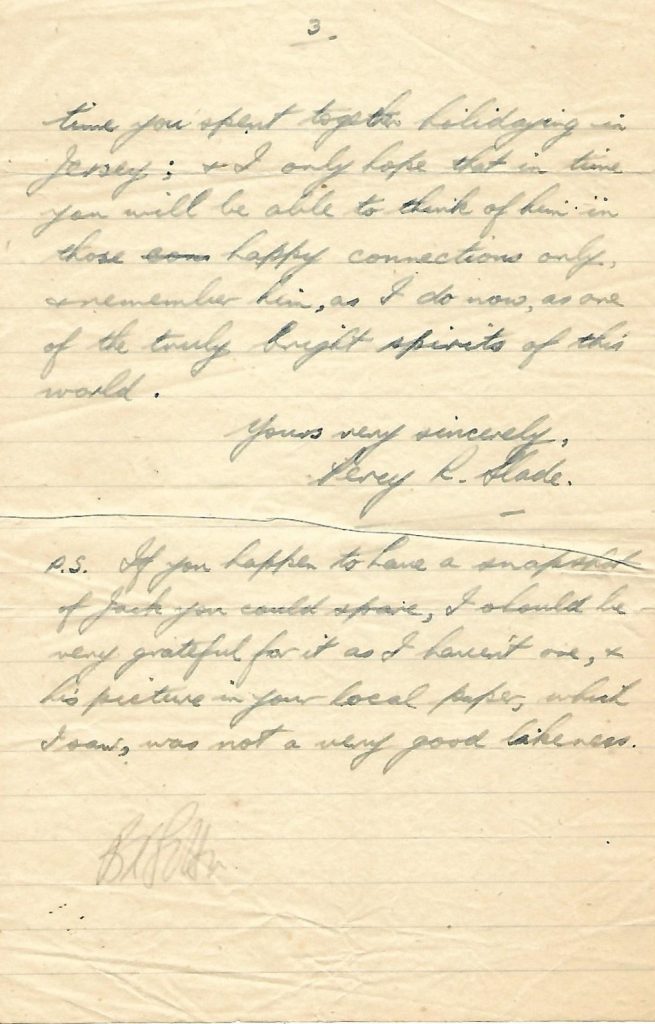 Jack was buried near La Rivière, Ver-sur-Mer on 12 June 1944 by his friends. He was later re-interred in Bayeux War Cemetery beside Sapper Jones.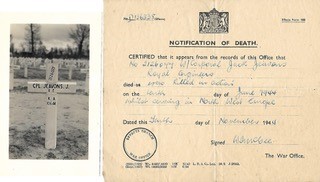 Several generations, down to Great-Great-Grandson have now visited Jack. His son, David, has visited three times. The first visit was Father's Day 2005.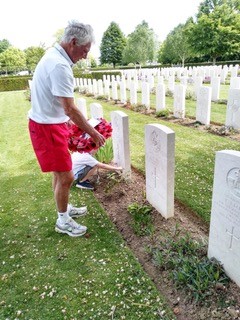 David also visits St Chad's each year where Jack along with others who lost their lives are remembered.
Additional Information from the Normandy Memorial Trust
Operation Fabius was a series of large-scale landing exercises on English beaches in May 1944 in preparation for the landings on the Normandy beaches. Each one was a practice for the respective beach the troops were to land on.
104 Beach Sub-Area was located on Gold Beach. Beach sub-areas were established to control and facilitate the landing, assembly and onward dispatch of personnel, stores and equipment across the invasion beaches and the movement to the forward areas.
FALLEN HEROES
JACK JEAVONSArmy • CORPORAL

Royal Engineers
623 Corps Field Park Company

DIED 10 June 1944

AGE 29

SERVICE NO. 2126077

WILLIAM ERNEST JONESArmy • SAPPER

Royal Engineers
623 Corps Field Park Company

DIED 10 June 1944

AGE 36

SERVICE NO. 6107539