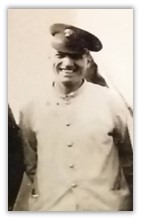 George Robert Hunt
This story and photos are shared by the Trust with kind permission from Sue Grannell And Karen Grannell-Wright, granddaughters of Bob Hunt and daughters of Ann Grannell (née Hunt), George's youngest twin daughter
L/Sjt George 'Bob' Robert Hunt – 2609268, 4th Battalion, Grenadier Guards, 6th Guards Tank Brigade.
Bob was born in 1906, the youngest son to George & Bessie Hunt of Charlton Kings, Cheltenham. Bob had 2 sisters Winifred & Gwendoline and a brother.
Bob was educated at Charlton Kings School and after leaving school worked for some time in a butchery department before joining the Grenadier Guards in 1923.
Bob met Florence Vera Godden in London where he was based, they got married in 1933 and had 8 children: Primrose 1934, Pearl 1936, Robert 1940, James & Janet (twins) 1941 – Janet sadly passed away aged 3 months, David 1943, Angela & Ann (twins) 24.9.1944 – born the following month after Bob was killed in action so he didn't get to meet Angela & Ann.
Bob served just under 22 years with the Grenadier Guards before being sadly killed in action on 14 August 1944 in Normandy. He is buried at Bayeux War cemetery: VIII.B.20.

His name is also commemorated on: WW2 memorial in Cheltenham Town Centre; Holy Apostles Church, Charlton Kings, Cheltenham & British Normandy Memorial in Normandy.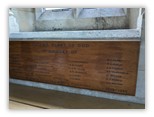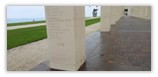 FALLEN HEROES
GEORGE ROBERT HUNTArmy • LANCE SERJEANT

Grenadier Guards
4th (Tank) Battalion

DIED 14 August 1944

AGE 38

SERVICE NO. 2609268