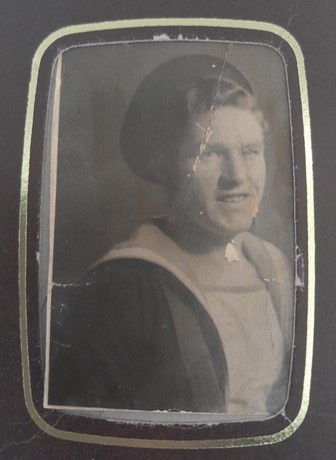 George Lea
This story and photos are shared by the Trust with kind permission from Lynn Ashcroft, niece of George Lea
George Lea, he was my mum's brother and we have a photograph of him not long taken before he passed away.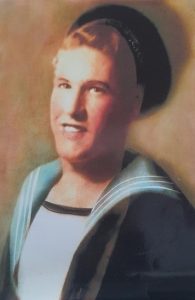 George was one of 13 children born to George and Lucy Lea, born in Birkenhead. George was a labourer before he joined the navy in May 1942. He left a note for his parents and off he went and signed up. He served at a number of shore establishments before being posted to HMS Copra in September 1943. He then served on HMS Duke of Wellington during the Normandy landings.
George's parents received the following certificate to confirm his death in action.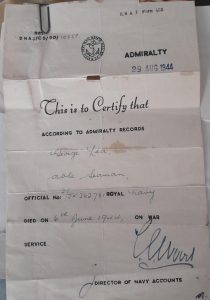 His younger brother John was serving in France in the Army when George was killed and went on to live a long and fulfilling life.
British Normandy Memorial - Additional Information
HMS Copra was not a ship but was a shore base in the UK. Personnel could be allocated to a number of roles in Combined Operations, in George's case it was as part of the crew of a landing craft.
HMS Duke of Wellington was assigned to transport units of 8th Canadian Brigade to Juno Beach on D-Day.
FALLEN HEROES
GEORGE LEARoyal Navy • ABLE SEAMAN

Royal Navy
HMS Duke of Wellington

DIED 06 June 1944

AGE 20

SERVICE NO. D/JX 362781