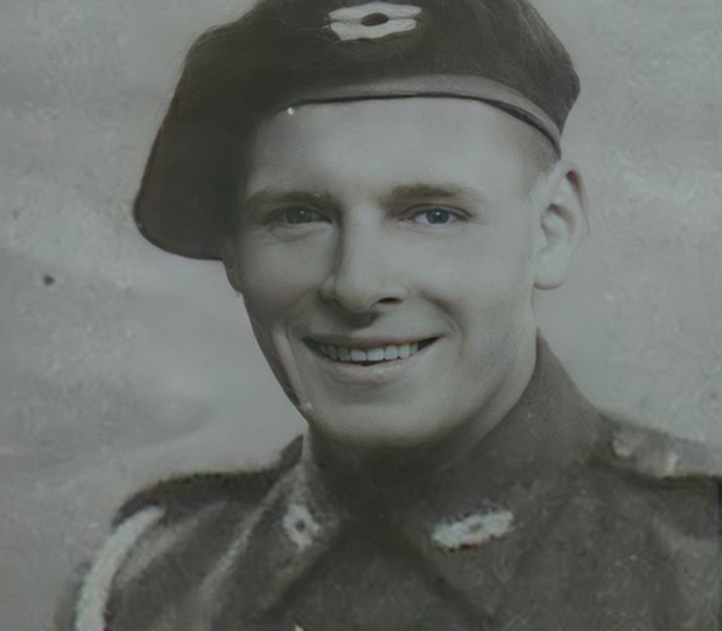 George James Hayes
This story and photo is shared by the Trust with kind permission from George's nephew, Derek Brabrook.
He was one of the DD tank crews in 1st Battalion, East Riding Yeomanry, all we know is that he was killed on the 7th June 1944 near an orchard outside Caen by an 88mm, we'd love to be able to tell you more, but we don't know despite trying to research what actually happened to him.
I'd heard third hand that he may have been the first casualty of the 1st Battalion but we don't know the truth behind that, only an entry in a war diary.
My mother (his sister) named me Derek James Brabrook, the James comes from my Uncle George whom I never met; it was his sacrifice that spurred me on to join the British Army myself. I even wore his spare brass belt buckles during my passing out parade, even though they were non-regulation at the time, but I was given special permission by my Commanding Officer to wear them as he once did. It was a small but emotional nod to his service.
Normandy Memorial Trust - Additional Information
DD tanks or Duplex Drive tanks were Sherman amphibious tanks, which were launched at sea and 'swam' the last distance to the beach under their own power through the use of a flotation screen which enabled it to float. Once ashore the screen would be removed and they would operate like any other tank.
The 88mm was a versatile German anti-aircraft and anti-tank gun which was mounted on a gun carriage which made it easier to move around.
Two men of the battalion had been killed on D-Day but on the 7 June 1944 the battalion suffered nine casualties, the highest number of casualties it experienced in one day during the whole of the Battle of Normandy.
FALLEN HEROES
GEORGE JAMES HAYESArmy • LANCE CORPORAL

Royal Armoured Corps
1st East Riding Yeomanry

DIED 07 June 1944

AGE 22

SERVICE NO. 14263668