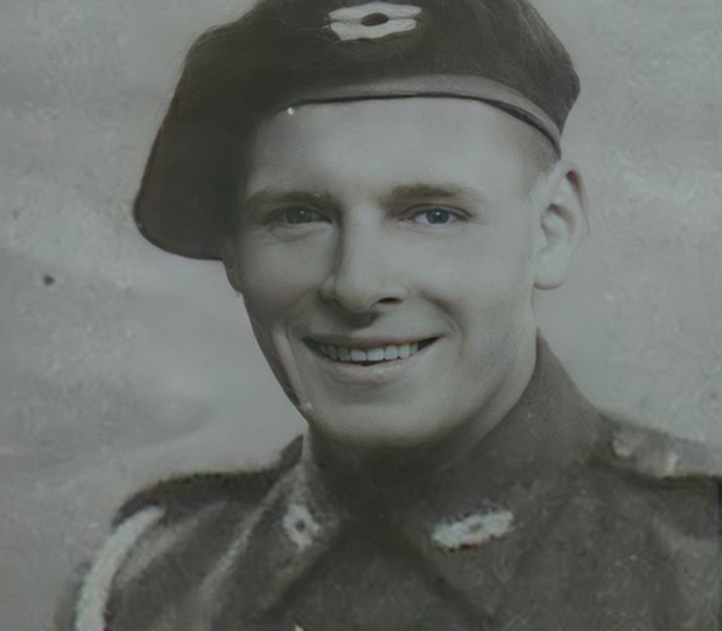 George James Hayes
This story and photo is shared by the Trust with kind permission from George's nephew, Derek Brabrook.
Lance Corporal George Hayes served as a crew member in a Sherman tank of C Squadron, 1st East Riding Yeomanry. After embarking at Gosport on 5 June 1944 the Regiment landed on Sword Beach on the afternoon of D-Day, 6 June 1944. They moved roughly 3 miles inland before harbouring for the night in Colleville-Montgomery.
The next day, A and B Squadrons were deployed to support 2nd Battalion, Royal Ulster Rifles in an attack on the German positions in Cambes-en-Plaines. C Squadron was initially held back in the area of the German Hillman bunkers near Colleville-Montgomery and was joined by the Regimental Headquarters whilst A and B Squadrons moved to the high ground on Périers Ridge which overlooked Cambes-en-Plaines.
By 14:00 the whole Regiment, including C Squadron, had moved to this position prior to mounting the attack. The attack went in at 15:00 but the regiment's war diary records that it was repulsed due to heavy German defensive fire. 1st East Riding Yeomanry withdrew to Colleville-Montgomery to harbour for the night.
Whilst the exact circumstance of George's death is unknown the British Army Casualty Lists 1939-1945 records that he died of wounds. He was buried in a field grave where the regiment had harboured. On 14 August 1945 he was reinterred in Bretteville-sur-Laize Canadian War Cemetery.
I'd heard third hand that he may have been the Regiment's first casualty, but we didn't know the truth behind that, only an entry in a war diary.
My mother (his sister) named me Derek James Brabrook, the James comes from my Uncle George whom I never met; it was his sacrifice that spurred me on to join the British Army myself. I even wore his spare brass belt buckles during my passing out parade, even though they were non-regulation at the time, but I was given special permission by my Commanding Officer to wear them as he once did. It was a small but emotional nod to his service.
Postscript
This story is an updated version of the one we first sent to the Normandy Memorial Trust. Its publication on Twitter generated a fascinating discussion. We thought George served in a DD tank and he was killed on the 7th June 1944 near an orchard outside Caen by a German 88mm gun.
I'd heard third hand that he may have been the first casualty of the 1st Battalion but we don't know the truth behind that, only an entry in a war diary.
But we have now discovered that the some of the details of the family history were inaccurate. My grandmother said she was told it by someone who had served with George but we now suspect that a yarn had been woven by the soldier who spoke to my grandmother all those years ago, possibly to salve a mother's grief at the time.
I am so grateful to all concerned that we have finally got to the bottom of what actually happened all those years ago.
Normandy Memorial Trust - Additional Information
Two men of the battalion had been killed on D-Day but on the 7 June 1944 the battalion suffered nine casualties, the highest number of casualties it experienced in one day during the whole of the Battle of Normandy.
When they landed, the regiment were using water-proofed Sherman tanks rather than DD tanks. These had their openings sealed to prevent water-ingress during a water-borne landing and they would be unsealed once they landed. By comparison, DD (Duplex Drive) tanks had engines which could power propellers when they were in the water and the tracks once they had landed and a canvas flotation screen to provide additional buoyancy.
FALLEN HEROES
GEORGE JAMES HAYESArmy • LANCE CORPORAL

Royal Armoured Corps
1st East Riding Yeomanry

DIED 07 June 1944

AGE 22

SERVICE NO. 14263668