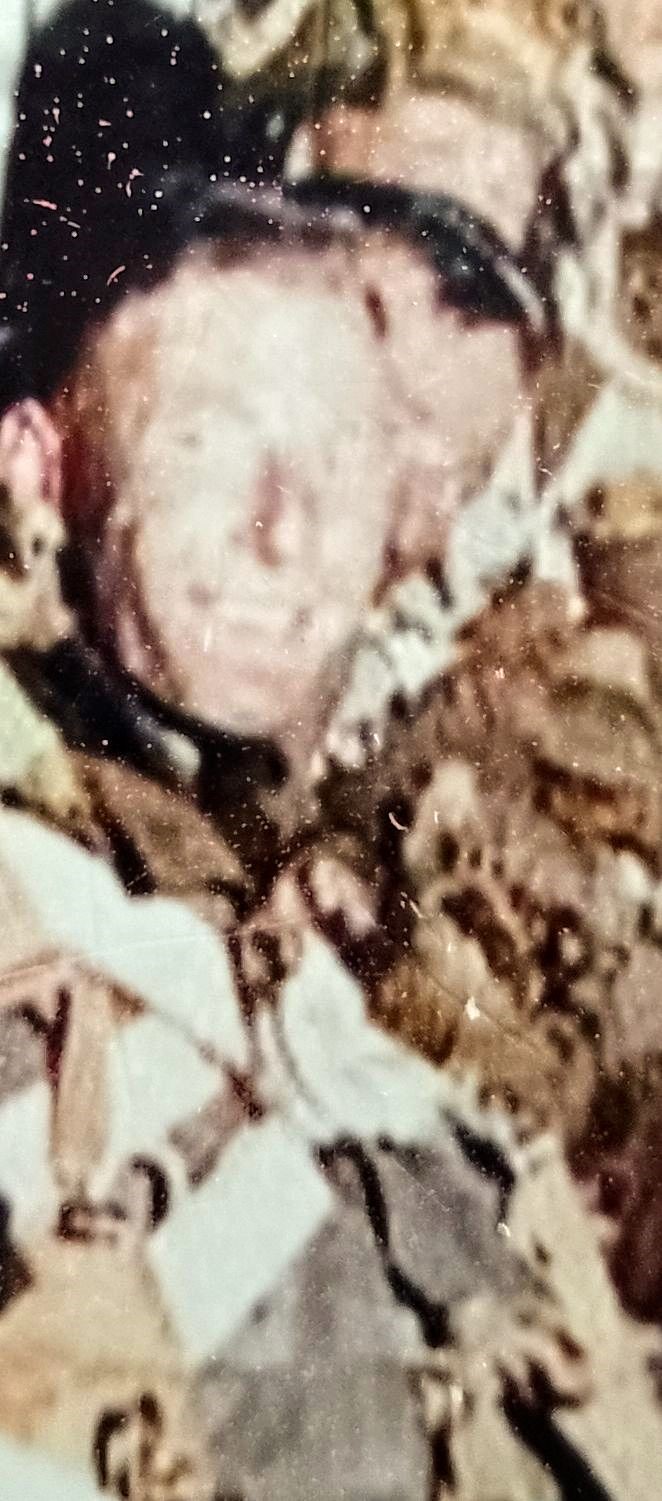 Frederick Jackson
This story and photos are shared by the Trust with kind permission from his son, Malcolm Jackson and his wife, Sandra Jackson. 
Frederick (Fred) Jackson was the son of Frederick and Louise Jackson. Fred Jackson was just a baby when his father was killed during the First World War. His mother remarried to a Mr Marmion, and because of this, Fred had a half-brother and half-sister, Jock and Amy.
Frederick Jnr was a costermonger, as was his mother, Louise and her family. We have a photo of them selling fruit, veg and flowers in Rushey Green, Catford, SE6.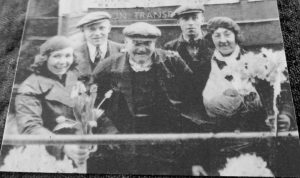 Fred Jackson, Costermonger, back row, right, standing next to his cousin, with his grandfather and aunts in front
Fred had a Calthorpe motor bike with a flat box side car, that he would ride to get the fruit, flowers and veg from Borough Market, London, next to Southwark Cathedral and bring everything back to Rushey Green, Catford. Fred loved flowers and was considered a good wreath maker and making an impressive display on the fruit and vegetable stall. Fred also liked camping, especially with his half-brother, Jock.
Fred got to know his future wife, Iris, through an older relation that Fred and Iris had in common. There was a 6 year age gap between Iris and Fred. Fred and Iris would sometime ride around on his motorbike when they were courting. They got married in a registry office in Lewisham on a cold snowy day and had a flat at Westbourne Drive, Forest Hill, SE23.
Frederick Jackson enlisted into the Cameronians (Scottish Rifles) who were stationed in Lossiemouth, Scotland.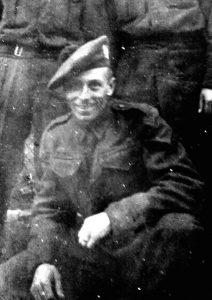 Fred Jackson
After basic training he managed to rent a room in 12, Moray Street, Lossiemouth and Iris went to join him. Opposite them was Ramsey MacDonald's house. A year later Iris found she was pregnant and said if she had a boy she would call him Malcolm, after the Scottish brogue way of saying Malcolm.
Iris returned to South East London in 1941 to be nearer her mother and gave birth to Malcolm in Stone Park Hospital, Elmers End, Beckenham, Kent on 5th October 1941. Fred remained in Scotland and was notified of his son's birth by telegram. We have a photo of Malcolm with his father in his Cameronian uniform when he was aged about 5 months.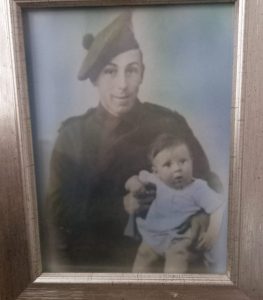 Fred and Malcom
We think Frederick must have applied for the Parachute Regiment, who were based in Salisbury in 1942, to be nearer his wife, Iris and baby son.
Eventually it was the time for the invasion, where the Parachute Regiment were tasked to defend Pegasus Bridge.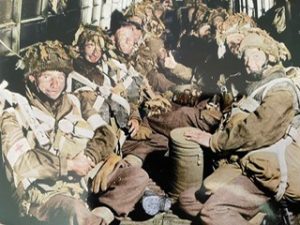 Frederick Jackson, sitting 3rd left, ready to go to Normandy
Sandra remembers Iris recalling how she had a flat in Westbourne Drive, Forest Hill for when Fred came home on leave. But when the bombing intensified she and her now small child, Malcolm, went to stay with her parents in Beckenham, Kent. One day she returned to the flat where she and Fred lived to collect any post that might have arrived while staying at her parents.
To her shock, the flat had been bombed. A wardrobe was holding up part of the wall and amongst the debris, dust and rubble was an unopened letter. Iris opened the envelope only to read her husband, Frederick Jackson, had been killed on 6th June 1944 and was buried in Benouville Churchyard, Normandy. It was then her world forever fell apart.
Malcolm and his mother returned many times after the war on the 6th June to Benouville. One time they met an ex-paratrooper, Eddy Gurney, who showed us where Frederick Jackson had been fighting and said he had volunteered to take 23 prisoners who had been captured that day back to Headquarters for interrogation, then to return. It is believed that around 2pm Frederick Jackson was killed by a sniper's bullet.
My husband, Malcolm, was only 2 years and 8 months old when his father was killed. His mother had to work as there was no benefits in those days, so Malcolm was looked after by his grandmother, Iris' mother, who had had 8 children herself.
Due to his age he wasn't told what had happened to his father but it was when my husband was 5, walking to school with another boy, Terry Wight, that Terry said, "You are like me, your Dad got killed by Germans." When my husband got home, he told his mother what Terry had said and his mother confirmed to Malcolm his father was dead.
Malcolm and Iris returned many times to Normandy to visit Fred's grave. On one visit Malcolm and Iris felt very honoured to be invited by Madam Gondree to stay overnight at her house, the first to be liberated by Pegusus Bridge on D-Day.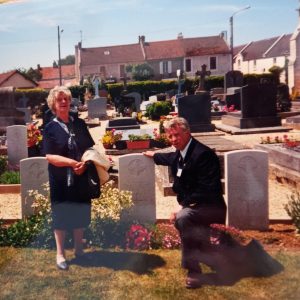 Iris and Malcom by Fredrick's grave
Frederick Jackson's mother, Louise, never, ever, fully recovered from the deaths of her husband and son being killed in both World Wars. And Iris died in 2015, aged 94, having never remarried. Fred's name was added to her gravestone. In September 2022,we went to Benouville and placed some soil from around Iris headstone around his gravestone. We then took some soil from around Fred's gravestone, and put it around Iris' headstone on the Isle of Wight the next day, which was her birthday to unite them again.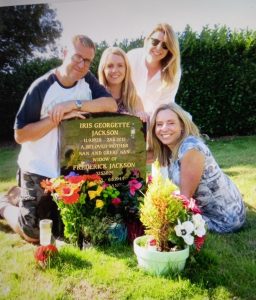 Iris' grandchildren beside her grave
Malcom has thought every day of his father and missed him terribly, having not known him. He thought he, and all the others, were such brave men to rid the world of the evil Nazi regime. So, on 6th June 2023, Malcolm, aged 81, honoured his father by doing a parachute jump in his memory, arranged by his daughter, Michelle, as it something he had been wanting to do for a number of years.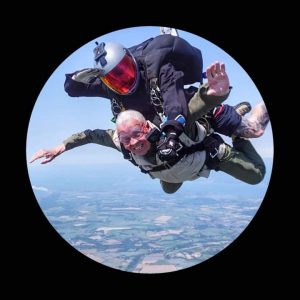 He wore his dad's dog tags for the jump and plans to jump next year with his daughter, Michelle, to mark the 80th anniversary of D-Day.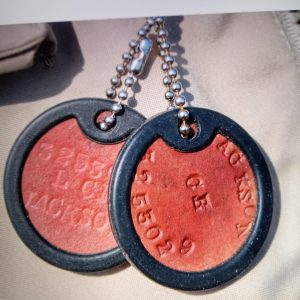 British Normandy Memorial - Additional Information
Ramsay MacDonald was a member of the Labour Party and then its leader and in 1924 became the first Labour Prime Minister.
FALLEN HEROES
FREDERICK JACKSONArmy • LANCE CORPORAL

Parachute Regiment
7th Battalion

DIED 06 June 1944

AGE 29

SERVICE NO. 3253029