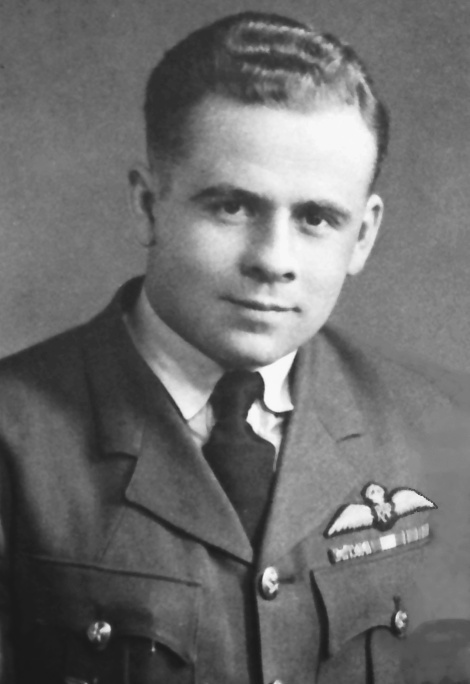 František Naxera and the crew of Liberator BZ754
The story is shared by the Trust with kind permission from Jan Břečka, Head of the Historical Department of the Moravian Museum, Brno, Czech Republic using information from Jiří Rajlich's 2003 book, "In the Sky of Proud Albion, Part 5 – 1944" and  his 2004 book, "In the Sky of Proud Albion, Part 7 – The Black Chronicle of the Czechoslovak Air Force RAF". The photos are courtesy of the Jaroslav Popelka collection. 
On June 29, 1944, six Liberator aircraft from 311 (Czech) Squadron took off from RAF Predannack, Cornwall for an anti-submarine patrol over the English Channel as part of Operation Cork.
One of them was the Liberator Mk.V BZ754 (J) under the command of the experienced pilot F/O František Naxera (pictured above), who took off at 13:45 p.m. He climbed to a height of 20-25 metres, but subsequently lost speed in a left turn and at 13:50 hours crashed and exploded in woodland near Roskilly Farm in St. Keverne in Cornwall.
The entire crew perished except the radar operator Sgt František Bebenek, who was thrown out after the impact and landed in the treetops near the wreckage of the bomber. He suffered severe injuries but survived.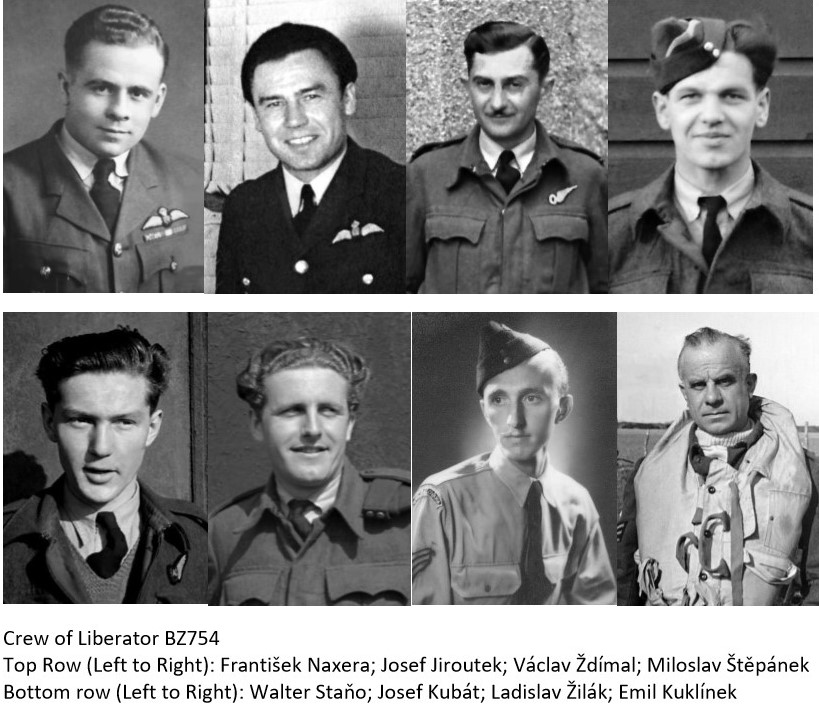 The cause of the crash of Naxera's Liberator was never clarified, apparently it was an unspecified technical problem.
The airmen were buried in Helston cemetery, with the exception of F/O Václav Ždímal, who was buried at Stratford-on-Avon, and F/O František Naxera, who was laid to rest in Holywell Cemetery, Flintshire where his English wife, Theresa, lived.
British Normandy Memorial: Additional Information
Operation Cork was an anti-shipping operation carried out by Coastal Command in order to protect assault convoys involved in Overlord. Its purpose was to detect and destroy German U-boats at the eastern end of the English Channel.
FALLEN HEROES
FRANTISEK NAXERARoyal Air Force • FLYING OFFICER

Royal Air Force Volunteer Reserve
311 (Czech) Squadron, Royal Air Force

DIED 29 June 1944

AGE 28

SERVICE NO. 131539

JOSEF JIROUTEKRoyal Air Force • FLIGHT SERGEANT

Royal Air Force Volunteer Reserve
311 (Czech) Squadron, Royal Air Force

DIED 29 June 1944

AGE 29

SERVICE NO. 787354

VACLAV ZDIMALRoyal Air Force • FLYING OFFICER

Royal Air Force Volunteer Reserve
311 (Czech) Squadron, Royal Air Force

DIED 29 June 1944

AGE 29

SERVICE NO. 138876

MILOSLAV STEPANEKRoyal Air Force • FLIGHT SERGEANT

Royal Air Force Volunteer Reserve
311 (Czech) Squadron, Royal Air Force

DIED 29 June 1944

AGE 24

SERVICE NO. 788350

WALTER STANORoyal Air Force • SERGEANT

Royal Air Force Volunteer Reserve
311 (Czech) Squadron, Royal Air Force

DIED 29 June 1944

AGE 19

SERVICE NO. 654745

JOSEF KUBATRoyal Air Force • SERGEANT

Royal Air Force Volunteer Reserve
311 (Czech) Squadron, Royal Air Force

DIED 29 June 1944

AGE 21

SERVICE NO. 654728

LADISLAV ZILAKRoyal Air Force • SERGEANT

Royal Air Force Volunteer Reserve
311 (Czech) Squadron, Royal Air Force

DIED 29 June 1944

AGE 22

SERVICE NO. 788297

EMIL KUKLINEKRoyal Air Force • SERGEANT

Royal Air Force Volunteer Reserve
311 (Czech) Squadron, Royal Air Force

DIED 29 June 1944

AGE 40

SERVICE NO. 787029