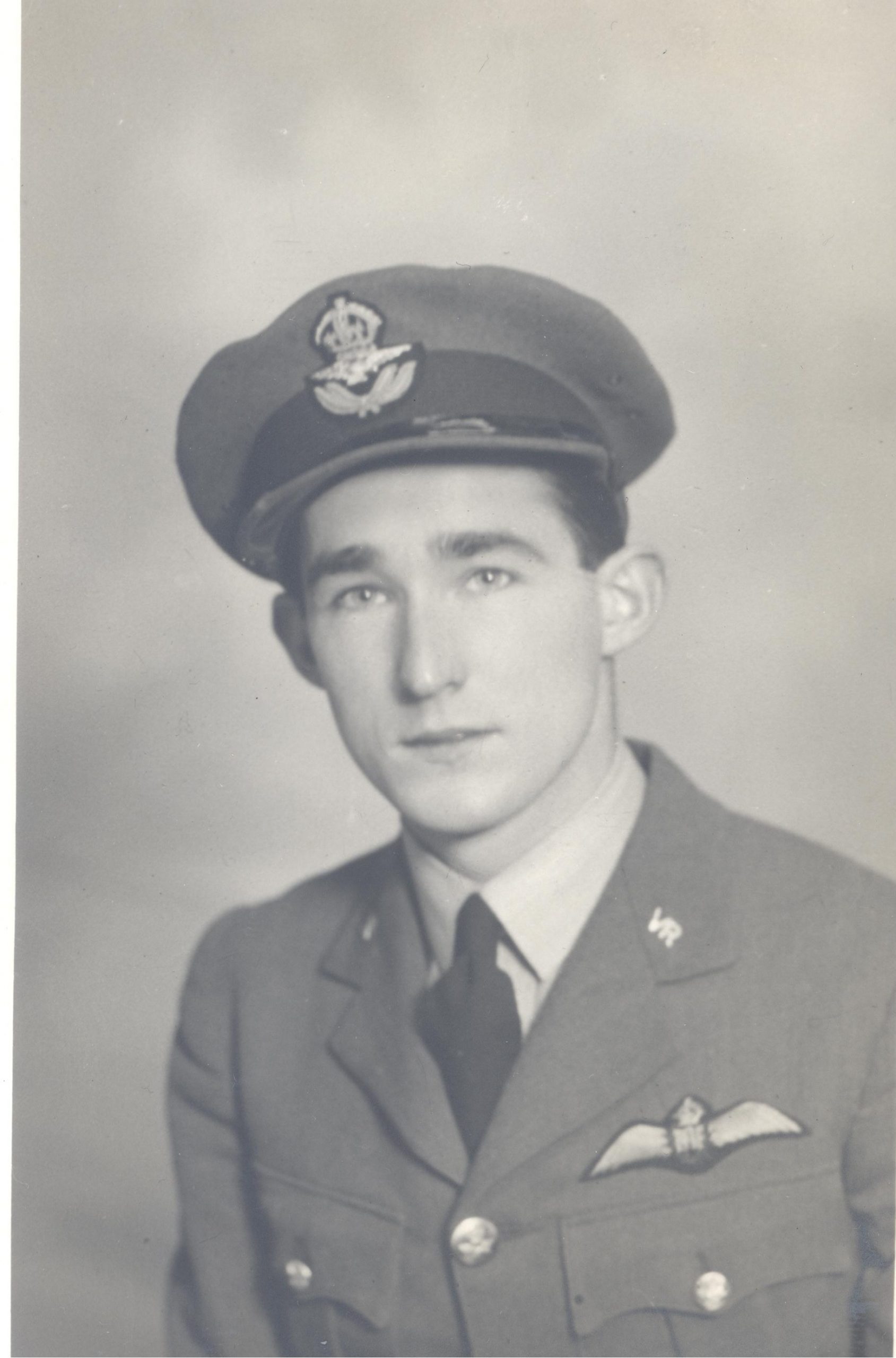 Geoffrey Campbell Brown
The story and photographs are shared by the Trust with kind permission from Jane Allden, Geoffrey's niece and her husband Keith Allden.
Flight Lieutenant Geoffrey Campbell Brown was the pilot of Hawker Typhoon Mk 1B, JP681, 183 Squadron, Royal Air Force.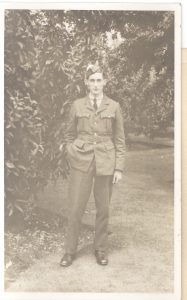 Originally based at RAF Church Fenton, North Yorkshire they were moved to B7 Martragny airfield, Chateau de Martragny, Calvados from 1 August 1944. The Chateau had been liberated on 7 June 1944, and work was started on the airfield on 27 June 1944.
On 17 August he was part of a group of eight Typhoon aircraft who took off at 14.00 from B7 Martragny for a Cab Rank (close air support over the battlefield) and armed reconnaissance to attack scattered targets in the Evreux area and support the Army by attacking enemy tanks, bridges and transport in the Falaise Pocket.
The group broke into sections of two once they were over the target area, but they were attacked by about 50 German Messerschmitt 109 aircraft between Le Neubourg and Evreux. The Typhoon aircraft scattered in evasive action but only four aircraft returned to base. The loss of Typhoon JP681 was claimed by Oberfeldwebel Fritz Gromotka, unit 9/JG 27 at 14.48, south of Evreux.
A letter to Geoffrey's mother from the mayor of Corneville-sur-Risle describes what happened.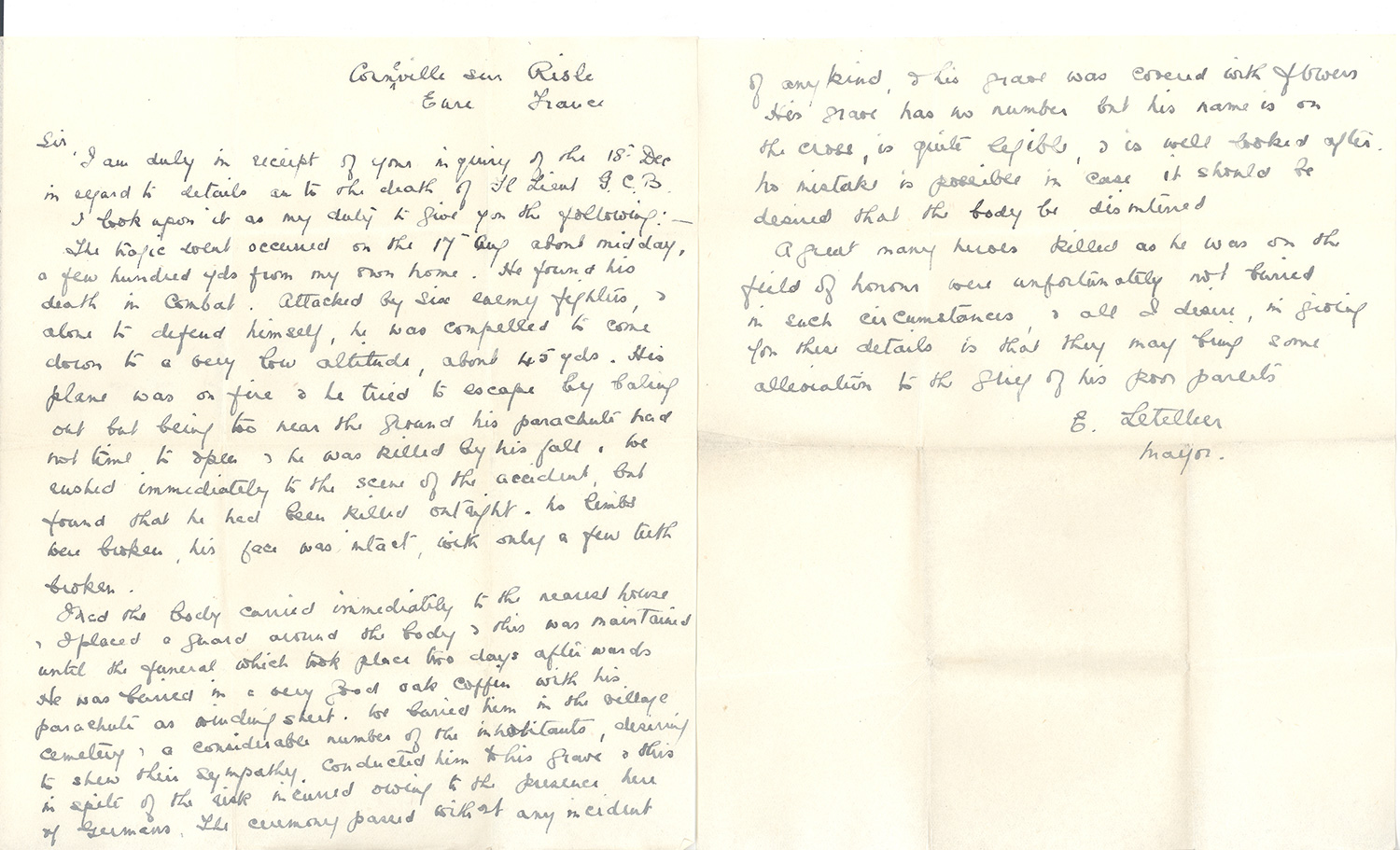 He explained how his aircraft came in at a low altitude and was on fire as it was pursued by six German aircraft. Geoffrey attempted to bale out but his aircraft was too low and his parachute did not open. He was killed by his fall. His body was recovered and taken to the nearest house and guarded until his funeral two days later. Geoffrey's body was wrapped in his parachute, placed in an oak coffin and taken by the villagers to the local churchyard. The Mayor of Corneville later wrote to his mother after she had made contact as she tried to find out more about his death.
She was also contacted by an eye-witness to the fighting, a local member of the French Resistance, Frances Menager, who had helped translate the mayor's letter but wanted to send her own words of condolence to his mother.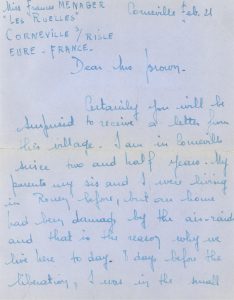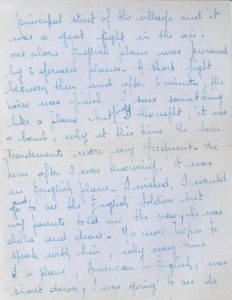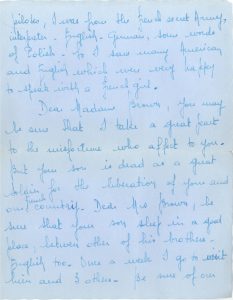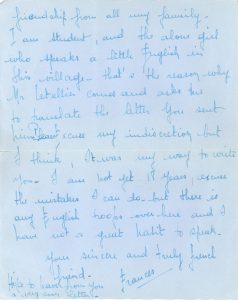 In her letter she explained how she witnessed a lone plane being attacked by 6 German aircraft. It was over in 6 minutes. She asked to go and see the English pilot as she had helped other pilots who had crashed as she was an interpreter for the French resistance. But her parents said it was just one man and he had died. Further on in the letter she reassured Geoffrey's Mother about the care that was being shown to him, "Dear Mrs Brown, be sure that your son sleep in a good place, between others of his brothers - English too. Once a week I go to visit him and 3 others. Be sure of our friendship from all my family."
A considerable number of the local inhabitants wished to show their sympathy and attended the burial in spite of the risk to themselves due to the presence of Germans in the village - at the time the local inhabitants were meant to hand over the bodies of Allied airmen to the German authorities. According to family oral history, Geoffrey's Mum heard that the citizens of Corneville-sur-Risle got away with the funeral ceremony because they pretended it was the funeral of a local Frenchman - they felt the Germans had too much else to worry about at the time to take much interest in what appeared to be a local funeral. To maintain the illusion, Geoffrey's grave was initially marked with a fictitious French name until after liberation. The family are currently identifying the source for this story.
Of the three other pilots who did not return to base, Warrant Officer Gordon Frederick Humphrey, Royal Canadian Air Force, was killed.

PO Frederick Humphrey, RCAF. Source: Library and Archives Canada
Warrant Officer W. A. J. Carragher, Royal Canadian Air Force, became a Prisoner of War No. 7078, Stalag Luft 7 and Flight Sergeant R. Gibson evaded capture.
Fl/Lt Geoffrey Campbell Brown is buried in Grave 2, in the north-eastern corner of Corneville-sur-Risle churchyard, Eure, France. He is also remembered on the Typhoon Memorial at Noyers Bocage near Caen, Calvados with 150 other men who gave their lives to liberate Normandy in May-August 1944.
FALLEN HEROES
GEOFFREY CAMPBELL BROWNRoyal Air Force • FLIGHT LIEUTENANT

Royal Air Force Volunteer Reserve
183 (Gold Coast) Squadron, Royal Air Force

DIED 17 August 1944

AGE 22

SERVICE NO. 128455

GORDON FREDERICK HUMPHREYRoyal Air Force • PILOT OFFICER

Royal Canadian Air Force
183 (Gold Coast) Squadron, Royal Air Force

DIED 17 August 1944

AGE 23

SERVICE NO. J/89694