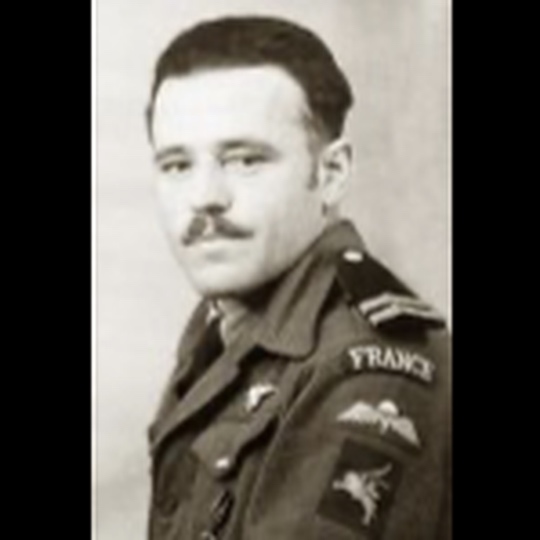 Emile Bouétard
The British Normandy Memorial will commemorate the sacrifice of men and women from more than thirty different countries.
Amongst those foreign nationals who served under British Command were Frenchmen who returned to their occupied country as part of the Free French Forces to liberate it from the Nazis. This story marks the start of the Battle of Normandy as seen through French eyes.
Corporal Emile Boutard from Brittany was killed on the very first day of battle, on D-Day itself. A merchant navy sailor before the war, by early 1943 he had escaped France and was in London with the Free French forces. Leaning that they were looking for parachute volunteers he joined the Forces Aeriennes Françaises Libres, 2ème Regiment de Chasseurs Parachutistes. He trained as a parachutist at the Parachute Training School, Ringway, Manchester, graduating in mid-May 1943 and then went onto Commando training. His unit was was incorporated into 4 SAS in January 1944.
Part of 3 Squadron, 4 SAS, Bouétard parachuted into the Morbihan department of Brittany on D-Day as part of 'Operation Dingson', its mission: to delay German reinforcements being re-deployed to the Normandy beachhead by all means possible.
Landing behind enemy lines at 00.45 on the 6th June, 3 Squadron were dropped 1.2 miles from their intended location, unfortunately hitting the ground just half a mile from a German observation post. While they were still gathering their equipment, they were attacked by German forces and Bouétard was killed. Several of his comrades were taken prisoner.
Bouétard was the first French serviceman to die on D-Day. A patriotic Frenchmen who served with British units will now be remembered for generations to come at the site where - thanks to their sacrifice - France became free again
FALLEN HEROES
EMILE PIERRE AUGUSTIN BOUETARDArmy • CAPORAL

Special Air Service Regiment
4 SAS

DIED 06 June 1944

AGE 28

SERVICE NO. 35410