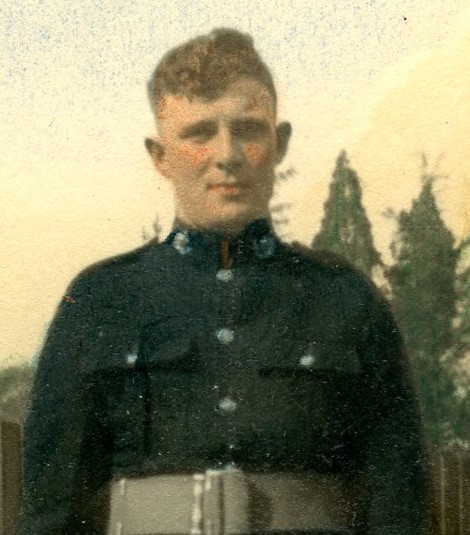 David Walter Reed
This story and photos are shared by the Trust with kind permission from Rhona Gorder, niece of David Reed. David's son, Graham Reed, also contributed to this article.
My grandparents lost two of their four sons, David Walter and Edward (Ted) Joseph Reed, in the Second World War. David was killed on 12 June, 1944 near Amfreville, defending the far eastern flank of the landing beach area. He was reburied in Ranville War Cemetery on 13 June, 1945. He was the eldest of five children.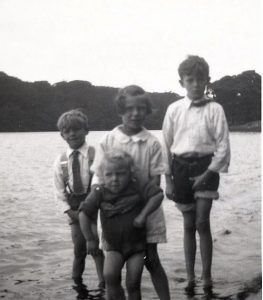 L-R Ted, Dorothy, David and Arthur (Bill) in the front. Younger brother, Eric, was not born yet
David attended Sunningdale Church of England School and left school at age 14. He was good at art in school and his son, Graham, still has a painting that his dad created. David's great grandmother, Charlotte Goddard was at one time head teacher of the school. She was a good piano player as well and her musical skills have passed down through the family.
After he left school, David used his bicycle with a basket in front to deliver groceries to customers of the village store. This job brought him to the Sunningdale Golf Club, also known as Wentworth, where he got his introduction to golf. He became a student of the game and a good player. Later he became a caddy at Wentworth, which is a world class golf course, and at another similar golf course the name of which no one can remember. David was known as an incredibly kind man.
David and Ted were already in the army when war broke out.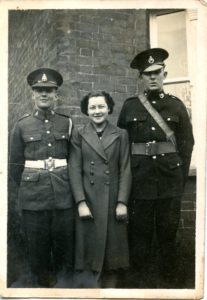 L-R: Ted, unknown and David
David joined the Royal Marines in about 1939. His training schedule shows he spent part of 1940 in Freetown, Sierra Leone before returning to the UK via Gibraltar in October 1940. He then trained alongside the 7th Battalion, Queens Own Royal West Kent Regiment and it was during this time that David was promoted to acting Corporal and in February 1942 his promotion was made permanent. He then joined 45 (Royal Marine) Commando which was formed in 1943.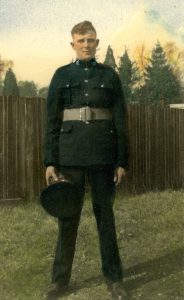 David Reed c.1943
David was 19 when he married his wife, Amy, to whom he was introduced by his sister, Dorothy. Amy and Dorothy had worked together and were good friends.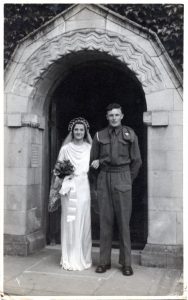 David and Amy on their wedding day
Amy never remarried after losing David and raised their son, Graham, on her own.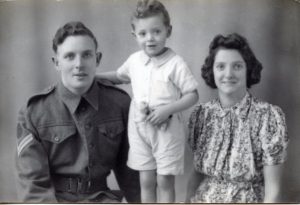 David, Graham and Amy
Graham was about three years old when his father was killed. After David died, Amy first went to live with her mother and had help there. After that, she received tremendous support from David's parents, Lillian and Walter Reed. David's youngest brother, Eric became a "superb substitute father" to Graham and Graham said he was a very good person all round, active in the church and a scout leader.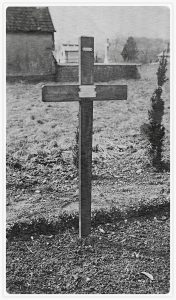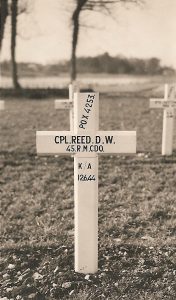 David Reed had two temporary crosses on his grave - a temporary battlefield cross and then one erected prior to the CWGC one he has today
Graham and his wife Pat have three accomplished children and several grandchildren, who are David's legacy. Graham and Pat have regularly visited Ranville War Cemetery and their family will continue the tradition so that he is never forgotten.
As a family we strive to keep David and Edward's name in the forefront. My son and I have visited Ranville and my late brother, visited the Munster Heath War Cemetery where Edward is buried in Germany. Every November, the family attends services in Sunningdale where both David and Edward are honoured on the village war memorial. We know David heroically lost his life in the Normandy invasion. However, Edward tragically died almost three years later of pneumonia, before he could be sent home. Both were 23 when they died.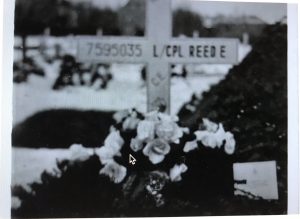 Normandy Memorial Trust - Additional Information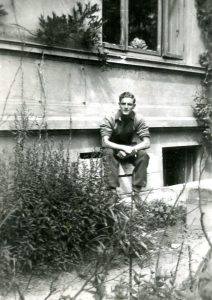 Edward Reed, Royal Electrical and Mechanical Engineers, died on 16 February 1947. He is buried in Munster Heath War Cemetery, Germany. His parents added this inscription to his headstone:
His happy life came to an end; He died as he lived, unselfish to the end.
Arthur Reed, David and Edward's brother, was one of the first soldiers to liberate the Bergen Belsen Compound for Women. It was an experience that affected him deeply, and he never spoke of until the days before his death in 1995.
FALLEN HEROES
DAVID WALTER REEDRoyal Navy • CORPORAL

Royal Marines
45 (Royal Marine) Commando

DIED 12 June 1944

AGE 23

SERVICE NO. PO/X4253