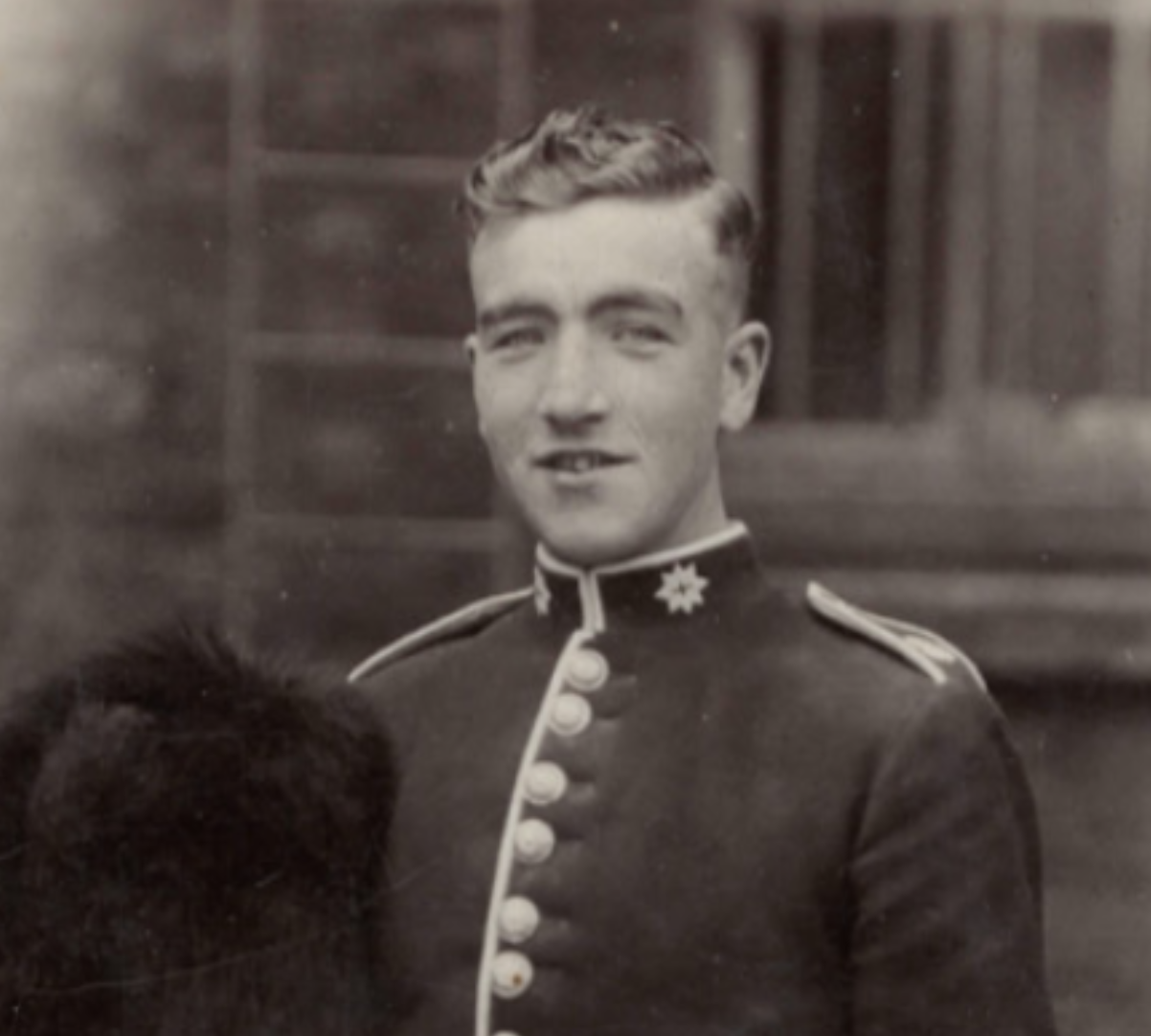 David Blyth
The information and photographs are shared by the Trust with kind permission from David's son, Peter Blyth. The story also references four other servicemen from David's crew who also perished.
The fourth of nine children, David Blyth was born in the village of Sutton-on-Hull, East Riding of Yorkshire on 11 February 1919. After leaving the local Church of England school, David worked for the Hull Co-operative Wholesale Society. Enlisting in the Coldstream Guards on 21 August 1937 in the hope that four years with the Colours would help his ambition to be a policeman. Or so he thought.
On completion of training, David was posted to the 1st Battalion Coldstream Guards on 3 March 1938. Deploying with the battalion to France as part of the British Expeditionary Force on 29 September 1939, evacuated 1 June 1940. I recall my Grandma (David's mother) telling me that he came home on leave with dried salt stains across the shoulders of his battle dress. David met Mary Keating in London prior to the outbreak of the war. On his return from France they married on 26 August 1940 in Mary's home town of Cleethorpes, Lincolnshire. Nine months later, I was born on 31 May 1941.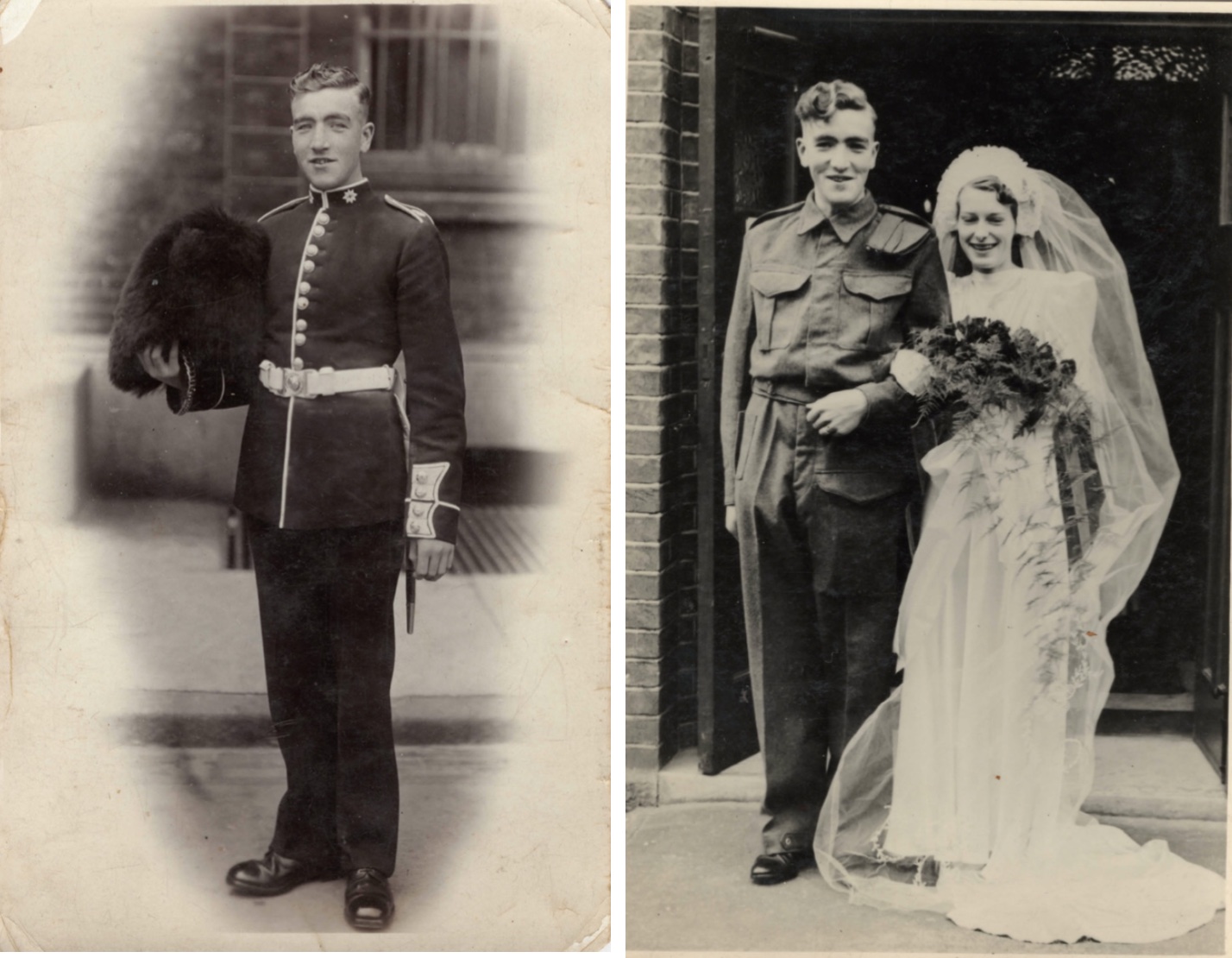 David as Guardsman in 1938 or 1939 and David and Mary's wedding day at Corpus Christi Church in Cleethorpes, on 26 August 1940.
In June 1941, 1st (Armoured) Battalion Coldstream Guards became part of the newly-formed Guards Armoured Division (GAD). There followed three intensive years of conversion courses, training and exercise. Beginning on Salisbury Plain before culminating in the East and North Ridings of Yorkshire. By this time Dad had qualified as Driver/ Mechanic Group C (AFV).
In January 1941 N Squadron 137 Tank Delivery Squadron RAC was formed. Commanded and manned by officers and men, including my Dad, detached from the Division's Armoured Battalions. Subsequently re-designated 268 Forward Delivery Squadron RAC (268 FDS). The role of the Squadron was to provide battle replacement vehicles, some with crews, to forward units.
Bad weather in the Channel delayed the departure of the GAD. By the end of June 1944, the Division was complete on French soil. 268 FDS sailed from Gosport and disembarked on Juno Beach just before midnight on 30 June. Thereafter, it must have been a case of hurrying up to wait for Dad and crew. Until 1800 Tuesday 1 August 1944.
From 268 FDS War Diary: "Sent 4 Sherman V of Coldstream to 2 Armd Bn Irish Gds, two with four men both commanded by Irish Gds Officers - Lieutenant Keatinge and ...".
From 2nd (Armoured) Battalion Irish Guards War Diary Friday 4 August 1944: "La Marvindière. At 1430, enemy tanks were heard moving about and suddenly Brennan and Keatinge's tanks were knocked out by a Panther 500 yards NE of them. Keatinge being mortally wounded and Brennan killed".
Less than 72 hours after being sent forward Lt Keatinge was dead, one man would die of wounds on 9 August and three, including my Dad, were missing.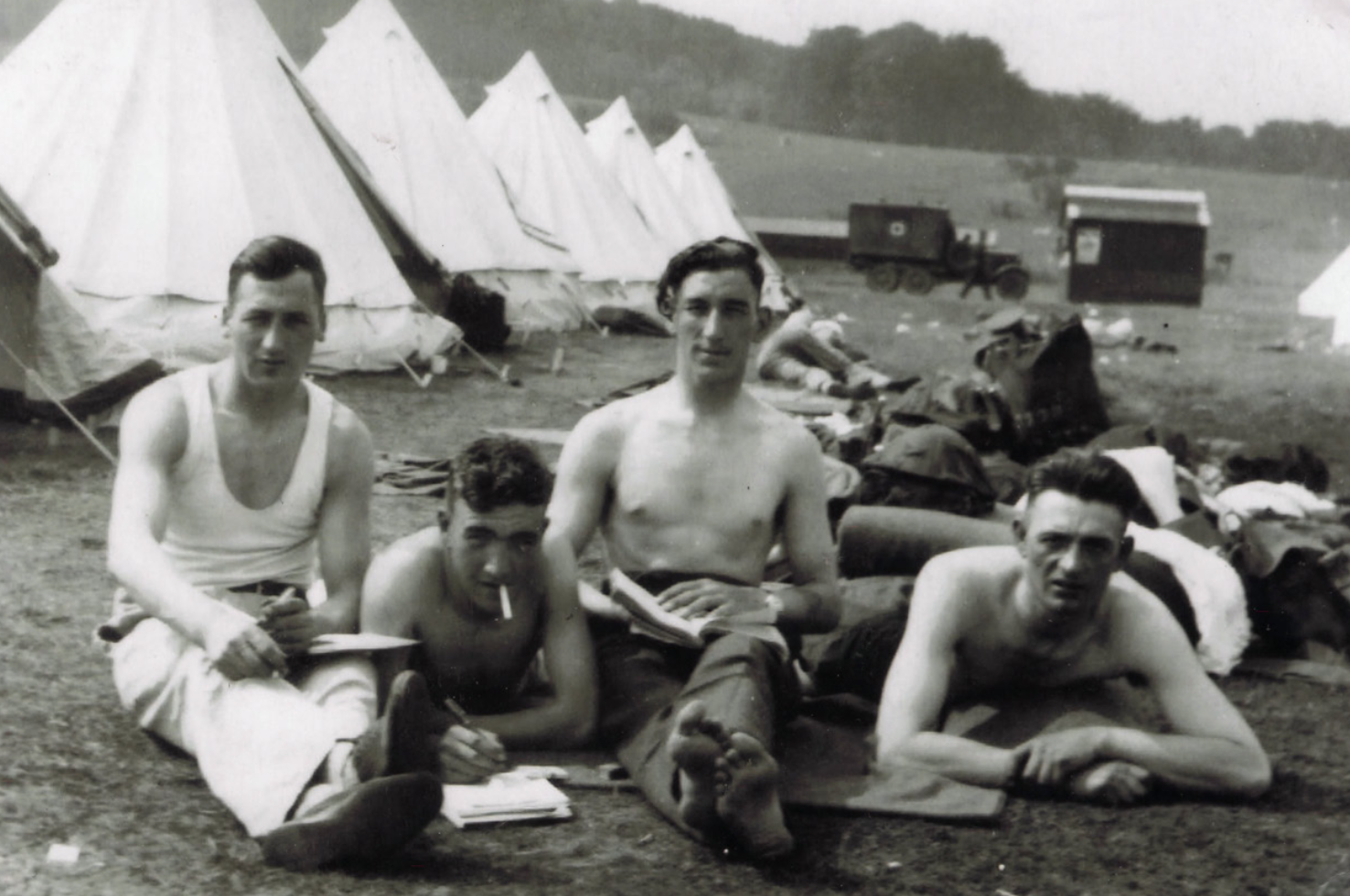 David is pictured second from left. Identities of his three comrades are unknown.
Dad died aged 25 and is commemorated on the Memorial to the Missing at Bayeux War Cemetery as he has no known grave.
The other members of Dad's Sherman tank crew were:
Lt John Charles Fitzgerald Keatinge, Irish Guards, aged 20 of Codnor, Derbyshire. Buried at Saint Charles-de-Percy War Cemetery.
Gdsmn Eric Wyatt, Coldstream Guards,  aged 21 of Kenley, Surrey. Buried at Bayeux War Cemetery.
Gdsmn William Bayliss, Coldstream Guards, aged 22 of South Kilworth, Leicestershire. Commemorated on the Memorial to the Missing at Bayeux War Cemetery.
Gdsmn Leonard Markham, Coldstream Guards, aged 23 of of Hornsea, East Riding of Yorkshire. Commemorated on the Memorial to the Missing at Bayeux War Cemetery.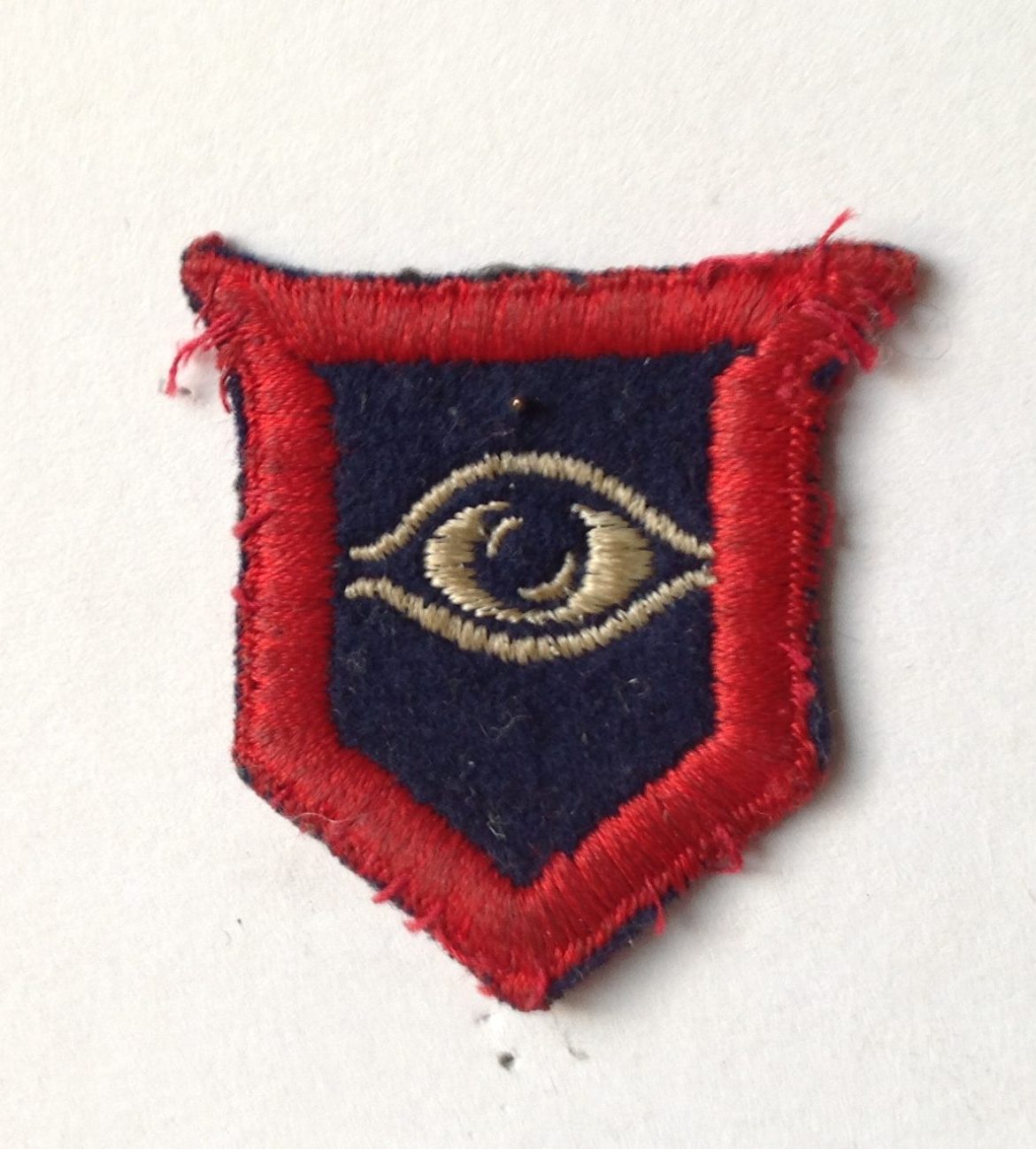 The distinctive badge of Guards Armoured Division (GAD).
FALLEN HEROES
JOHN CHARLES FITZGERALD KEATINGEArmy • LIEUTENANT

Irish Guards
2nd Armoured Battalion

DIED 04 August 1944

AGE 20

SERVICE NO. 278673

DAVID BLYTHArmy • GUARDSMAN

Coldstream Guards
1st (Armoured) Battalion

DIED 04 August 1944

AGE 25

SERVICE NO. 2657980

ERIC WYATTArmy • GUARDSMAN

Coldstream Guards
1st (Armoured) Battalion

DIED 09 August 1944

AGE 21

SERVICE NO. 2665083

LEONARD MARKHAMArmy • GUARDSMAN

Coldstream Guards
1st (Armoured) Battalion

DIED 04 August 1944

AGE 23

SERVICE NO. 2659047