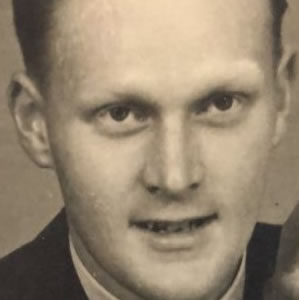 Cyril Stubbins
This story and photo are shared by the Trust with kind permission from Janet, sister of Cyril Stubbins and with research by Ben Mayne @BattlefieldBen
Remembering Cyril Cooper Stubbins, 7th Parachute Battalion, killed in action in Normandy on 6th June 1944.
In 2019 Cyril's younger sister, Janet, visited her brother's grave and found out more about events on the day he was killed. Janet said that the family only ever had rumours of what took place on the night of the 6th June, they had never been able to confirm. Janet even said that after he should have landed they had no word on Cyril until February 1945. They believed he may have even not gone out to France instead going 'AWOL' as he may have been scared of what to come. They learnt that wasn't the case. She said to me, "This will likely be my last visit to him."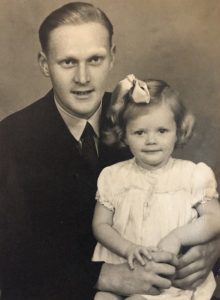 Cyril and Janet
Cyril landed in Normandy on 6th June 1944 in Operation Tonga. He took off from RAF Fairford on Stirling Mk.IV LJ288, Chalk 154, of 620 Squadron, Royal Air Force, piloted by Flying Officer Caskey of the Royal Canadian Air Force.
As LJ288 flew in over the Normandy coastline close to Cabourg it was hit by German anti-aircraft fire fire and went down on the outskirts of Dives-sur-Mer, not far from the Houlgate Battery. The flight was recorded as missing and it wasn't until September 1944 that work began to try and identify the circumstances of the crash and the men who were onboard.
Janet's mother visited France a few years after his death and met a local mayor at Dives-sur-Mer who said a plane had crashed. She was shown trees still scorched and a gap missing where it was said to have come down. No other details were known to the family.
It was ascertained that it was flight EF268 and that it had come down, colliding with trees. All on board had died and the local French villagers had come to the crash site and buried the dead. Personal effects had been collected and later returned so they could be passed back. The men were exhumed in February 1945 and now all lie at rest in the La Delivrande War Cemetery.
Cyril is buried in a row that contains all the men of flight EF268. Janet made her pilgrimage to visit him and then all information that could be found was given to her later that night. She says she finally has closure on her brother's death. All the stories the family had said over the years had now been found true and that he had died carrying out a brave act. She had never forgotten her brother, 75 years on.
Additional information from Normandy Memorial Trust: Operation Tonga was 6th Airborne Division's parachute and glider assault in the early hours of D-Day
FALLEN HEROES
CYRIL COOPER STUBBINSArmy • PRIVATE

Parachute Regiment
7th Battalion

DIED 06 June 1944

AGE 19

SERVICE NO. 14578482

IRVINE NATHANIEL CASKEYRoyal Air Force • FLYING OFFICER

Royal Canadian Air Force
620 Squadron, Royal Air Force

DIED 06 June 1944

AGE 24

SERVICE NO. J/18411

THOMAS FREDERICK BARKERRoyal Air Force • FLYING OFFICER

Royal Canadian Air Force
620 Squadron, Royal Air Force

DIED 06 June 1944

AGE 27

SERVICE NO. J/14207

ARTHUR WELCH JACKSONRoyal Air Force • FLIGHT SERGEANT

Royal Air Force Volunteer Reserve
620 Squadron, Royal Air Force

DIED 06 June 1944

AGE 25

SERVICE NO. 1337703

ALAN LACY SMITHRoyal Air Force • SERGEANT

Royal Air Force Volunteer Reserve
620 Squadron, Royal Air Force

DIED 06 June 1944

AGE 22

SERVICE NO. 1652568

JAMES HEWITTRoyal Air Force • FLIGHT SERGEANT

Royal Air Force Volunteer Reserve
620 Squadron, Royal Air Force

DIED 06 June 1944

AGE 23

SERVICE NO. 1554527

ROBERT ALFRED SPARKESRoyal Air Force • FLIGHT SERGEANT

Royal Air Force Volunteer Reserve
620 Squadron, Royal Air Force

DIED 06 June 1944

AGE 23

SERVICE NO. 1393942

JOSEPH ALBERT BEECHArmy • SERJEANT

Parachute Regiment
7th Battalion

DIED 06 June 1944

AGE 25

SERVICE NO. 5674103

JOHN CAVEYArmy • PRIVATE

Parachute Regiment
7th Battalion

DIED 06 June 1944

AGE 23

SERVICE NO. 3962078

ALFRED HENRY JAMES BEARDArmy • LANCE CORPORAL

Parachute Regiment
7th Battalion

DIED 06 June 1944

AGE 28

SERVICE NO. 5678355

HENRY DENHAMArmy • CORPORAL

Parachute Regiment
7th Battalion

DIED 06 June 1944

AGE 29

SERVICE NO. 5679243

PETER SIDNEY FINCHArmy • PRIVATE

Parachute Regiment
7th Battalion

DIED 06 June 1944

AGE 22

SERVICE NO. 4032616

FREDERICK GARNETTArmy • PRIVATE

Parachute Regiment
7th Battalion

DIED 06 June 1944

AGE 21

SERVICE NO. 4546638

WILLIAM HEKArmy • PRIVATE

Parachute Regiment
7th Battalion

DIED 06 June 1944

AGE 22

SERVICE NO. 14210029

PATRICK HUGHESArmy • PRIVATE

Parachute Regiment
7th Battalion

DIED 06 June 1944

AGE 19

SERVICE NO. 14403536

ERNEST WILLIAM JARVISArmy • SERJEANT

Parachute Regiment
7th Battalion

DIED 06 June 1944

AGE 28

SERVICE NO. 5250009

DENNIS KERRArmy • PRIVATE

Parachute Regiment
7th Battalion

DIED 06 June 1944

AGE 19

SERVICE NO. 3387613

ROBERT KINGSLEYArmy • PRIVATE

Parachute Regiment
7th Battalion

DIED 06 June 1944

AGE 20

SERVICE NO. 6856578

LESLIE HENRY PHILLIPSArmy • LANCE CORPORAL

Parachute Regiment
7th Battalion

DIED 06 June 1944

AGE 30

SERVICE NO. 5680060

CHARLES KENNETH STRINGERArmy • PRIVATE

Parachute Regiment
7th Battalion

DIED 06 June 1944

AGE 19

SERVICE NO. 14407652

CYRIL JOHN SURMANArmy • PRIVATE

Parachute Regiment
7th Battalion

DIED 06 June 1944

AGE 24

SERVICE NO. 5498650

MONTAGUE JAMES TRUEMANArmy • PRIVATE

Parachute Regiment
7th Battalion

DIED 06 June 1944

AGE 21

SERVICE NO. 14209955

LESLIE CHARLES WEYArmy • PRIVATE

Parachute Regiment
7th Battalion

DIED 06 June 1944

AGE 23

SERVICE NO. 5671819

ERNEST SIDNEY HOUNSLOWArmy • SERJEANT

Parachute Regiment
7th Battalion

DIED 06 June 1944

AGE 24

SERVICE NO. 5679931

JOHN WILLIAM SMITHArmy • PRIVATE

Parachute Regiment
7th Battalion

DIED 06 June 1944

AGE 20

SERVICE NO. 4469397

JOHN WALKERArmy • PRIVATE

Parachute Regiment
7th Battalion

DIED 06 June 1944

AGE 21

SERVICE NO. 4865382