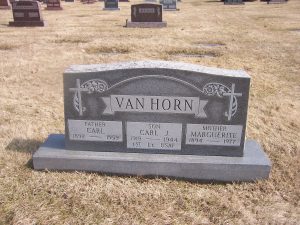 Carl Joseph Van Horn and crew of ND467
With thanks to the American Air Museum in Britain, www.inthefootsteps.com and American military researcher Bill Beigel of WW2 Research Inc. for additional information and use of images.
The names of servicemen and women of more than thirty different nationalities are commemorated on the British Normandy Memorial, having served in, or with British units.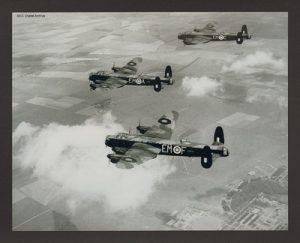 Courtesy of IBCC Digital Archive
The crew of Avro Lancaster Mark III ND467 of 83 (Pathfinder) Squadron, Royal Air Force, based at RAF Coningsby in Lincolnshire is typical of this multi-national Allied military effort and co-operation which led to the defeat of German forces in the Battle of Normandy. It was made up of men from Britain, New Zealand, Australia and America.
The American serviceman was 25 year old 1st Lt Carl van Horn. Born in Ohio in 1918,  he joined the Royal Canadian Air Force in July 1941, around five months before America entered the war. A number of Americans had already joined British or Canadian forces before the Pearl Harbour attack on 7 December 1941, which brought the US into the war the following day.
By mid 1944, Carl Van Horn was on 'detached service' to the Royal Air Force, after transferring to 127th Replacement Battalion, United States Army Air Forces in December 1943.
The pilot of the ND467 was 23 year old Pilot Officer George Mervyn Kennedy from Auckland, Royal New Zealand Air Force. Van Horn was the navigator and flying with him were 20 year old Flight Engineer Sergeant Norman G Whitley, RAF; 22 year olds Air Bomber Sergeant Oswald John Turner, RAF and Wireless Operator Peter J Lynes DFM, RAF; Rear Gunner, Flight Sergeant Constantine George of the Royal Australian Air Force (RAAF) and MU Gunner Sgt Arthur W Poyzer DFM, aged 29, who also served in the RAAF.
Sgt Poyzer had already completed 58 operational sorties against the enemy by May 1944, including in the Middle East. The citation for his Distinguished Flying Medal (DFM) praised his "…high standard of courage in the face of the heaviest enemy opposition…. his skill and ability as a gunner and his untiring vigilance."
The young men of ND467 had flown 13 missions together between February and June 1944 over targets hundreds of miles from Britain. These were hazardous sorties over some of the most dangerous and well defended enemy targets in Europe, including the German cities of Stuttgart, Berlin and Nurnberg, as well as targets over western and northern France.
On the night of 6/7 June 1944 their Lancaster was one of 15 aircraft which took off from RAF Coningsby at 00:50. Their mission: to bomb three bridges which crossed the River Orne, south of Caen.
Sorties like this, carried out in the days after D-Day, caused havoc for German forces, delaying reinforcements trying to reach the Normandy coast. They played a crucial role in enabling the Allies to create a bridgehead on the Normandy coast: A vital strategic foothold which would sustain the momentum of the liberation.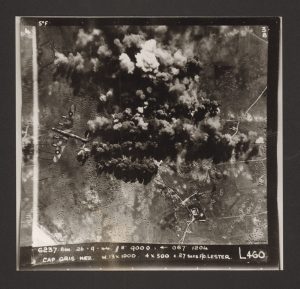 Courtesy of IBCC Digital Archive
But it was a sortie from which ND467 would not return. The squadron's Operations Record Book stated that the aircraft was not seen or heard from after taking off from RAF Coningsby. But it was discovered that ND467 was shot down by a German FW190 night fighter aircraft just after 01:30 on 8 June 1944 and crashed near Caen/Banneville-la-Campagne. This is the original document from the US War Department detailing the missing aircraft and crew.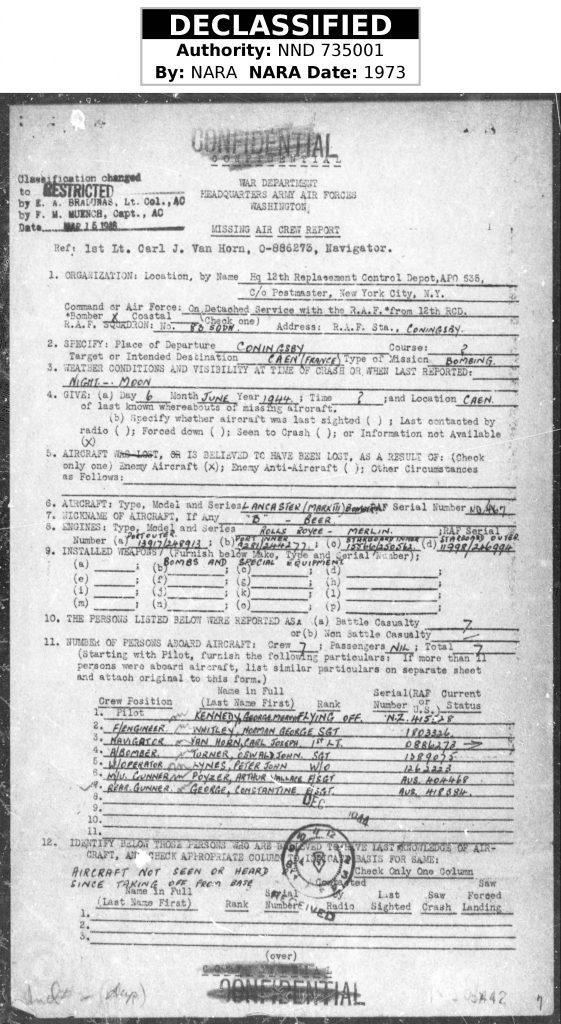 Courtesy of the American Air Museum in Britain
Pilot Officer Kennedy and four of the crew died in the crash. 1st Lt Van Horn survived, but was taken prisoner by the Germans. He died the following day.
One member of the crew, F/Sgt Sergeant Constantine George managed to bale out of the stricken aircraft and evaded capture, but it is not clear what happened to him next. A document from 127th Replacement Battalion says he was later repatriated to Australia.
Flight Lieutenant Kennedy, Pilot Officer Turner, Warrant Officer Lynes DFM, Flight Sergeant Poyzer  and Sergeant Whitley are buried in a single grave in Banneville-la-Campagne War Cemetery.
 www.findagrave.com
1st Lt van Horn was initially buried in Caen Cemetery but, as a result of an American policy of returning overseas war dead which had begun in the Spanish-American War of 1898, Congress approved the Return of the Dead Program in 1946 for those killed in World War Two. Families were given the option to either have their relative repatriated back to the United States or to leave them where they were buried overseas. Van Horn's family chose to have him repatriated and his remains were re-interred in Saint Joseph Cemetery, Lockbourne, Franklin County, Ohio in 1949.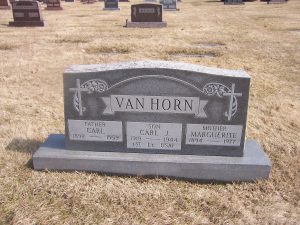 Donna White/www.Findagrave.com
Buried apart for 75 years, the crew of ND467 are now commemorated together on the British Normandy Memorial.
FALLEN HEROES
GEORGE MERVYN KENNEDYRoyal Air Force • FLIGHT LIEUTENANT

Royal New Zealand Air Force
83 Squadron, Royal Air Force

DIED 07 June 1944

AGE 23

SERVICE NO. 415328

CARL JOSEPH VAN HORNRoyal Air Force • 1ST LIEUTENANT

United States Army Air Forces
83 Squadron, Royal Air Force

DIED 07 June 1944

AGE

SERVICE NO. J/12714 (RCAF) and O-886273 (USAAF)

OSWALD JOHN TURNERRoyal Air Force • PILOT OFFICER

Royal Air Force Volunteer Reserve
83 Squadron, Royal Air Force

DIED 07 June 1944

AGE 22

SERVICE NO. 176475

NORMAN GEORGE WHITLEYRoyal Air Force • SERGEANT

Royal Air Force Volunteer Reserve
83 Squadron, Royal Air Force

DIED 07 June 1944

AGE 20

SERVICE NO. 1803326

PETER JOHN LYNESRoyal Air Force • WARRANT OFFICER

Royal Air Force Volunteer Reserve
83 Squadron, Royal Air Force

DIED 07 June 1944

AGE 22

SERVICE NO. 1262223

ARTHUR WALLACE POYZERRoyal Air Force • FLIGHT SERGEANT

Royal Australian Air Force
83 Squadron, Royal Air Force

DIED 07 June 1944

AGE 29

SERVICE NO. 401468