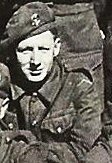 Arthur Farrar
This story and photos are shared by the Trust with kind permission from John Farrar, nephew of Arthur Farrar.
Arthur Farrar was born on 30 April 1919 in Batley, Yorkshire the youngest son of Jonah Drake Farrar (1875-1941) and Ann Elizabeth Flather (1877-1929). He had four older brothers and a sister: Walter, Abraham, William, Elsie and Jonah. Sadly, their mother died when Arthur was only 10 years old.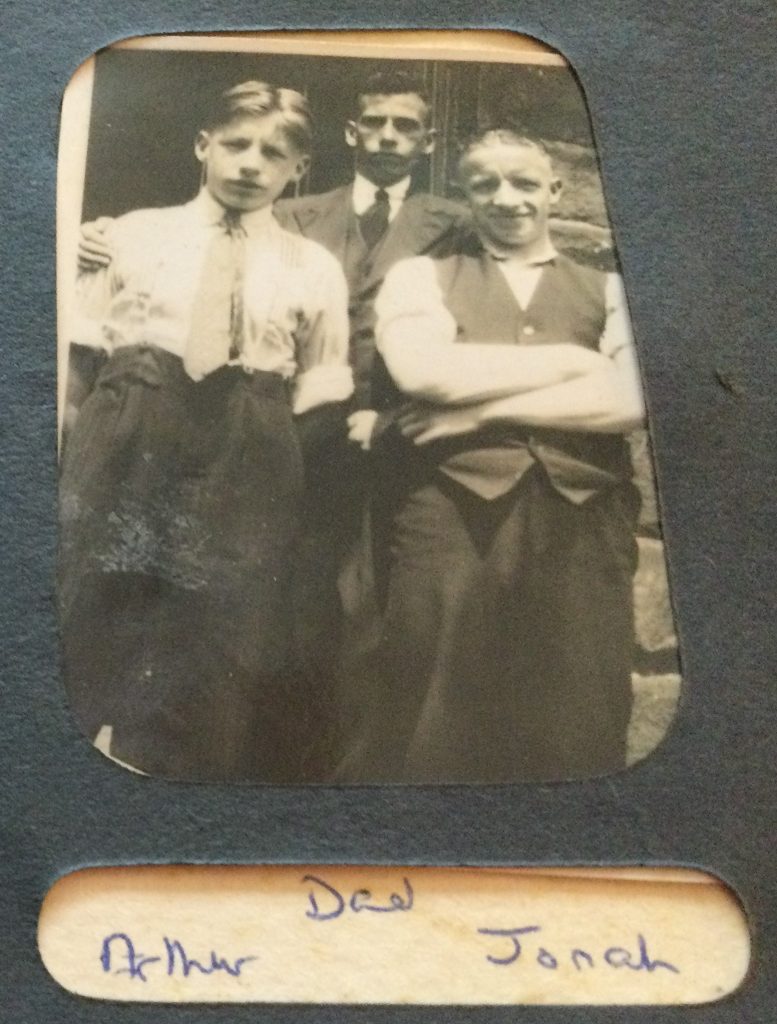 L-R Arthur, Albert Ward (Arthur's brother-in-law), and Jonah
The Farrar family was well known for its sporting achievements in the West Riding of Yorkshire. In 1939 Arthur demonstrated his prodigious and immense sporting talent in both cricket and soccer when he was shortlisted to play County cricket for Yorkshire as a wicketkeeper and batsman and was similarly pursued by the top two 1st Division Northern Clubs of the English Football Association.
Being ambidextrous he could bat both left-handed or right-handed and would often cause an opposing team absolute frustration when during an over he would often switch batting stances. This was also reflected on the soccer field where he played as a centre forward and was a prolific goal scorer not only with both feet, but also with his head.
Britain declared war on Germany on 3 September 1939 and thus began World War II.
At age 20 Arthur enlisted on 21 October 1939 and was posted to the 2/7th Battalion of the Duke of Wellington's West Riding Regiment. His Service Number was 4617550. The Battalion was deployed to France in March 1940 for pioneer duties, on a three-month tour of duty, as part of the British Expeditionary Force but were caught up in the German advance which began on 10 May 1940. By 7 June 1940 they had retreated to Dieppe and saw action at St. Valery-en-Caux before being evacuated from Dunkirk to Britain. They were then deployed in the UK on defence and training duties.
My father, Jonah Drake Farrar, enlisted on 1 July 1940 and was posted to the 50th Holding Battalion, York and Lancaster Regiment. His Service Number was 4756658. In late 1940 he was transferred to the newly formed 11th Battalion of the Regiment.
After their father died in March 1941, my father was pressured by his two eldest brothers, Walter and Abraham, to "claim" his younger brother Arthur on compassionate grounds from the Duke of Wellington's West Riding Regiment and to be transferred to the 11th Battalion, York and Lancaster Regiment.
This occurred on 2 April 1941 and Arthur subsequently joined my Father's Company. On the 22nd of February 1943, their Battalion embarked for overseas duty in the Middle East and arrived in Egypt on 16 April 1943. On the 6th of May 1943 they were both compulsorily transferred to the Hampshire Regiment, and posted to A Company of the 1st Battalion on the 21st of June 1943.
The 1st Battalion, as part of the 231st Brigade, had returned from Malta in April 1943 and were stationed firstly in Alexandria and then subsequently to Cairo and Suez where it trained as part of an independent assault brigade.
On the 10th July 1943 the Battalion took part in Operation Husky, the Allied invasion of Sicily where it suffered 18 Officers and 286 Other Ranks killed or wounded in action. It then landed in Italy on 10 September 1943 where it was involved in the fighting as the Germans withdrew northwards.
By October 1943 they were back in Sicily waiting for transport back to the United Kingdom and were back home by November.
On its return the Battalion was allocated to the 50th Northumbrian Division, one of the assault divisions for the invasion of Northwest Europe, which had an excellent reputation after fighting in the Mediterranean Theatre.
By late May 1944 both Arthur and my father were in the same platoon of A Company, 1st Battalion, Hampshire Regiment, under the command of Lt. Jack Lauder.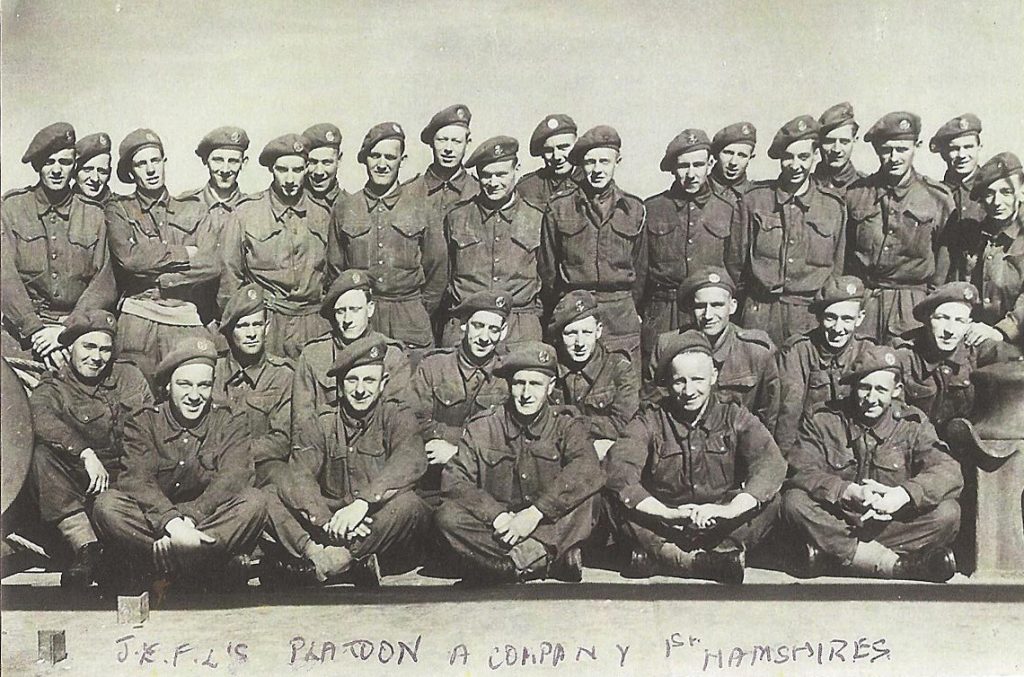 A Company, 1st Battalion, Hampshire Regiment, late May 1944. Arthur is in the second row, 4th from the right, behind his brother, Jonah, seated in the front row, 2nd from the right.
On 6 June 1944 they were part of the first assault troops to land on the Normandy beach. My father was first out of the landing craft and Arthur, being further back on the craft, landed after.
Sadly, Arthur was killed by mortar fire no sooner than he had stepped foot on the beach. He was just 25 years old and is buried in the Bayeux Military Cemetery.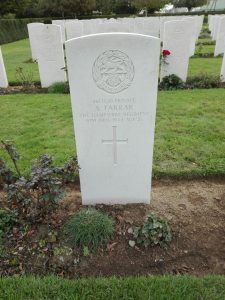 My father continued serving with A Company, 1st Battalion, Hampshire Regiment until he was wounded on 18 September 1944 in Eindhoven, Holland during Operation Market Garden. He was then repatriated to the Carlisle Military Hospital and his war service was over.
My father never forgave himself for bending to his older brothers' pressure to claim Arthur from the Duke of Wellington's West Riding Regiment to the York and Lancaster Regiment. Until he died on the 16th of August 1997, he would subliminally blame himself for Arthur's tragic death on D-Day. In the late 1980's he and my stepmother Muriel visited France as part of a European holiday. During their tour of Normandy, they came within five miles of the Bayeux Military Cemetery, and he was too distraught to make a visit to see Arthur's grave, such was his inherent guilt.
One often wonders what Arthur could have achieved as a sportsman if World War 2 had not happened. He had the world at both his fingertips and his feet.
"In another time, in another place, Fate is the Hunter, Eternal Peace our Grace".
British Normandy Memorial, Additional Information
11 of the men in the Platoon photo were killed in the Battle of Normandy, 9 of them on D-Day. They are mentioned below but each feature in a separate Story.
FALLEN HEROES
ARTHUR FARRARArmy • PRIVATE

Hampshire Regiment
1st Battalion

DIED 06 June 1944

AGE 25

SERVICE NO. 4617550

RONALD ALFRED BUTTArmy • PRIVATE

Hampshire Regiment
1st Battalion

DIED 06 June 1944

AGE 21

SERVICE NO. 14648127

WILLIAM HERBERT BELLArmy • PRIVATE

Hampshire Regiment
1st Battalion

DIED 06 June 1944

AGE 30

SERVICE NO. 14348116

FREDERICK WILLIAM CLARKEArmy • PRIVATE

Hampshire Regiment
1st Battalion

DIED 06 June 1944

AGE 24

SERVICE NO. 6411162

THOMAS ALFRED EDWARDSArmy • LANCE CORPORAL

Hampshire Regiment
1st Battalion

DIED 11 July 1944

AGE 20

SERVICE NO. 6031551

DENNIS EDWIN ROSEArmy • CORPORAL

Hampshire Regiment
1st Battalion

DIED 06 June 1944

AGE 27

SERVICE NO. 5505032

ALBERT EDMUND CHRISTOPHERArmy • PRIVATE

Hampshire Regiment
1st Battalion

DIED 06 June 1944

AGE 32

SERVICE NO. 6351679

LEONARD DYERArmy • PRIVATE

Hampshire Regiment
1st Battalion

DIED 06 June 1944

AGE 21

SERVICE NO. 5511661

FREDERICK BRITTONArmy • PRIVATE

Hampshire Regiment
1st Battalion

DIED 06 June 1944

AGE 25

SERVICE NO. 4978164

EDGAR LOADERArmy • PRIVATE

Hampshire Regiment
1st Battalion

DIED 06 June 1944

AGE 21

SERVICE NO. 5511602