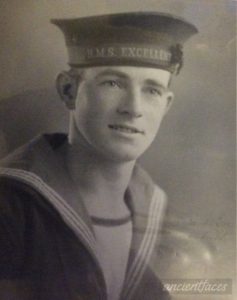 Allister Austin
Biographical information in this story courtesy of Jill Austin Taylor
Leading Seaman Allister Charles Austin was born on 21 June 1920 in St John's, Newfoundland, now part of Canada, the son of John Thomas and Gertrude Austin. He had five other siblings: Edith, Bruce, Jean, Maxwell, and Harold. He attended Parade Street School and then worked as a clerk in a retail store. He was married to Lillian Austin.
He was serving as a diver with the Royal Navy during Operation Overlord as part of the Landing Craft Obstacle Clearance Units (LCOCU) and his unit was amongst the very first troops to land on D-Day. It was their task to blow up the obstacles and mines laid by German forces on the landing beaches in order to clear the way for Allied landing craft and vehicles.
This is a low-level aerial reconnaissance photograph taken of the Normandy beaches before D-Day, showing the German defences.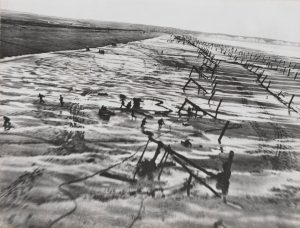 Courtesy of the Council of the National Army Museum
It was vital work which, according National Army Museum research, enabled 83,115 troops to land in the British and Canadian sectors of the Normandy coastline.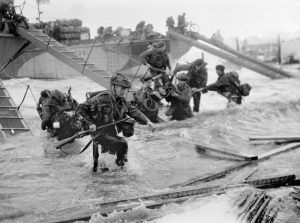 Courtesy of the Council of the National Army Museum
Around 24,970 of them landed on Gold Beach. Amongst them was Allister Austin who went ashore on King Sector, Gold Beach as part of No.3 LCOCU. But he was killed on D-Day, whilst clearing obstacles and is buried at Bayeux War Cemetery.
FALLEN HEROES
ALLISTER CHARLES AUSTINRoyal Navy • LEADING SEAMAN

Royal Navy
3 Landing Craft Obstacle Clearance Unit

DIED 06 June 1944

AGE 23

SERVICE NO. P/JX188870