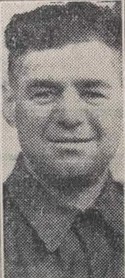 Alfred Crompton
The photographs and Story are shared by the Trust with kind permission from Vera Yorke, Great Niece of Alfred Crompton
My Great Uncle Alf was born on 31st January 1904 at 1B Mayflower Cottages, Standish, Wigan. He was the youngest of eight children.
He went to school at Haigh Primary School, and he, like his other siblings, worked for the Co-Op in Blackrod village, Wigan. He used to play rugby with his brother, James and they were both Wigan rugby fans.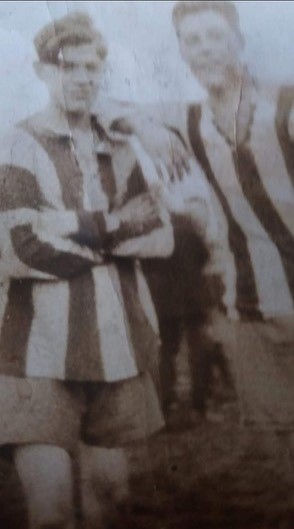 Alf, pictured on the left, with James, his older brother
He married Ethel on the 6th October 1928 in St Katherine's Parish Church, Blackrod. They lived at 27 Blackhorse Street, Blackrod which is now the site of a library and health centre. They had two children, Morris and Maureen.
He was called up to serve in the army and joined the Royal Artillery as a gunner. He was killed on the 8th August 1944 (now my grandson's birthday). His widow, Ethel never remarried but life after Alf died was hard financially. She went to stay with my grandad after she and the children were evicted from their home. They stayed with him until they got a new house to live in.
Alf is buried in a war grave in Bayeux Cemetery, France and his name is on the cenotaph in Blackrod Cemetery for WW2.
FALLEN HEROES
ALFRED CROMPTONArmy • GUNNER

Royal Artillery
61st Field Regiment

DIED 08 August 1944

AGE 40

SERVICE NO. 1146140