Prime Minister Congratulates Veteran Patron on Lifetime Achievement Award
Veteran Patron George Batts MBE Leg d'Hon has been awarded a Lifetime Achievement Award at the 2021 Soldiering on Awards.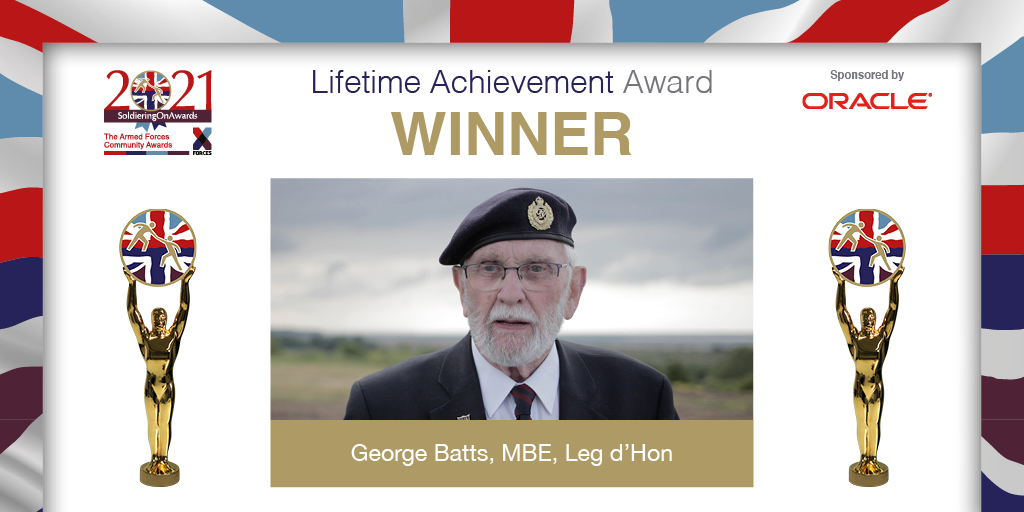 The Prime Minister described George as a 'remarkable man' for his work involving the British Normandy Memorial.
The awards have been held annually since 2010 and celebrate the country's soldiers, sailors, air personnel, their families and all those who support the armed forces community.
The Prime Minister, The Right Honourable Boris Johnson MP said:
'George is a remarkable man. Not only did he show extraordinary bravery in clearing mines on Gold Beach on 6th June 1944, but he has also gone on to help so many people he's raised morale for veterans and their families and has been key in raising awareness and funding for the British Normandy Memorial.
'I want to thank the Soldering on Awards for the great work they do. The past year has reminded us more powerfully than ever before of the debt we owe the remarkable armed forces community.
'There are so many powerful stories to tell, and this is an opportunity to tell this special community how much we appreciate what they have done and continue to do for all of us.
'There is a keen public interest in remembering and thanking those who go above and beyond to keep us safe sometimes in such challenging circumstances.'
Lt Col Ren Kapur MBE, Chief Executive of X-Forces Enterprise said:
'I send my very best wishes to George, for all he has done and for all he continues to do for the armed forces community and especially the British Normandy Memorial. This Lifetime Achievement Award is testament to his hard work and tenacity.'