OFFICIAL BOOK LAUNCH OF PATRON GEORGE BATTS' BIOGRAPHY
The official book launch of George Batts' biography, 'Reflections', took place on 4 October at St John's Catholic School in Gravesend, in the presence of Trustee and Secretary Nicholas Witchell, Deputy Lord Lieutenant Rosemary Dymond, Councillor Gurdip Ram Bungar, Mayor of Gravesham and other dignitaries. Head of History, Colm Murphy, presided over events which began with a presentation on the school's involvement with the memorial.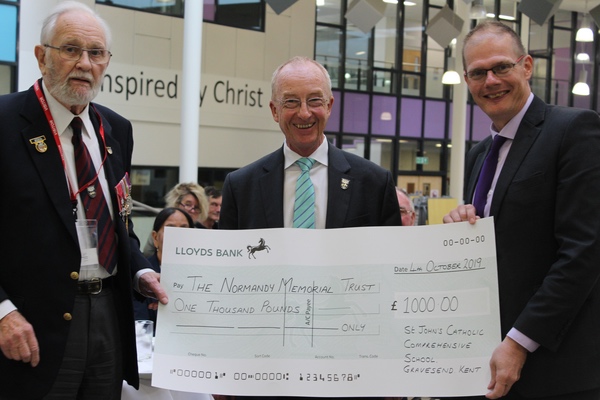 Head teacher Matt Barron presents a £1000 cheque from sales of the book to Patron George Batts and Secretary and Trustee Nicholas Witchell.
Nicholas Witchell said pupils and staff had set an inspiring example: "They compiled the biography and organised a range of different fundraising activities in support of the memorial, led by their teacher Colm Murphy. We are grateful to all of them: thank you!"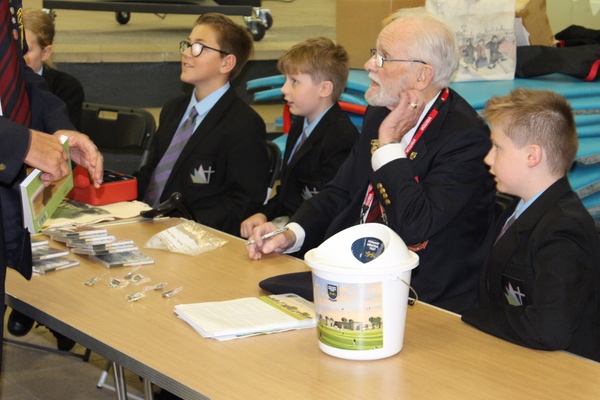 Following the presentation of cheques, Patron George Batts enjoyed a book signing session.
Two cheques for £1,000 each – one from fundraising activities and the other from sales of the book – were presented to the Trust.  More events are to take place in coming months as pupils and staff endeavour to reach their £10,000 target.
Upcoming activities include a staff cycle to the five landing beaches in Normandy, a non-uniform day and a Christmas fair. Each year group will  'sponsor' a serviceman from Gravesend who will be listed on the memorial and Sixth Form students will publish a booklet on local servicemen who lost their lives in Normandy. The school also plans to work with other schools and the wider community.
George's biography is 170 pages, in full colour, softback and is on sale via the school at £15 with proceeds going to the Normandy Memorial Trust Fund. To purchase a copy, please contact Colm Murphy by email or telephone: [email protected] / 01474 534718.