Final Farewell to D-Day Veteran Frank Baugh
"So farewell old friend, sleep well, you can stand down now, but your memory will live on."
Frank's funeral service took place on Monday 11 July 2022.  Rest in Peace, our dear friend.
Here we share are some excerpts from today's Eulogy written by Richard Palusinski, Chairman of the Spirit of Normandy Trust and read by WO Baz Firth MBE, of HMS Collingwood where Frank trained in the Royal Navy. WO Firth is also Trustee of the Spirit of Normandy Trust.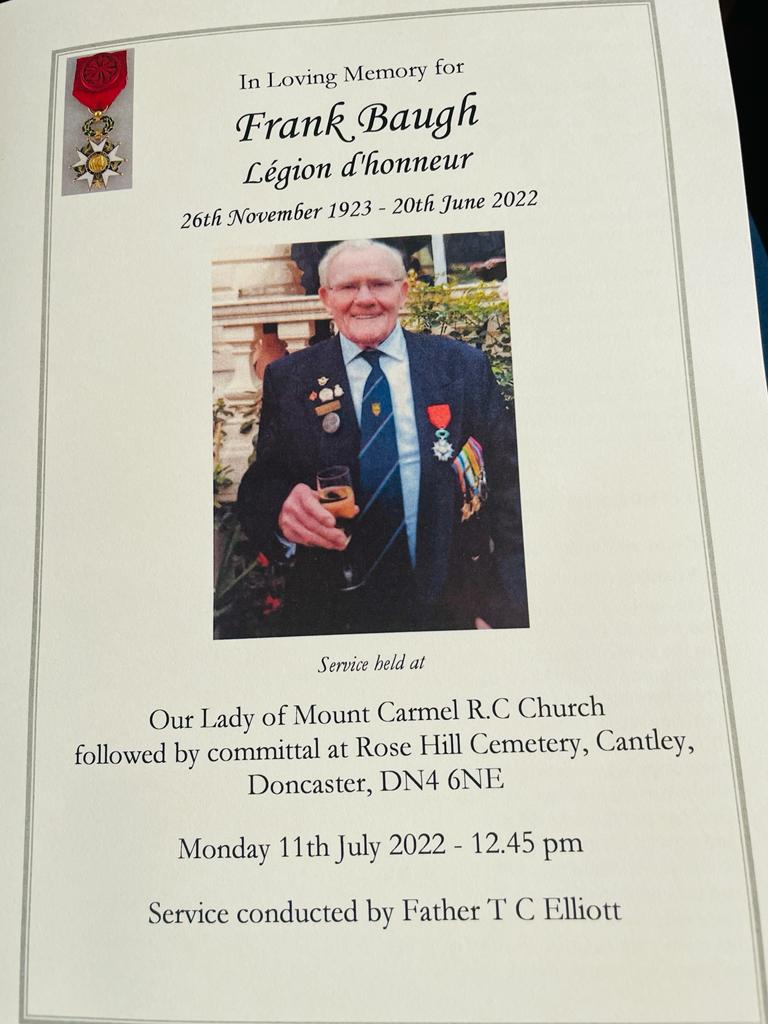 "Frank was the signalman on the L.C.I. and their task on 6th June 1944, D Day, was to take two hundred troops from 2nd Battalion Kings Shropshire Light Infantry from Newhaven to Sword Beach, landing on Queen Red Sector at 07:25 am, the first of the infantry landing craft to arrive on that beach on D-Day.
Frank spoke of his abiding memories of D-Day being the thunderous noise and even more so the sight of the bodies of young men rolling in the surf – lads whom he had been speaking with only minutes before. Frank considered that he was lucky, many were not.
After about 4 hours stranded on the beach, they were able to complete temporary repairs and get the craft floated off the beach. They limped back to Newhaven where the craft was hoisted out of the water for repairs to the hull to be undertaken. The repairs were completed overnight and Frank and the Infantry Landing Craft were heading back to Normandy the following day with another load of soldiers. These shuttle runs continued for the remainder of the war, landing further along the coast as the Liberation of France moved onward.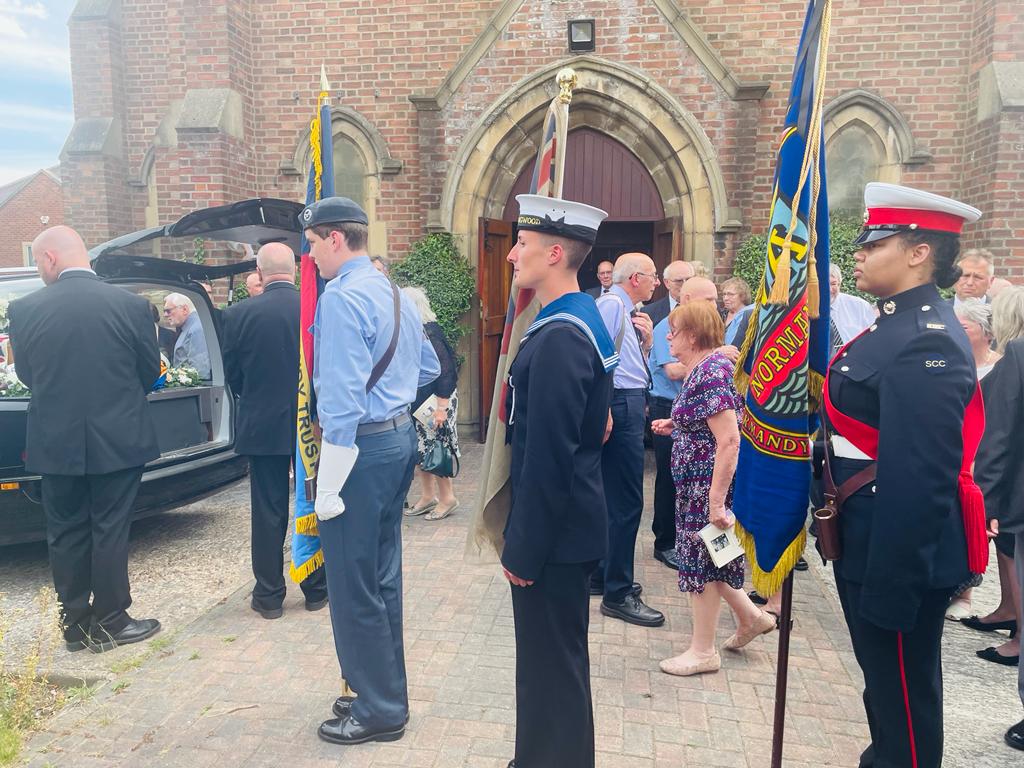 Sheffield Normandy Veterans group were extremely proud when Frank was selected to become an Ambassador for the British Normandy Memorial in 2019 and were delighted to assist him in fundraising work. He took his ambassador role very seriously and ensured that he spoke to as many people and potential donors as possible about the Memorial. A project that had always been close to Frank's heart and he was delighted to see it completed. But Frank knew that the story must not end there and longed for the planned development of an Education Centre to come to fruition.
It has been an honour and to have met and known Frank. He will be missed by so many people who consider themselves privileged to be considered as his friends; in Doncaster and Sheffield; in the Normandy Memorial Trust; In the Spirit of Normandy Trust. Ordinary people, who found Frank to be an open and approachable person and were treated by him as being special.
So farewell old friend, sleep well, you can stand down now, but your memory will live on."