Death of Colm Murphy
General Lord Dannatt, the Board of Trustees and the team at the Normandy Memorial Trust send our deepest condolences to family, friends, colleagues and students of Colm Murphy, who tragically died on Friday 28 October.
Colm was a stalwart friend of the Normandy Veteran community. His dedication and energy in ensuring their sacrifices and experiences would never be forgotten was evidenced by the numerous trips he arranged to Normandy for his history students at St John's Catholic Comprehensive School. He will also be remembered for his unfailing dedication in supporting and enabling Normandy Memorial Veteran Patron, George Batts to help realise the dream of the creation of the British Normandy Memorial. He was a much-loved friend to Veterans across the country and much valued friend to the Trust.
Colm's funeral took place on Monday 5 December His wife Catherine and family have kindly requested that any donations in his memory be made to the Normandy Memorial Trust.
Colm's hard work and sterling fundraising efforts to ensure the legacy of the fallen will not be forgotten, will be his own legacy. Thank you, Colm. Rest in Peace.
——-
We are pleased to share some moving words from Colm's friend, Beverley Cooper, who attended his funeral:
"Today we said goodbye to a power house of a man, Colm Murphy of St. John's RC School at the RC church St. John's Gravesend, a service for this amazing teacher of pupils who had such respect for this mindful historian.
From the head teacher, Matt Baron, who gave the first reading, by WW1 poet Francis Ledwidge "To One Dead". A struggle for Matt, he has lost one of his teaching colleagues and a best friend, reflected in his voice during his reading.
The tribute by MP Adam Holloway with comments by staff and pupils had laughter ringing throughout the church.
The Eulogy written and read by Historian Andrew Robertshaw, poignant, funny, full of fun and love. Andrew is a wealth of knowledge, the first time l met him was with Colm on Kent County Showground where Andrew was digging in a WW1 trench with several others. More history with plenty of laughter on a wet day sheltering from the rain.
Father Moses conducted the service where four beautiful hymns were sung. The family committal at Thamesview followed and refreshments provided by his school.
A giant in the world of teaching and a mountain of a man with such a knowledge of history and a record breaking athlete.
RIP Colm, you will be forever in our thoughts."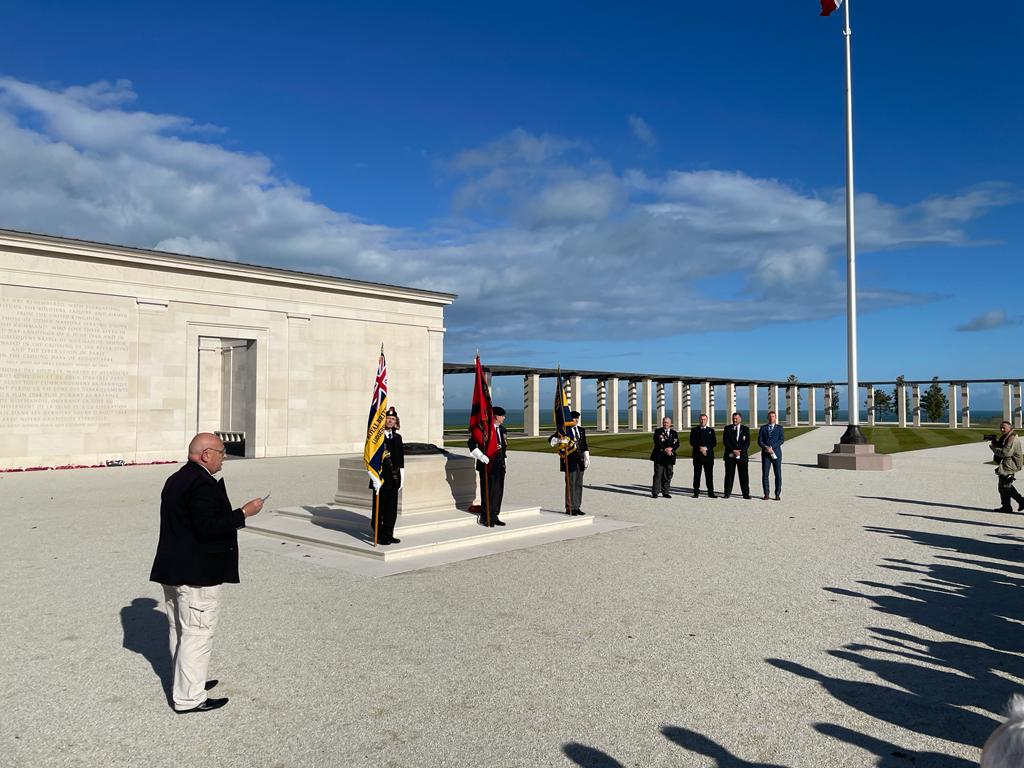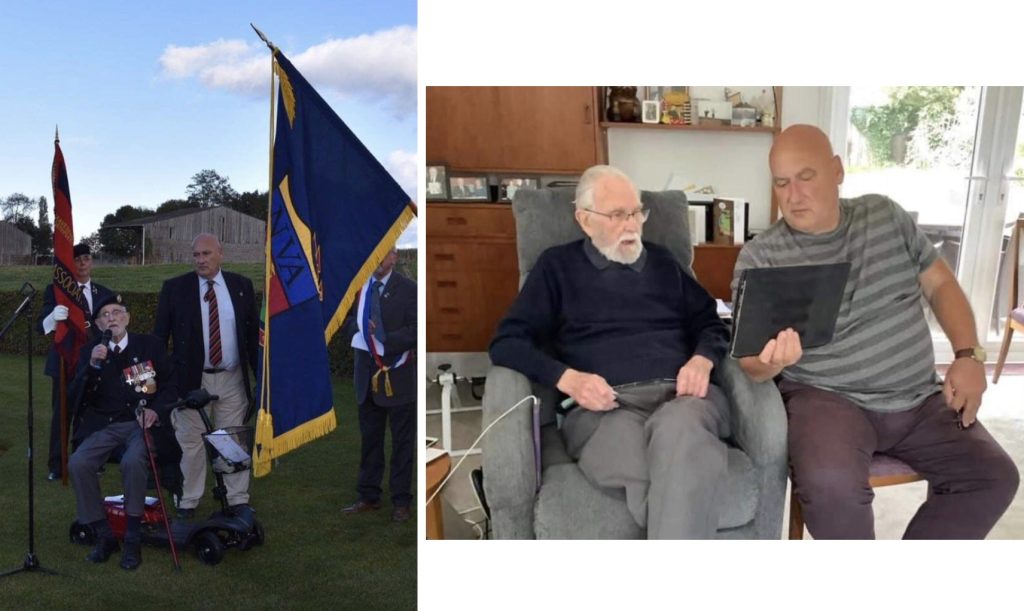 Colm's hard work and sterling fundraising efforts to ensure the legacy of the fallen will not be forgotten, will be his own legacy.
As a friend of Colm's said, 'He was a man of history who made history'. Thank you, Colm. May you rest in peace.
The Headteacher of St John's Catholic Comprehensive School, Matt Baron, has written a tribute to Colm on the school website.
[Images above –  Colm at the British Normandy Memorial, with George Batts at Jerusalem Cemetery and with George at home.]