D-Day Veteran Gordon Prime's Biography
Please note: since this book was published, Colm Murphy who was central to this special project, has sadly passed away and the book is now sold out.
D-Day Veteran Gordon Prime served with the No. 89 Company of the Royal Army Service Corps. The biography about his 98 years of life is called 'Bash On Regardless', the Company's motto, and with the help of Colm Murphy (Department of History at St John's Catholic School in Kent) has been released with proceeds to the Normandy Memorial Trust.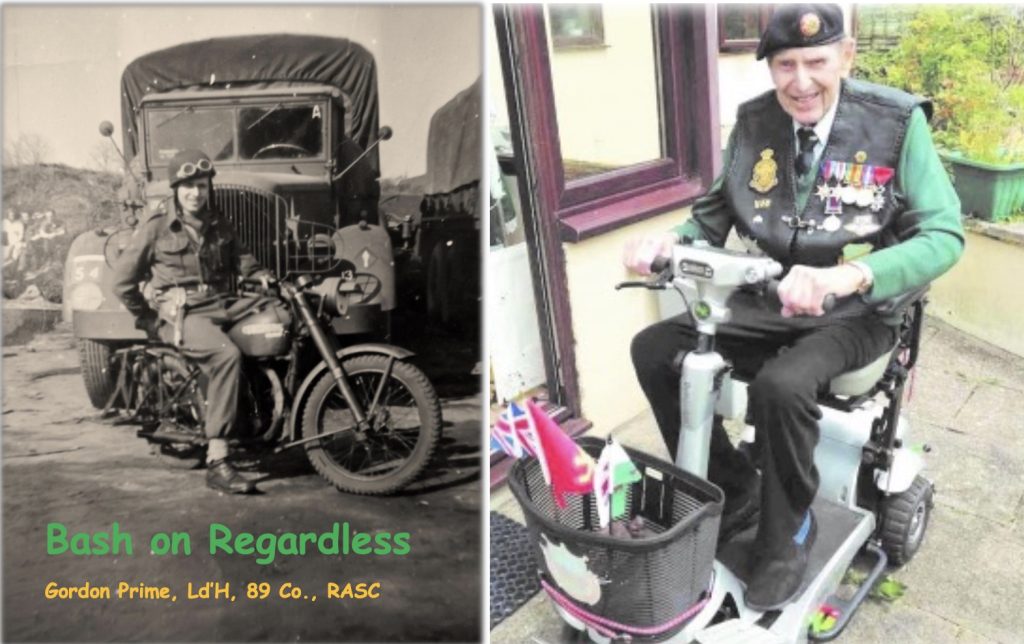 "On June 6th 1944, Gordon drove a lorry carrying 15 tons of high explosives, 200 gallons of petrol and his motorbike onto Juno Beach during the D-Day landings. Gordon Prime was born in Sutton Coldfield, West Midlands on February 7th, 1924 and for over thirty years has lived in Pembrokeshire where he was the Vice-Chairman of the Pembrokeshire Normandy Veterans Association and contributed to the Pembrokeshire Dock Heritage Centre.
Gordon received his call-up papers and on November 5th 1942 reported for duty, eventually becoming a dispatch rider for the Royal Army Signals Corps (RASC). He was heavily involved in the training taking place around the UK in the lead up to D-Day and shipped out from the Isle of Wight across the Channel on a USA built 'Liberty Ship' on June 5th, 1944. At 9.30am the following morning under the constant and withering fire of the D-Day barrage and German defenses, Gordon drove a lorry carrying 15 tons of High Explosive shells, 200 gallons of petrol in Jerry cans with his motorbike on the back, onto Juno Beach."
(Excerpt from the book's Foreword)