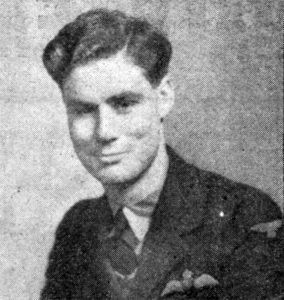 Reginald Farrow
This portrait photo of Reginald Farrow is shared by the Trust with kind permission from Chelmsford War Memorial
Some of those who are named on the British Normandy Memorial were not killed by the enemy. During the Battle of Normandy there were several incidents of so-called 'friendly fire' where Allied forces accidentally targeted their own side.
This is what happened to Spitfire pilot, 24 year old Pilot Officer Reginald Farrow from Chelmsford in Essex. According to the Chelmsford War Memorial records, Reginald Farrow was educated at King Edward VI Grammar School and was a clerk in the Accounts Department of Essex County Council before joining the RAF in August 1939. He trained as a Spitfire pilot in Canada and served in 501 Squadron, Royal Air Force.
Reginald grew up on the same street as his future wife, Ruby, in Chelmsford. He was 22 and Ruby was just 18 when they were married in November 1942. By the summer of 1944 the couple were expecting a baby, but Pilot Officer Farrow would not live to see his daughter.
On 12th July 1944, 501 Squadron was tasked with protecting convoy routes sailing across the English Channel. But it wasn't always easy to identify aircraft during the heat of the Battle of Normandy. This failure to tell friend from foe sometimes had disastrous consequences.
Reginald Farrow took off from RAF Westhampnett, West Sussex with a section of three other pilots at 20:40. They crossed the French coast at Ouistreham, just north of Caen but tragically, Pilot Officer Farrow's Spitfire was hit by Allied anti-aircraft fire as was that of one of the other pilots, Flying Officer Peter Beloe. Both were killed. They are buried at La Deliverande War Cemetery, Douvres, Normandy.
Courtesy of Commonwealth War Graves Commission
FALLEN HEROES
REGINALD ERNEST FARROWRoyal Air Force • PILOT OFFICER

Royal Air Force Volunteer Reserve
501 (County of Gloucester) Squadron, Royal Air Force

DIED 12 July 1944

AGE 24

SERVICE NO. 175712

PETER COLSTON BELOERoyal Air Force • FLYING OFFICER

Royal Air Force Volunteer Reserve
501 (County of Gloucester) Squadron, Royal Air Force

DIED 12 July 1944

AGE 21

SERVICE NO. 150172