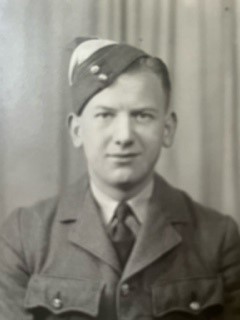 James Brooks Hornby
This story and photo is shared by the Trust courtesy of  Judith Shepherd, Niece of James Hornby
James was the only son of Louisa and James Hornby and the family were from Kingston upon Hull. James had an older sister called Ellen. He attended Malet Lambert School in Hull and worked as a clerk at Hull Royal Infirmary before joining the RAF.
James did his training in Canada before returning to England on the Queen Mary.
His widowed mother and sister were always very proud of him but felt his loss profoundly throughout their lives. They remembered Jim and the crew of LK385 always.
British  Normandy Memorial: Additional Information
You can read more about the crew of LK385 in the Story about William Hannaford
FALLEN HEROES
JAMES BROOKS HORNBYRoyal Air Force • FLYING OFFICER

Royal Air Force Volunteer Reserve
149 (East India) Squadron, Royal Air Force

DIED 06 June 1944

AGE 21

SERVICE NO. 152049