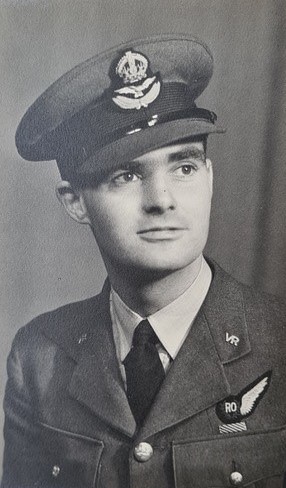 Henry William Ellis
This story and photos is shared by the Trust with kind permission from Ian Twigger, grandson of Henry Ellis.
Harry was my Grandfather. My mother, Carole Elizabeth Twigger (née Ellis), now 82, is his oldest and only surviving daughter.
Henry, affectionately known as Harry, grew up in Hornchurch and before the war played as a winger for the local football club, Hornchurch FC, and worked for the Water Board.
When the war broke out he joined the Royal Air Force and was trained as a navigator/radio operator. In 1940 he married Joan Pruce and they had three daughters, Carole, Rosalind and Vivienne. He had a great love of sports cars and during the war owned an MG F1 Magna.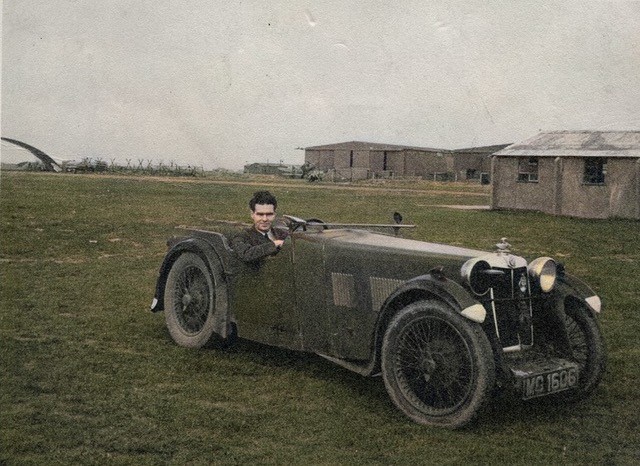 In 1942 he received the Distinguished Flying Medal (DFM) whilst flying with Commanding Officer Edward Colbeck-Welch in 29 Squadron. Harry carried out many operational sorties and according to his DFM report, displayed a high degree of skill and initiative.
Harry and his pilot, Ron Densham, were shot down in their Mosquito on D-Day night over La Bigne in Northern France, crash landing in a farmer's field. They were buried on the farm with the remains of their plane until the end of the war and finally laid to rest in Bayeux.
My mother was only 3 when Harry was killed so you can imagine the circumstances my Grandmother, who was only 23, would have had with 3 girls all under 4 years old to raise alone. It is a testament to her resilience and fortitude that she was able to do, not only this, but have a successful career as the Landlady of a number of Public House across the South West. Having remarried, Nana passed away in 1988.
Normandy Memorial Trust - Additional Information
Edward Colbeck-Welch, who is mentioned in this Story, had a brother, James Colbeck-Welch. He served in the 44th Battalion, Royal Tank Regiment, Royal Armoured Corps and was killed in Normandy on 29 June 1944.
FALLEN HEROES
HENRY WILLIAM ELLISRoyal Air Force • FLYING OFFICER

Royal Air Force Volunteer Reserve
29 Squadron, Royal Air Force

DIED 07 June 1944

AGE 28

SERVICE NO. 126080