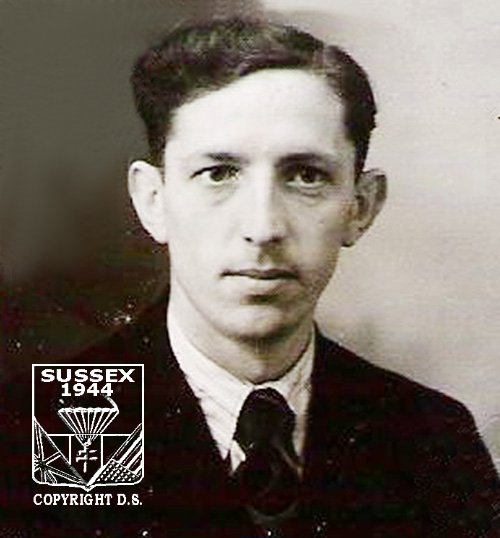 Georges Muller
The British Normandy Memorial will commemorate the sacrifice of men and women from more than thirty different countries. Amongst those foreign nationals who served under British Command were Frenchmen who returned to their occupied country as part of the Free French Forces to liberate it from the Nazis. This story marks the end of the Battle of Normandy as seen through French eyes.
Captain Georges Muller was on a top secret mission in Normandy with the Sussex Teams - a unit comprising 120 French volunteers who'd received special training from British Intelligence and the American Office of Strategic Services, forerunner to the CIA.
Originally from Alsace-Lorraine, close to the German and Swiss border, Muller worked on the railways and had a wife and four children.  An ardent patriot, from 1941 he soon became involved with the Resistance. In April 1943 he escaped to Spain and eventually made his way to England. There he joined the Free French Forces. He undertook Commando training and then volunteered to serve in the Sussex Teams.
Almost 30 in 1944, Muller parachuted behind German lines just north of Epineuse, Oise on 5th July, using the alias 'Marchand'. The mission was codenamed: Operation Murat. Operating in a two-man team, Muller's mission was to radio back vital strategic information including German troop movements to Allied headquarters in Britain to inform commanders' decisions, planning and deployments.
He was killed on 31st August 1944 after being ambushed by German troops between Compiegne and Soissons.
A patriotic Frenchman who served with British units will now be remembered for generations to come at the site where - thanks to his sacrifice - France became free again.
FALLEN HEROES
GEORGES EMILE MULLERSpecial Agent • CAPTAIN

Sussex Teams
Sussex Mission Murat

DIED 31 August 1944

AGE

SERVICE NO.