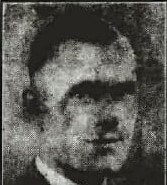 Alfred Philip Packman
The photographs are shared by the Trust with kind permission from the 11th Armoured Division Facebook Group and its Black Bull Research Team.
Remembering Alfred Philip Packman, Killed in Action, 09 August 1944.
Alfred, was married and had a daughter who was 2 years old at the time of his death. He was employed as a conductor by London Transport prior to joining the Army in 1940.
Alfred's brother, Douglas, as well as their cousin, Edward Packman were also serving in the Army. Douglas had been working as a porter at Tubs Hill Station and Edward had been working at Mr Knight's Garage at Riverhead.
But over the course of the week their families received news that they had all become war casualties.
Douglas Packman lost his leg in an accident but survived his injuries. Edward Packman was killed in Normandy almost a week after his cousin, Alfred.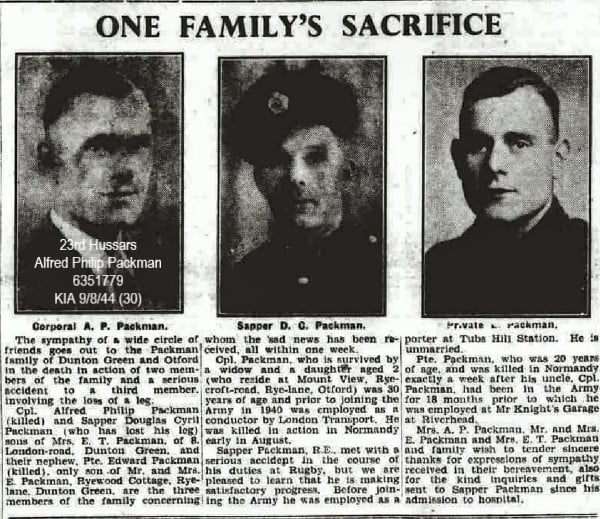 British Normandy Memorial - Additional Information
24th Lancers was disbanded at the end of July due to heavy casualties and men were transferred to other regiments. Alfred Packman was serving as a vehicle mechanic and he was attached to the 270 Forward Delivery Squadron on the 5th August 1944. Forward Delivery Squadrons were responsible for holding and sending forward replacement vehicles and/or crews to the armoured regiments of an armoured brigade. At the time of his death he was serving with the 23rd Hussars.
FALLEN HEROES
ALFRED PHILIP PACKMANArmy • CORPORAL

Royal Armoured Corps
24th Lancers

DIED 09 August 1944

AGE 30

SERVICE NO. 6351779